Obama Calls for Zika Funding—Again
The president urged lawmakers to pass vital legislation to combat the virus on Friday before Congress recesses for the summer.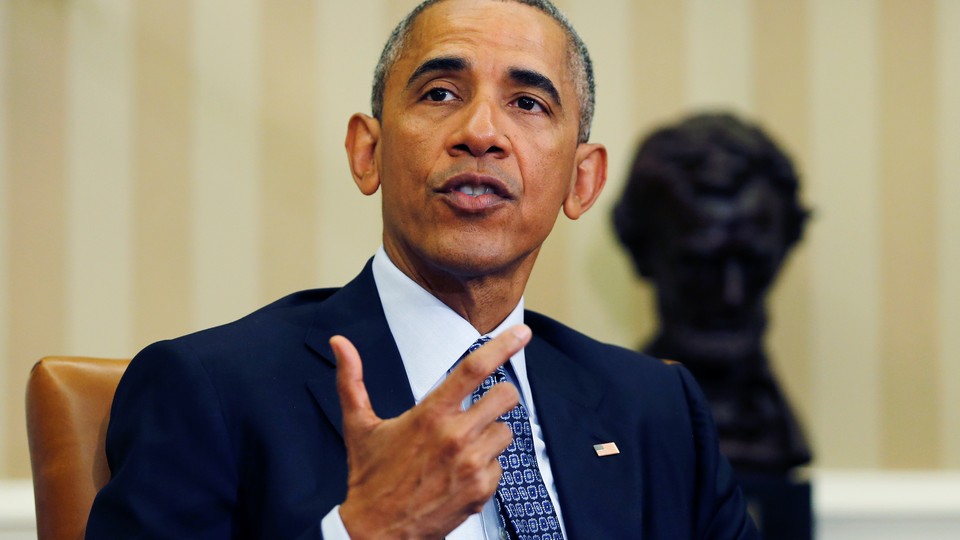 NEWS BRIEF President Obama and Congress are playing a game of hot potato.
On Friday, the president urged Congress to pass legislation to combat the Zika virus, ahead of the July 4 recess. "We have not seen the House and Senate come together in a sensible way to put forward the dollars that we have requested that have been budgeted to get the job done," Obama said, after meeting with senior officials on the matter. "I expect Congress to get this funding done before they leave for vacation, before they adjourn. That's part of their basic responsibility."
The president's remarks came after a disappointing week on the Hill, where Senate Democrats and Republicans struggled to reach a consensus on the Zika funding bill. Democrats in the Senate blocked funding, in part, because of provisions restricting funding to Planned Parenthood. As my colleague Russell Berman reported, "While the final bill does not mention Planned Parenthood specifically, it routes the money in a way that walls off the funds from family-planning clinics."
On Thursday, Senate Democrats urged their colleagues to reach an agreement during a press conference. "We are willing to compromise. We know it's an emergency," said Senator Chuck Schumer. "Where are they?" Senate Minority Leader Harry Reid also vented his frustrations: "We're going on a seven-week vacation, it appears, in about eight or nine days and unless Senate Republicans come to their senses, the Zika virus will have no work done at the National Institutes of Health, the Centers for Disease Control."
Zika funding has been stalled in Congress for months. In February, the Obama administration requested $1.9 billion to respond to the virus, which has prompted concerns from public-health officials for the threat it poses in the Americas. A few months later, the White House repurposed $600 million in Ebola funds, although the administration and officials have insisted it's not enough. The administration's original figures of $1.9 billion has since been scaled back by the House, which passed a $1.1 billion deal last week. Still, it seems like no consensus is in sight for the Senate.
Congress is running low on time. After the July 4 recess, they will only have a few working days until the next session in September. In the meantime, a team of scientists is set to test a birdbath near Congress where a number of mosquitoes roam. They have not been tested for Zika.