North Carolina's HB2 Compromise That Wasn't
Legislators restored the right to bring discrimination suits but otherwise failed to agree on changes to the state's controversial "bathroom bill."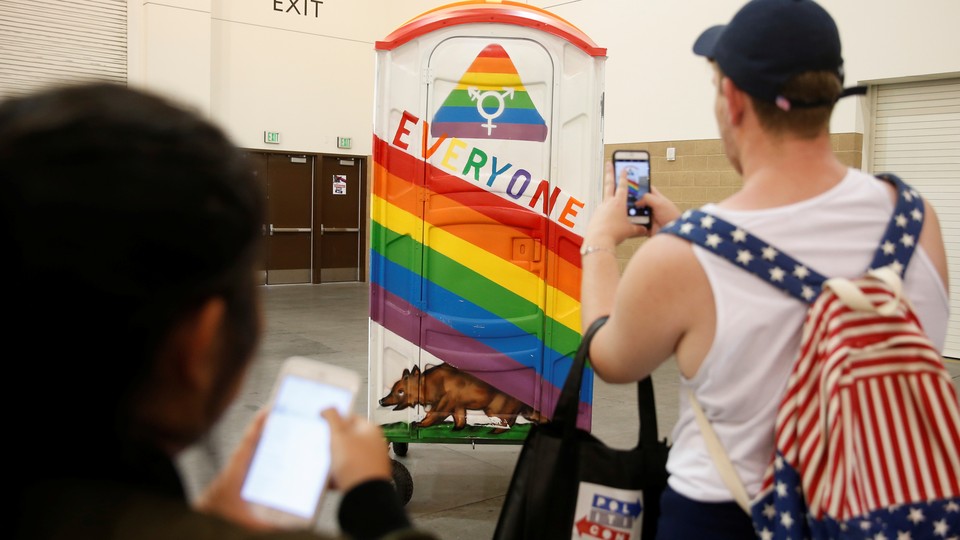 North Carolina legislators ended their legislative session late Friday with a small tweak to HB2, the state's controversial "bathroom bill," but without touching any of the most contentious issues in the law.
The law, passed by the GOP-dominated General Assembly in a special one-day session in March, required transgender people to use the restroom corresponding to the sex on their birth certificate and prevented cities from passing their own ordinances barring LGBT discrimination or requiring transgender bathroom accommodations.
The tweak legislators made Friday was small. It restores the ability to bring discrimination claims in state courts, a right that appeared to have been removed from law by accident during the drafting process. Governor Pat McCrory, a Republican, signed the bill the day it was passed in March but almost immediately called on the legislature to restore the right to sue. He's expected to sign the revision into law.
But there had been talk of a broader effort to amend the law, which has brought widespread condemnation, business boycotts, and a lawsuit from the U.S. Department of Justice alleging violations of the Civil Rights Act. Democrats have called on the legislature to repeal the bill altogether, a suggestion Republicans dismissed. Instead, they were reportedly considered a change that would create an official gender-reassignment certificate that would grant transgender people the right to use the bathroom corresponding to their current gender.
Democrats rejected the idea, saying it only added a new layer on to the law, and arguing that it suffered from the same "show me your papers" problem as the existing legislation. The deal appeared to founder after the NBA—which has been outspokenly opposed to the law, and has threatened to remove the 2017 All-Star Game from Charlotte—announced it did not support the revisions.
Some Democrats backed the small change last night. Representative Chris Sgro, an openly gay legislator from Greensboro who's been on the front lines of the HB2 fight, told WRAL, "I am woefully embarrassed that this is the result of two-and-a-half months of conversation about the most disastrous piece of legislation in the state's history."
In an ironic turn, legislators also moved $500,000 from a disaster-relief fund in order to pay for defending the state in lawsuits against HB2. With the legislature headed home for the end of the legislative session, the courts—and in particular the Obama administration's lawsuit against the state—will now become the main focus for the fight over HB2.