It Looks Like Mike Pence
The presumptive Republican nominee is widely reported to have settled upon the Indiana governor as his running mate.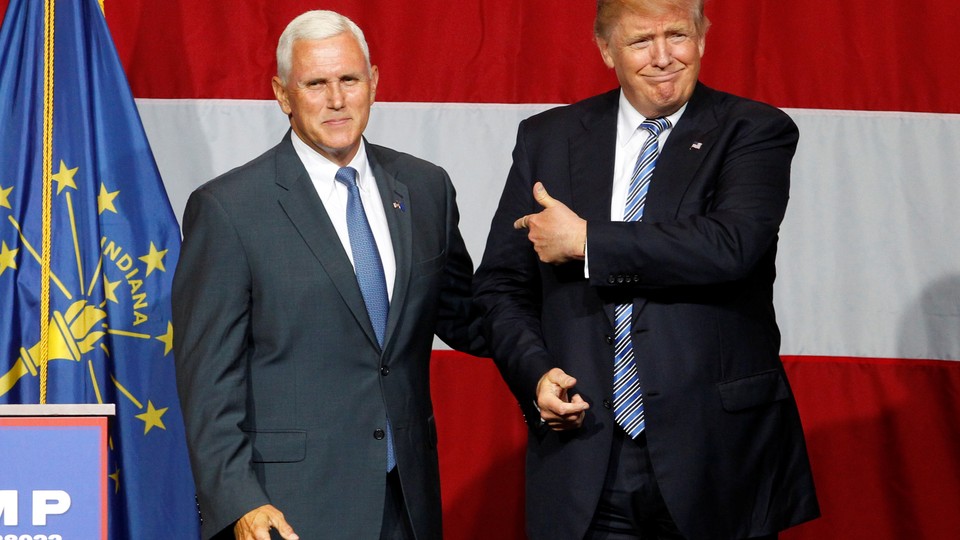 It's like they always say: Date a bad boy, but marry a nice one.
Several news reports—from The Indianapolis Star, Roll Call, and The New York Times—suggest that after flirting with the free-wheeling, self-described "pirate" Newt Gingrich and brash jock Chris Christie, presumptive Republican nominee Donald Trump has decided to settle down with the more buttoned-down choice of Indiana Governor Mike Pence, asking him to be his running mate.
The reports are all based on anonymous sourcing. Late this morning, Trump campaign spokesman Paul Manafort was still insisting that the decision had not been made. A formal announcement is scheduled for Friday morning at 11 a.m. in New York City. And no one has ever accused Trump of excessive consistency in his decisions. But a Pence pick would be in line with the direction of gossip and insider speculation over the last few days.
Trump has long said that he wanted to choose a vice-presidential candidate with experience in politics and in Washington, filling out areas where Trump has no resume. Pence certainly fits that bill. A six-term member of the U.S. House, he came to Washington in 2001 and left in 2013, when he became governor of Indiana. Before that, he was an attorney, talk-radio host, and led a conservative think-tank. On the Hill, Pence was known for involvement in policy issues, another of Trump's weaknesses. With a strong backing in right-wing circles, a Pence pick is seen as a way for Trump to reassure Republicans that he's is aware of and responsive to their priorities, despite his many departures from GOP orthodoxy.
More recently, Trump said he wanted an "attack dog" as a running mate, which suggested that the more pugnacious Gingrich, the former speaker of the House, or Christie, the current governor of New Jersey, might be leading the pack. Christie was one of the first major Republican figures to endorse Trump, and has often campaigned with him. Gingrich, meanwhile, made himself ubiquitous in the media as a Trump defender, deploying his trademark ideological flexibility and ability to extemporaneously and polysyllabically defend nearly any position. Gingrich campaigned with Trump in Ohio recently.
But Christie and Gingrich both have plenty of detractors on the right. Christie is still persona non grata for embracing President Obama after Hurricane Sandy, and he's something of a moderate. Gingrich is widely viewed as a loose cannon, and he carries serious baggage; a Trump-Gingrich ticket would have boasted six marriages between the two candidates.
Pence looks like a safer pick, though he has his detractors, too. He frustrated many conservatives with his handling of a so-called religious-freedom law in Indiana in 2015. The law earned the state widespread condemnation, especially from major businesses in the state, and Pence eventually backed down, backing a gutted version of the law. That upset evangelicals like Tony Perkins, head of the Family Research Council, who told NBC Trump could "do better." Pence's unsteady handling of that crisis raises concerns about how he will perform under pressure, and as a vice-presidential candidate, Pence is in for a pounding.
Like many running mates, Pence and Trump have not always been on the same political page. Pence waited until the eve of the Hoosier State primary to endorse, but when he did so, he threw his support behind Senator Ted Cruz. Still, the governor made it a tepid endorsement, declining to assail Trump before the crucial primary, and he quickly jumped on the Trump Train after Trump's victory. Pence previously backed the Trans-Pacific Partnership, which Trump fiercely opposes:
Trade means jobs, but trade also means security. The time has come for all of us to urge the swift adoption of the Trans Pacific Partnership

— Governor Mike Pence (@GovPenceIN) September 8, 2014
He also blasted the idea of barring Muslims from entering the U.S., another signature Trump proposal:
Calls to ban Muslims from entering the U.S. are offensive and unconstitutional.

— Governor Mike Pence (@GovPenceIN) December 8, 2015
If the latest reports are true, Trump seems to have decided these bygones can be bygones. Pence would have his first real star turn as a running mate next week at the Republican National Convention in Cleveland.
A Pence pick does complicate the Indiana governor's race. Pence, the incumbent, was planning to run for reelection, but he cannot run for both governor and vice president. The deadline to replace Pence on the ballot is Friday at noon. Former Governor Mitch Daniels, a fellow Republican who is now president of Purdue University, said on Thursday he would not try again for his old job.