Michael Jordan Speaks Up About Police Violence
The basketball icon breaks with his 30-year reluctance to address racial violence and police killings.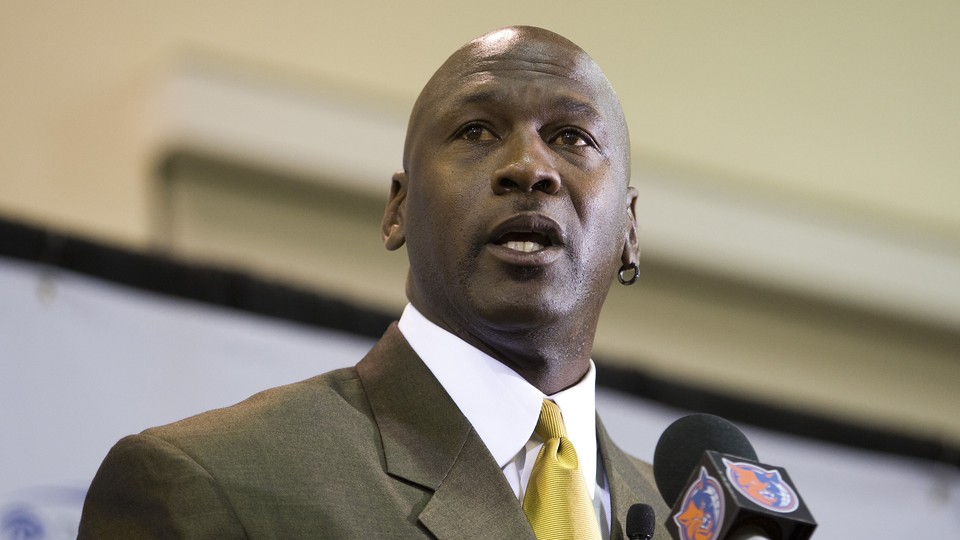 Michael Jordan, NBA hall-of-famer and reluctant role model, has ended his decades-long reluctance to speak about anything political by weighing in on racial relations and police brutality. In a statement published by ESPN's The Undefeated, the basketball icon said he is "deeply troubled by the deaths of African-Americans at the hands of law enforcement" and "angered by the cowardly and hateful targeting and killing of police officers."
Jordan recalled the "senseless act of violence" that ended his father's life in 1993 when he was shot while sitting in his parked car at a rest area on a North Carolina highway. "I grieve with the families who have lost loved ones, as I know their pain all too well," Jordan said.
In what might be a significant shift for the six-time NBA champion, Jordan offered an overtly political message as he discussed what he perceives as an escalation in biased commentary lately. "I am saddened and frustrated by the divisive rhetoric and racial tensions that seem to be getting worse as of late. I know this country is better than that, and I can no longer stay silent," he said.
Many public and private figures, including fellow basketball icon Kareem Abdul-Jabbar, have chided Jordan openly for his perceived reticence to discuss civil-rights issues, and pressured him to use his massive celebrity and influence to bring attention to issues that impact blacks in the United States. Jordan may have also found it more palatable to speak up during a time when star athletes like LeBron James have leveraged their celebrity to take serious stands on social-justice issues. Most recently, the WNBA rescinded a series of fines levied on players who wore t-shirts with messages in support of police shooting victims.
In his statement, Jordan made sure to applaud and commend police officers for the dangerous and important work they do, while also admitting his own privilege as a wealthy and famous American. "I also recognize that for many people of color their experiences with law enforcement have been different than mine," he said, adding that he urges the country to engage in dialogue and education that can lead to change. And he's putting his money where his mouth is by donating $1 million each to the International Association of Chiefs of Police for a community-relations program, and to the NAACP Legal Defense Fund.