The Beauty of Melania Trump
For the Republican presumptive presidential nominee and his wife, attractiveness is the measure of a woman's worth.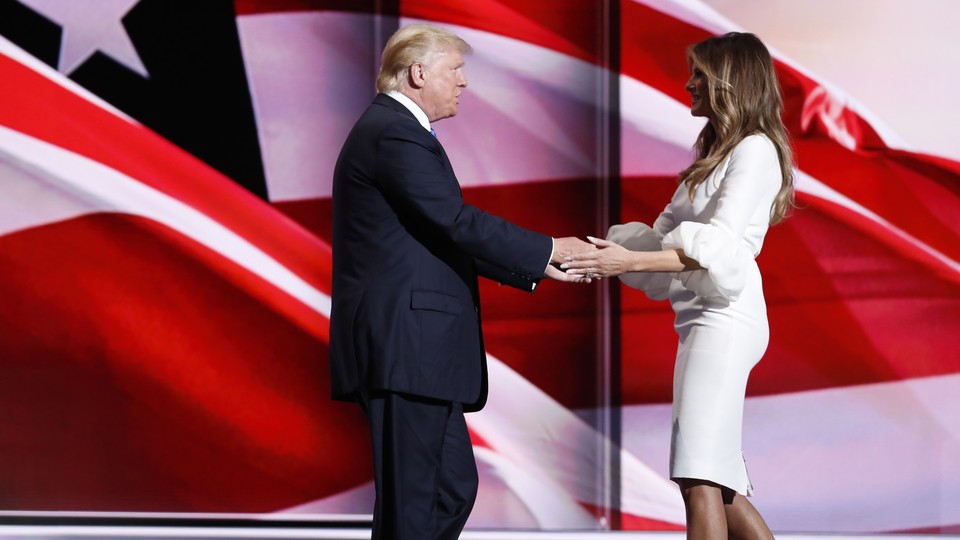 Melania Trump's remarks at the Republican National Convention are making news because they appear to have been lifted, in part, from a 2008 speech given by Michelle Obama. But Melania's speech was distinct from the First Lady's in a significant way. When she talked about her upbringing, she elevated the importance of beauty as a part of her personal narrative. It was one more way that she, and her husband, have used their position of power on the campaign trail to send a message that a woman's worth can be measured by the way she looks.
Presidential campaigns are personality contests as much as a battle of ideas. Voters pick the people they want to represent their nation alongside a vision for how the country should act. The impulse to vote for someone who can act as a role model is part of the reason why Hillary Clinton's campaign believes voters will veer from Trump. But while qualities like loyalty, hard work, and respect—all of which Melania emphasized during her speech—can be learned, conventional beauty is far more difficult for the average woman to emulate—or, perhaps, identify with.
For Melania and her husband, beauty is a mark of status and a trait by which women should be judged. Trump, of course, is famous for his beauty pageants. In her convention speech, Melania spoke fondly of how her "elegant and hard-working mother" introduced her to "fashion and beauty" and recalled her time working "in the incredible arena of fashion." A short biography on Melania's website emphasizes her modeling career, and her beauty, above all else. "In the words of Manolo Blahnik," it reads, "'She is a true beauty. She has it.'"
Melania's appearance has also been strategically deployed by Trump as a measure of worth that can be weaponized. In the midst of a primary-season feud with Ted Cruz, Trump famously retweeted a side-by-side image of Melania and Heidi Cruz, the Texas senator's wife, to indicate that 1) his wife was more attractive and 2) that quality made his wife, and by extension the candidate, superior to their rivals.
So far, Trump has struggled to appeal to women voters. It's possible his campaign hopes Melania can help broaden that appeal. But it's hard to see how the candidate's wife herself would be all that relatable to women. A central part of Melania's  life story as an aspirational narrative is the fact that her beauty has translated to success. But most women and girls can't measure up to the exacting standards of beauty conceived of and enforced by the entertainment, fashion, and advertising industries. That is the kind of beauty for which Melania has been rewarded.
There are plenty of personal qualities Melania appears to value that aren't related to her appearance. During her convention speech, she spoke highly of compassion, patriotism, integrity, and intelligence. Since many women are used to striving for a degree of physical perfection that's not realistic or attainable, it may not even matter much whether Melania sets an unrealistic standard for beauty. Every First Lady, or prospective First Lady, inevitably advertises a standard of success far out of reach for the average American. In the end, it is up to every woman to decide for herself what qualities are worth imitating.