Melania Speaks!
For millions of Americans eager to hear her story, Melania Trump's speech was perhaps most remarkable for what she didn't say.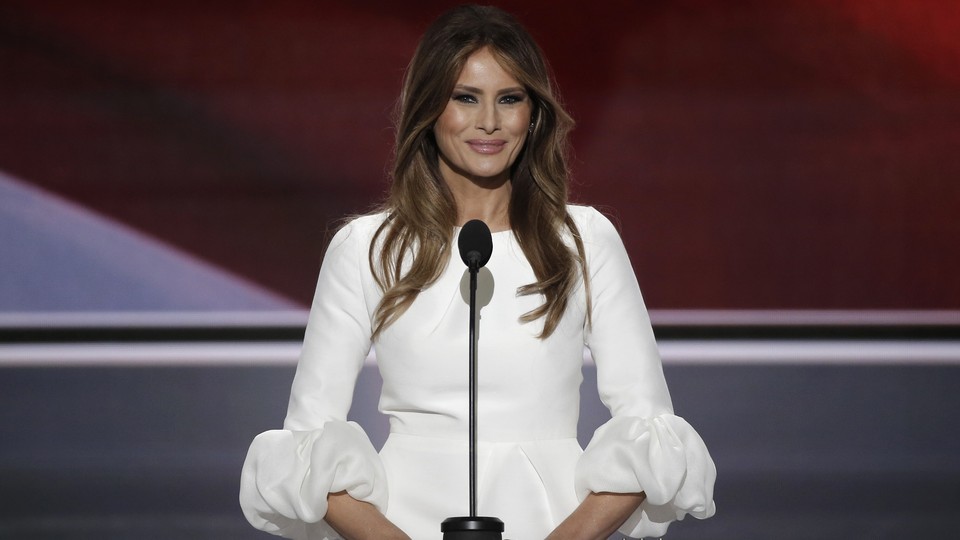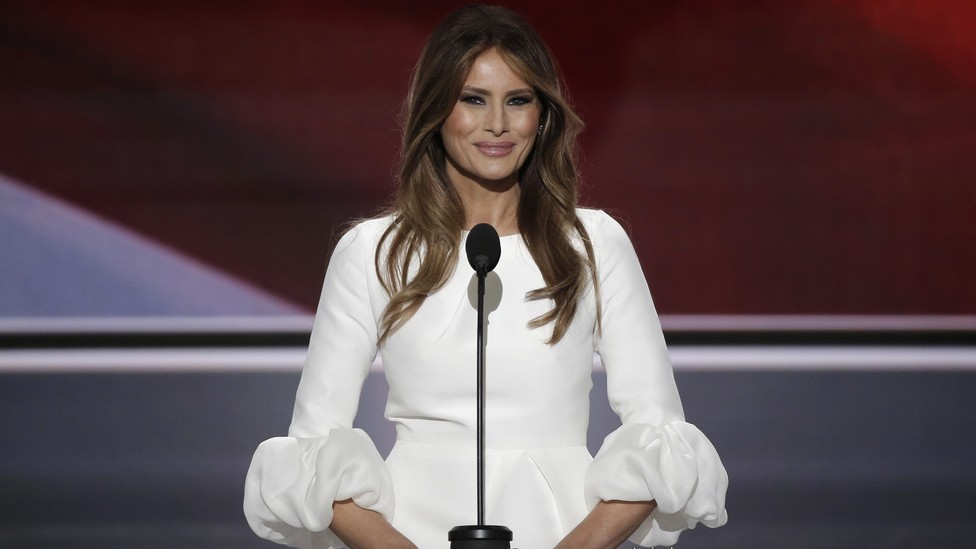 This story was updated on Tuesday, July 19, at 8:16 a.m.
After a brief but nonetheless spectacularly Copperfeldian introduction from her husband Donald, Melania Trump strode on stage and took the mic—before her biggest audience yet—to offer the country a portrait of the presumed Republican nominee for the presidency of the United States. America longs to see the mortal side of its leaders, even and especially the ones who are larger than life. And nobody in 2016 has managed to be quite so large in life as Donald Trump.
First ladies often have a unique role to play in the so-called 'humanization' of their husbands, whether divulging gently embarrassing factoids (Michelle Obama revealing her spouse's messy bedroom habits) or offering charming details about their private life (Laura Bush on her husband's late-in-life artistic career) or making public their stories of personal struggle (Ann Romney on the early, lean days with Mitt).
So expectations were high for Melania's remarks, and not only because so much of Trump's campaign thus far has been an exercise in vagaries and one-liners, or because the candidate himself has been entirely unwilling to disclose the kinds of personal shortcomings and mistakes that might, say, make him seem more authentically human. But also because Melania rarely speaks, save for generic platitudes or benign slogans—she is America's cipher, more than she is its sweetheart. Last night was a chance for the country to get a sense of the woman so often at her husband's side, stunning and silent and all the more intriguing because of this.
It did not go as planned.
Nearly immediately after her exit from the stage, the Twitterverse began to, well, twitter about the uncanny resemblance between an earlier would-be first lady (Michelle Obama) and the present would-be first lady (Melania Trump). The passages in question were remarkably similar.
As the New York Times pointed out:
Ms. Trump, Monday night:

"From a young age, my parents impressed on me the values that you work hard for what you want in life, that your word is your bond and you do what you say and keep your promise, that you treat people with respect. They taught and showed me values and morals in their daily lives. That is a lesson that I continue to pass along to our son. And we need to pass those lessons on to the many generations to follow. Because we want our children in this nation to know that the only limit to your achievements is the strength of your dreams and your willingness to work for them."

Mrs. Obama, in her 2008 speech:

"Barack and I were raised with so many of the same values: that you work hard for what you want in life; that your word is your bond and you do what you say you're going to do; that you treat people with dignity and respect, even if you don't know them, and even if you don't agree with them. And Barack and I set out to build lives guided by these values, and pass them on to the next generation. Because we want our children — and all children in this nation — to know that the only limit to the height of your achievements is the reach of your dreams and your willingness to work for them."
In the wee hours of Tuesday morning, the Trump campaign issued a statement denying the charges of plagiarism.
"Melania's team of writers took notes on her life's inspirations, and in some instances included fragments that reflected her own thinking."
Hours later, Trump campaign chair Paul Manafort doubled down on the rebuttal, saying on CNN:
"There's no cribbing of Michelle Obama's speech. These are common words and values that she cares about her family, things like that."
"Things like that" is a pleasantly generic term to describe what might otherwise count as plagiarism. Whether or not you believe the charges to be serious, what seems abundantly clear is that someone—it's unclear who—googled Michelle Obama's 2008 convention speech, which was (as these things go) a pretty good speech that had a pretty good outcome. You can't blame the Trump campaign for its template. But the uproar over the similarities between the two has escaped no one in the media and threatens to overwhelm the substance of Melania Trump's speech itself.
And what of that speech—the parts that had nothing to do with Michelle Obama?
As to her husband's character, Melania stuck to the very straight and very narrow. Donald is deeply patriotic: "I have been aware of his love for this country since we first met," and, "My husband has been concerned about our country for as long as I have known him."
Donald is focused: "He has a deep and unbounding determination and a never-give-up attitude," and, "He will never, ever, give up," and "Donald gets things done."
And perhaps, most urgently, Donald is not as divisive as some people have made him out to be: "Donald has successfully worked with people of many faiths and with many nations," and, "Donald intends to represent all the people, not just some of the people—that includes Christians and Jews and Muslims, it includes Hispanics and African Americans and Asians." Ahem.
There was strikingly little that was intimate or impassioned—or even particularly specific. Melania did make repeated mention of Trump's extraordinarily close relationship with his children, ("His children have been cared for and mentored to the extent that even his adversaries admit they are an amazing testament to who he is as a man and a father," she said) but most everyone knew that already. Ivanka Trump and Donald Trump Jr. have played powerful roles in their father's campaign, on everything from personnel choices to strategy. This is the first convention in American history where many, if not most, of the keynotes are being made by the children of the presumed nominee. "There is a great deal of love in the Trump family. That is our bond and our strength," Melania announced, but if you were looking for specific reason as to why this was true, or how she understood it to be unique, it was not to be had on Monday night.
Instead, if the country got any substantive information on the first night of the Republican Convention, it was the most public acknowledgement yet of the would-be first lady's unusual and historic background: Melania Trump is an immigrant. While it is not a secret that she was born in Sevnica, Solvenia, last night much of America learned that she only gained U.S. citizenship in 2006, a mere decade before she possibly steps into the role of the country's first lady. "On July 28th, 2006, I was very proud to become a citizen of the United States—the greatest privilege on planet Earth," she declared.
How quickly her life has changed, and what an historic, momentous thing a White House win would represent for Melania Trump (and indeed immigrants in general). America's last foreign-born first lady was Louisa Adams, born in London in the year 1775. But given the current rhetoric around immigration and immigrants—especially from her husband—celebrating outsider status is an awkward thing this year.
Melania Trump did not spend much time, therefore, dwelling on her adjustment to life in the U.S., or expanding on the very nearly unprecedented perspective she might bring to the White House as one of its only foreign born residents. Her internationalism, she made sure to note, was forged as much through "the incredible arena of fashion" and the runways of "Milan and Paris" as it was through the values of her birthplace in a "small, beautiful and then-Communist country in Central Europe." Trump preferred to keep her story glamorous, smooth and unspecific. For this convention, doing so appeared to be the most expeditious path possible. But for this country, bitterly divided in a raging debate about immigrants and their place in the American democracy, it was, perhaps, a moment lost.