The Gay-Rights State That Took Years to Protect Transgender Citizens
A new Massachusetts law makes gender-identity discrimination fully illegal. Even in a liberal state, the effort took a long time.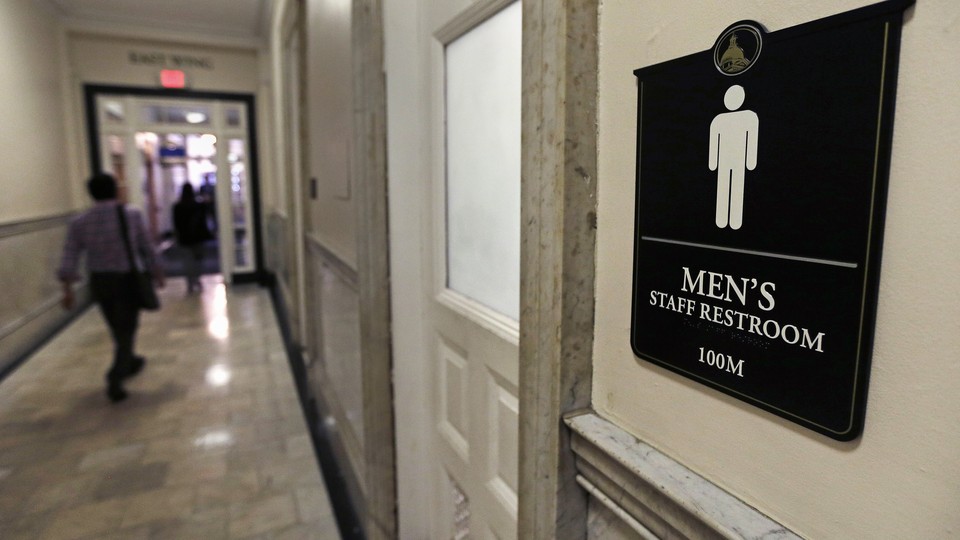 Massachusetts was the first state in America to issue wedding licenses to same-sex couples. Gay marriage has been legal there for more than 12 years—much longer than in most other places. In 1989, it became the second state, after Wisconsin, to pass discrimination protections for lesbian, gay, and bisexual citizens.
And yet, until this week, Massachusetts law did not fully prohibit discrimination based on gender identity. The state's House and Senate approved a new law on Thursday, which Governor Charlie Baker has said he'll sign, that creates public-accommodations protections for transgender people. Although legislation passed in 2011 protected transgender people against discrimination in housing, education, and employment, the new law extends those protections to cover everything from making a purchase at a store to using a bathroom at a public park. When they go about their daily lives, transgender people are now shielded from discrimination and allowed to use facilities in a way that's consistent with their identity.
In some ways, Massachusetts's new law is not remarkable. Twenty-eight states don't have any kind of discrimination protections for LGBT people, and four others exclude transgender people from some or all of their protection measures. But it's also surprising that a liberal state with strong Democratic majorities in both houses of its legislature has taken this long to pass these kinds of protections for transgender people, particularly because of its history on gay rights.
One reason for the bill's passage might be that Massachusetts doesn't want to become the next North Carolina. The Southern state has faced protests, boycotts, and a federal lawsuit for its legislation on transgender bathroom access, similar to massive protests in Indiana last spring. Maura Healey, Massachusetts's attorney general, said those protests are a sign of increased political will to protect LGBT rights. "Look at the reaction of the business community," she said. "The business community has got its pulse on what's happening here in terms of people's social mores and appetites in this country, and they say, 'We're not going to do business in a state that doesn't treat people equally.'"
But Massachusetts legislators seem to have some of the same concerns about transgender protections as their colleagues in other states. Debates over the North Carolina law and other transgender-protection measures have often focused on the issue of safety—the possibility of men in women's bathrooms, as a campaign last winter in Houston put it. This has also come up in Massachusetts. The House's version of the bill calls on the attorney general's office to provide guidance for law enforcement in case "any person who asserts gender identity for an improper purpose," and Baker emphasized the importance of these abuse protections in an emailed statement.
For her part, Healey was cool toward the provision. Although her office can issue guidance on any number of issues, she said, she's skeptical that there are "men who are going to put on a dress one day simply for the sake of walking into a bathroom to observe women." This is not something that has happened in Massachusetts or anywhere else, she added, "and if it did happen, there are laws already on the books to give law enforcement the ability to address any alleged criminal conduct."
Healey and other LGBT-rights supporters in Massachusetts have been pushing for this kind of legislation for a number of years. They've often faced opposition, though. Baker was not in office when the first round of transgender protections were passed in 2011. But when he unsuccessfully campaigned for governor in 2010, he initially said he would not support such a bill, according to Mass Live, and when he later mounted his successful bid in 2014, he was cagey about supporting its expansion. In an emailed statement, Baker said, "No one should be discriminated against in Massachusetts because of their gender identity." He's planning to sign the law "after hearing from all sides and carefully reviewing the two separate proposals that have been working their way through the legislature."
Although conflicts in other states might have created the right political moment for Massachusetts's new law, the state also has a distinctive profile: It's one of the most, if not the most, Catholic state in the country, with nearly half of its citizens identifying with that faith. This has already led to conflicts over LGBT discrimination in the state, and will probably continue to do so: Last month, a Catholic high school, Fontbonne Academy, settled a discrimination claim brought by gay man who was allegedly denied employment because of his sexual orientation. Although the state has often been an early mover on LGBT rights, the issue is still complicated there.
Massachusetts's new law has advanced transgender rights, but the long struggle to get it passed presages tough times ahead for the rest of the country's legislatures. Bipartisan groups of legislators in moderate states like Indiana and Pennsylvania—both of which don't have any kind of discrimination protections for their LGBT citizens—tried to champion legislation on housing, employment, and public accommodations earlier this year. They quickly failed. The list of states that don't have these kinds of protections on the books only gets redder from there.
Massachusetts is an outlier. It was an outlier in 2004 when its courts kicked off same-sex marriage. It's still an outlier in 2016: Although its transgender-right reforms are coming late, in other states, it's unclear that they're coming at all.