Making It Easier for Former Inmates to Work in L.A.
The city plans to prohibit some employers from asking job applicants about their criminal record.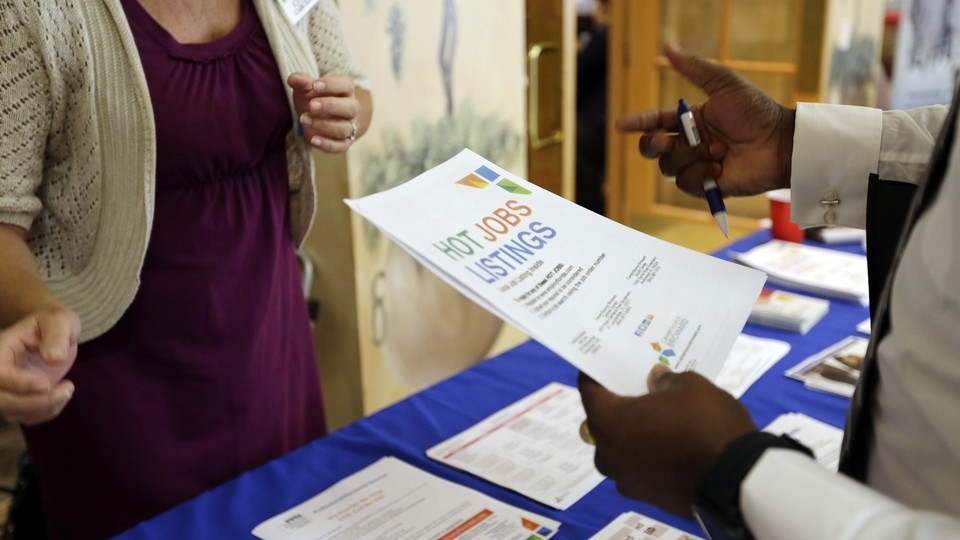 Los Angeles is getting closer to prohibiting certain employers from asking about criminal histories in their hiring process. The city's move would expand on a state law that bans such questions on applications for local- and state-government jobs by extending it to segments of the private sector. It would also bring much-needed relief to the thousands of former inmates who live in the county, many of whom have trouble finding work. In 2012, more than 14,000 Los Angeles residents were released from state prisons, accounting for 30.5 percent of the state's total releases. Just over half of those released will return to prison within three years, according to estimates from the California Department of Corrections and Rehabilitation.
"I can tell you that we're on the tail end of implementing a ban-the-box policy here in Los Angeles," Angelina Valencia, city councilman Curren Price's communications director, wrote in an email. In June 2014, Price introduced a motion to remove any questions about an individual's criminal record from job applications for any city agency, private employer within city limits, and those who have contracts with the city. Valencia expects the city attorney to release the ordinance by August or September.
The proposed ordinance, the Fair Chance Initiative, will complement other efforts to address the employment and training needs of city residents with criminal backgrounds. Mayor Eric Garcetti has vocally supported the national ban-the-box movement and the city's initiative. He established an Office of Reentry last year and, last April, ordered city agencies to prioritize former inmates and other "underemployed communities" in filling 5,000 new city jobs over the next three years. A new $9 million partnership between the state department of transportation and the city will create transitional employment and training for as many as 1,350 Angelinos on probation or parole, according to the mayor's office. That's a small but meaningful portion of the 60,000 residents released from the L.A. Sheriff's Department on average each year, according to the JFA Institute.
The initiative would help residents like Carlos Liceaga, a member of the nonprofit Homeboy Industries' job-training program. After serving over a decade in prison for attempted murder, Liceaga has completed most phases of an 18-month program while helping to establish a wildland fire-fighting certification at Homeboy. Local fire departments are currently barred from asking Liceaga questions about his convictions, but private firms are not. Without the Fair Chance Initiative, Liceaga's job prospects are very limited. But he remains optimistic. "Before I leave within the next four months, I'm going to have something lined up for me," he said.
Homeboy Industries helps former gang members who served time in prison to train for jobs, find housing, and generally put their lives back together. Over the last 24 years, it has earned a reputation for transforming the lives of thousands of residents in the Los Angeles area. That's part of the reason it played a key role in the development of this city-wide initiative. "We've been able to develop and provide most of the language on what will be voted on," said Jose Osuna, Homeboy's director of external affairs. He said Garcetti's team worked with the community to draft a version of the ordinance being considered.
For Osuna, the task felt personal. "I'm a repeat offender. I'm the kind of guy people would say, 'Lock him up. Throw away the key,'" he said. After 25 years in a gang and 13 years in prison, Osuna came to Homeboy in 2008 following three arrests. None of his job prospects were panning out, but he completed one of the trainings offered at Homeboy. Later, he became a full-time staffer in the same program and is now on the executive leadership team. He has never returned to prison. "We don't see people that way. We want to change the perspective that the world has on people like me and the people we serve," he said.
The motion might become law by October at the earliest, said Adam Lid, a legislative assistant for the city council's economic-development committee. But that estimate might be optimistic. Despite overwhelming support from members, Lid expects the vote to be delayed until  mid-December. "This will happen at some point, judging by the tenor of it all," he said, although he has not seen a draft of the ordinance yet.
In March, Garcetti visited Homeboy Industries' headquarters to celebrate the expansion of one of their training programs. "We're all here because we believe in this mission. We believe that everybody deserves a second chance," Garcetti said, standing with founder Greg Boyle and Councilman Price. "The mission isn't to build brick by brick anymore what Los Angeles' future will be. It's block by block."
Across the country, there is a ground swell of support for reentry programs. In California alone, on average 63 percent of those released from prison return, according to a state department of corrections study. Nationally, when returning citizens find a job, that rate drops to between 3 and 8 percent, according to the Manhattan Institute. If the Fair Chance Initiative passes, Los Angeles would become the second-largest city in the nation to embrace the ban-the-box movement, after New York. Doing so might set a precedent that spurs similar legislation beyond Los Angeles and the state.