Why Americans Argue Nationally but Act Locally
A new poll shows that most Americans think change is more likely to come from "businesses, local governments, non-profits, and Americans themselves" than from the national level.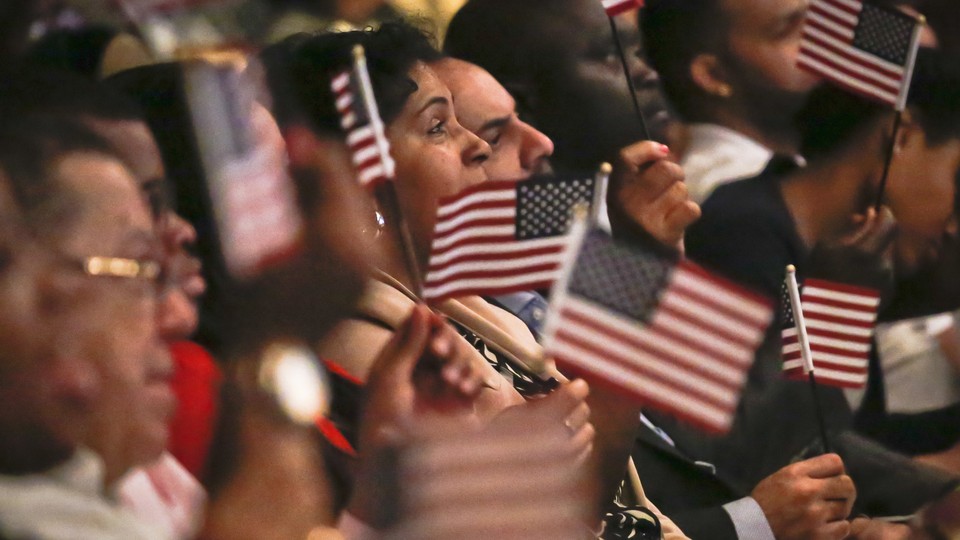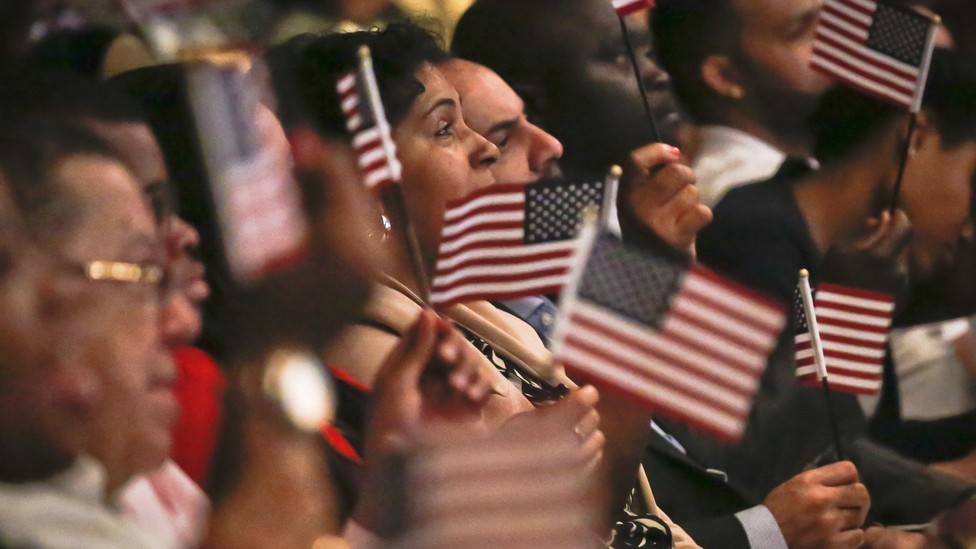 Though the tumultuous 2016 presidential race has riveted and polarized the nation, most Americans are still looking to local, not national, institutions for progress on the country's key challenges, the latest Allstate/Atlantic Media Heartland Monitor Poll has found.
While nearly two-thirds of Americans say they consider the 2016 race more important than other presidential elections, only about one-third say they expect major progress on the issues they care most about if their favored candidate wins. And far more Americans said "progress … on the biggest challenges facing the country" was more likely to come through initiatives from "businesses, local governments, non-profits, and Americans themselves" or "individuals taking action in their communities" than by "electing a president you mostly agree with on the issues."
These findings suggest the same discontent with government and the nation's overall direction that has turbocharged interest in the presidential contest also may be dampening expectations about its ultimate impact. After years of stalemate and partisan paralysis in Washington, these results signal that most Americans' first instinct now is to look for change instigated from the bottom up rather than the top down.
The political credo the poll suggests might be summarized as: Argue nationally, act locally.
Reflecting that inclination, by a margin of nearly three to one, those surveyed said they believe "new ideas and solutions" for the nation's "biggest economic and social challenges" are more likely to emerge from "state and local institutions like government, businesses, and volunteer or community organizations" than "national institutions like the federal government, national businesses, and major non-profit organizations."
"When it's done nationally [change] is such a big deal that I think states … can start in a smaller capacity first," said Colleen Eckman, 59, a postal-service employee from Toledo, Ohio, who responded to the survey. "Each state should have their own set of rules. Gay marriage passed in more liberal states first. If it would have gone national first, it would have never passed right at the get go. It had to break down into state[s] first."
The survey marks the 26th in a series conducted by Allstate and Atlantic Media exploring how average Americans are adapting to the changing economy. Over the next week, The Atlantic will report results from the latest poll, which was conducted from June 19 to 24 and which primarily examined the public's attitudes toward fundamental trends shaping American life, as well as their views about what institutions should respond to those challenges.
In the presidential contest, registered voters preferred Hillary Clinton over Donald Trump by 44 percent to 36 percent, the survey found. The results underscored the potential of such a pairing to widen many of the political fault lines already separating American society.
The contest generated a series of sharp divisions, with Trump frequently failing to fully replicate the usual advantages the GOP enjoys among many groups. While Clinton, for instance, held a 48 percent to 28 percent edge among women, Trump led among men only 42 percent to 39 percent, less than Mitt Romney's seven-point lead over President Obama among men in 2012. And while Clinton held a 64 percent to 13 percent advantage among nonwhite voters, Trump led among whites much more modestly: 46 percent to 34 percent. That compares with a 20-point edge for Romney among whites in the 2012 exit polls.
Trump's lead among whites in the survey was squeezed because of his struggle among those with advanced education. In the history of polling, dating back to 1952, no Democratic presidential nominee has carried the majority of college-educated whites. But in the survey, Clinton led Trump among college-educated whites by 45 percent to 37 percent. (That echoes the result of most other recent national polls showing Clinton ahead among that group.) Clinton held a 49 percent to 34 percent advantage among college-educated white women—a group that backed Romney by six points in 2012 and has not given Democrats more than an eight-point advantage in any race since 1980, according to exit polls. But the survey also found her running even among college-educated white men, who provided Republicans a double-digit edge in eight of the past nine presidential races and a 21-point lead in 2012, according to exit polls.
Trump did hold a big lead among blue-collar whites, leading by 68 percent to 20 percent among white men without a college degree, and 42 percent to 28 percent among non-college white women.
The generational contrast was equally stark. Although Clinton lagged Obama's commanding margins with Millennials, she held a solid 22-percentage-point lead among them. She also led with Generation X by seven percentage points. The two ran about even among Baby Boomers (with Clinton leading by three percentage points), while Trump held a narrow five-point lead among the older respondents from the Silent and GI generations. Trump's performance again trailed the usual Republican advantage with Baby Boomers and older voters in recent campaigns.
The survey found that Trump and Clinton supporters hold diametrically opposed views on many of the key trends reshaping American life, such as growing diversity. But the poll also found that both sides converged in generally looking more to local than national institutions for progress—though the tilt was more pronounced among Trump's supporters.
Asked what possible actions would "result in more progress being made on the biggest challenges facing the country," 47 percent of all adults picked "positive actions taken by some combination of businesses, local governments, non-profits, and Americans themselves." Another 26 percent said, "individuals taking action in their communities." Just 22 percent said progress on the country's key challenges was mostly likely to come from "electing a president you mostly agree with on the issues."
In follow-up interviews, some poll respondents who prioritized electing a president they agreed with said they did so less because they expected big progress in Washington than because they believed the key issues facing America—particularly terrorism and global instability—were national in scope. "The biggest problems facing the country are national problems," said Ruth Freeman, 68, a retired pathologist and independent in Unicoi, Tennessee. "They're not really dealt with on a local and state level."
Trump supporters (at 29 percent) were only slightly more likely than Clinton backers (at 23 percent) to say that electing a president they agreed with was most likely to produce progress. Nearly three-fourths of Clinton's supporters, and almost two-thirds of Trump's, said actions by local institutions or individuals were most likely to generate gains.
That consensus reflects the belief that local institutions are already proving more effective against the country's big problems. By 56 percent to 24 percent, Americans said today the most progress is being made "at the state and local level" rather than "at the national level." Among Trump supporters that margin swelled to 65 percent local compared with 11 percent national. Clinton backers were much more likely to see gains at the national level, but even so, by a 48 percent to 36 percent margin, they saw local institutions making the most progress. The trend along racial lines was similar. Whites picked local institutions by an overwhelming 61 percent to 19 percent. Minorities also leaned that way but considerably more modestly, 48 percent to 37 percent.
Looking forward, by a 68 percent to 23 percent margin, all adults said new ideas for confronting the nation's biggest problems were more likely to emerge from state and local institutions than national ones. That sentiment was shared by about two-thirds of whites and nonwhites, and at least two-thirds of Millennials, Generation Xers, and Baby Boomers. (At 59 percent, the oldest respondents were only slightly less likely to lean that way.) Nearly four-fifths of Trump supporters thought local institutions offered the best new thinking, and although Clinton supporters again tilted more toward Washington, nearly three-fifths of them as well looked local for answers.
From across the political spectrum, several of those who responded to the poll said they favored local institutions in response to the intense partisan and ideological polarization that now characterizes Washington. Rather than expecting political leaders to forge a national consensus, several respondents said, it was more realistic to let communities go their own way, guided by their distinct prevailing sentiments.
"I think each state feels what the people want," said William Perez, 36, a social worker from Yonkers, New York. "The federal level doesn't work that way ... [New York is] a Democratic state. There's a lot of respect for minorities, a lot of respect for people of different orientations."
In a mirror image, John Nunnally, a conservative 32-year-old truck driver from Louisiana, prefers local initiatives, too: "Because they're more in touch with what people want—you know, what's going on right here. I mean, they're not all the way in Washington, D.C. They're right here in the state, in the community, and they know what's going on."
Notwithstanding this local orientation, fully 63 percent of those surveyed described the 2016 contest as "more important" than other presidential elections. The rest considered it "as important" (26 percent) or "less important" (just 8 percent) than earlier elections. The share viewing the election as more important varied little between Republicans and Democrats, Trump and Clinton supporters, and whites and nonwhites.
Fully 76 percent of those polled said the election would affect the standing of the United States in the world " a great deal," while another 14 percent said it would exert a "moderate" impact. Overwhelming majorities of all key groups shared that perspective. Americans were more equivocal on how much the result would affect them personally: While 41 percent said it would affect their "personal quality of life" a "great deal," 29 percent saw only "moderate" impact. Another 16 percent said the outcome would affect them "not much," while 9 percent said the result would change their life "not at all." Trump supporters were somewhat more likely than Clinton backers (50 percent to 41 percent) to expect a "great" impact on their personal lives from the result.
In follow-up interviews, poll respondents from both sides who viewed the election as unusually important often circled back to the same view: the belief that the race had become a referendum on America's values and national identity at a time of rapid cultural and demographic change.
Nunnally, the truck driver, is passionately supporting Trump ("If she wins we're doomed") largely because of his views on immigration and terrorism. But he also expressed a deep alienation from many manifestations of a more diverse society:
We can't even fly the Confederate flag anymore because it's offensive towards the different heritages, you know whatever you want to call it, but yet they force black history month down our throat. I'm not trying to sound racist, but I mean, you go into any city in the country—like I said, I drive a truck—I go around this country all the time, there's not one city in the country that doesn't have a Martin Luther King Boulevard, but you can't sit there and fly a Confederate flag, you can't say, 'General Robert E. Lee' or 'Thomas Jefferson,' we've got to take our president off our currency so we can put Harriet Tubman on there? I mean, it's offensive to some of us that we're having to lose our own heritage because it's offensive to somebody else.
Eckman, the Ohio Democrat, views the election as a critical statement on the nation's values. "There are so many changes going on in the country right now, and bringing the country up to date, like with gay marriage and the marijuana thing and the gun laws [would matter]," she said. "It could be our first woman president, or it could be our first president that has really nothing to do with politics at all. It's important. It's almost scary it's so important."
In interviews, several of those who portrayed the election as unusually important were more likely to cite antipathy toward the candidate they oppose than enthusiasm for the one they support. "We're basically putting our best bet on a guy that's made billions of dollars but has no political experience, or placing our bet on a woman who has done horrible things in the past but is somewhat of a political leader," said Alex Newman, 18, a Republican in Snellville, Georgia, who is enrolling in college this fall. "I just don't know how the country can deal with that as a whole."
From the other side, Perez, a Bernie Sanders supporter during the Democratic primary, is dubious that a Clinton victory will produce many tangible gains in his life. But he says, "Any vote against Trump is a vote that's needed. It's a vote for me, you, my family, your family, everybody's family … because if we thought that the [George W.]  Bush presidency was bad, a Trump presidency would be unfathomably terrible."
One final result helps explain the gap between the solid majority who consider the election more significant than usual and the more modest share who expect a big personal impact. Only about one-third of those surveyed said they are expecting big progress on the issues they care most about if their candidate wins in November. Another two-fifths are expecting just "modest" progress, while a fifth are expecting no change.
In a worrisome sign for Democrats, far fewer of Clinton's supporters than Trump's expect major progress if their candidate wins. While just over half of Trump supporters believe his victory would trigger big gains on the issues they care most about, slightly less than one-third of Clinton supporters agree. Half of Clinton supporters are expecting only "modest" progress compared with one-third of Trump voters.
Freeman is one of the Clinton backers not expecting major progress even if she wins. "Minor progress would be an optimistic viewpoint," she said. "Given the makeup of Congress today, I seriously doubt anything major is going to happen. We'll be lucky if something minor does happen."
By contrast, Nunnally is among the Trump supporters who expect him to drive through big changes if elected. "He's stubborn: He's not going to take no for an answer," Nunnally said. "He's not going to back down from a fight … Just like this wall he wants to build. He's flat said it: The U.S. isn't going to spend a dime to build this wall. I mean, why should we? You're coming into our country illegally, you're bringing drugs, you're bringing violence. You're going to build a wall, and you're going to stay out of our country. And I think he'll get it done."
That difference could reflect an enthusiasm gap for Clinton among voters in her coalition. But, as with Freeman, it could also reflect a hardened realism among Democrats after Obama's eight years of political battle with congressional Republicans. In that sense, Republicans might be expecting more change because it has been a while since they have witnessed how difficult it is for a president they support to achieve it.
Atlantic assistant editor Leah Askarinam contributed.