'Lock Her Up': How Hillary Hatred Is Unifying Republicans
The demand to put Clinton in jail (or worse) is bringing together Republicans.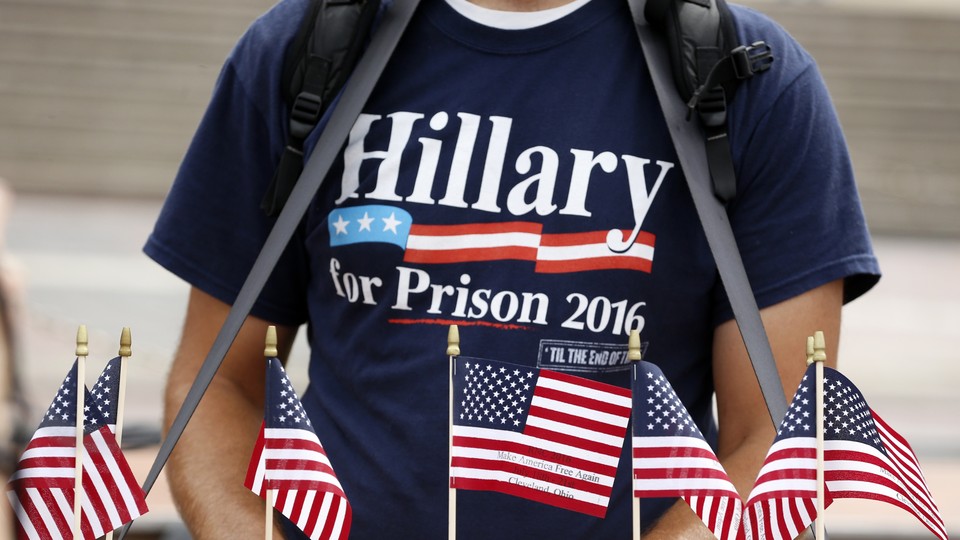 CLEVELAND—For many Republicans, it's not enough that Hillary Clinton be defeated at the polls in November. They want to see her imprisoned—or worse.
So far, the Republican National Convention has been as much about Clinton as it is about Donald Trump, who was formally nominated Tuesday. The party hoped the confab in Cleveland would allow the GOP to unify after a fractious, acrimonious primary season and maybe even begin pivoting toward the general election. On that count, we'll give the RNC a gentleman's incomplete so far. On the one hand, Donald Trump was formally named the nominee on Tuesday, as expected, and a slew of establishment figures—including Speaker Paul Ryan and Senate Majority Leader Mitch McConnell—got up to speak in his favor, with as much warmth as they could muster. Meanwhile, in its first two days, the convention has been riven by procedural fights and furious reactions from anti-Trump leaders and delegates.
With Trump remaining a divisive figure, Clinton provides a useful rallying point. Some of that is garden-variety political talk, as when Arkansas Governor Asa Hutchinson critiqued the Clintons' time in his state. But there's a darker strain present, too. It's on display during some of the most striking moments at the Quicken Loans Arena, when the hall has broken out into spontaneous chants. It's on display in the sartorial choices around downtown Cleveland, where "Hillary for Prison" shirts seem nearly as popular as the famous "Make America Great Again" hats. It's on display in the speeches delivered from the dais and the comments made by delegates.
Those shirts are not new, and anyone who's attended a Trump rally (or even a Bernie Sanders rally) this year will have seen them. Styled after Clinton's 2008 logo, they produce frantic double-takes every time I see one, thinking a Hillary backer has gone out into the fray. But they're especially popular here.
Then there are the speeches. One of the emotional peaks of Monday's convention slate was a short address by Patricia Smith, whose son Sean Smith was killed in the September 11, 2012, terrorist attack in Benghazi while stationed there by the U.S. Foreign Service. As she told her story, someone on the floor shouting "Hillary for prison!"
"That's right," Smith replied. "Hillary for prison. She deserves to be in stripes."
Tuesday night, New Jersey Governor Chris Christie made it even more explicit. A former U.S. attorney, Christie approached his speaking slot like a prosecutor making his case against a defendant. He even asked the audience to deliver a verdict. "We must present those facts to you, a jury of her peers, both in this hall and in living rooms around our nation," he said. "Since the Justice Department refuses to allow you to render a verdict, let's present the case now, on the facts, against Hillary Clinton."
The crowd was delighted to oblige. Throughout Christie's speech, attendees broke into chants of "Lock her up! Lock her up!"
Still, these sentiments are by some measures the moderate ones. Al Baldasaro, a New Hampshire delegate who has appeared at events with Trump, railed against Clinton during a radio interview on Tuesday, as BuzzFeed's Andrew Kaczynzski reported.
"Hillary Clinton to me is the Jane Fonda of the Vietnam. She is a disgrace for the lies that she told those mothers about their children that got killed over there in Benghazi. She dropped the ball on over 400 emails requesting back up security. Something's wrong there," he said. "This whole thing disgusts me, Hillary Clinton should be put in the firing line and shot for treason."
On Friday, West Virginia delegate Michael Folk reached a similar conclusion, though he prescribed a different method of execution. Tweeting at Clinton, he said, "You should be tried for treason, murder and crimes against the U.S. Constitution… then hung on the Mall in Washington, D.C."
The attitude that Clinton must be jailed or even executed is by no means universal. Some delegates seem as disgusted by the saber-rattling as they are by their nominee and the fights over rules at the convention—more signs of a party veering into populism and barbarity. Clinton is also an unusual figure in that she is plagued by some real legal problems, so it's not just partisan animosity. But the Justice Department's decision not to bring charges against Clinton over the use of her private email server inspired a harsh backlash. For months, Republican leaders suggested that Clinton would be indicted, despite legal experts' consensus view that a prosecution was unlikely. When FBI Director James Comey dashed those hopes by recommending against charges, people who had gotten their hopes up were furious. Since the Justice Department won't bring charges, people like Smith, Baldasaro, and Folk are making their own citizens' indictments.
These "indictments" don't carry the force of law, of course, but they do carry a worrying rhetorical weight. Around the world, it's not uncommon for rulers who have just come to power to prosecute, imprison, and even execute their rivals or predecessors; historically, it's probably the norm. The United States has been an international outlier—it has been exceptional, even—in its long pattern of peaceful and non-recriminative transfers of power. Even Richard Nixon, who likely could have been convicted of crimes, was pardoned by Gerald Ford. In announcing that decision, which was deeply unpopular, Ford cited the necessity of preserving American norms. It would take too long for Nixon to be tried, Ford said. "During this long period of delay and potential litigation, ugly passions would again be aroused, our people would again be polarized in their opinions, and the credibility of our free institutions of government would again be challenged at home and abroad," he said.
Would a President Trump be inclined to engage in this kind of score-settling? It's impossible to tell. Throughout his business career, Trump has often held long grudges and sought revenge. (By some accounts, it's the entire motivation behind his campaign.) But even mainstream figures like Christie have talked with varying degrees of seriousness about "never let[ing Clinton] within 10 miles of the White House again." Even if Clinton loses, quietly returns to private life, and doesn't face any further prosecution, the scene of thousands demanding that a political rival be jailed will remain another disconcerting episode in an election packed with them.