America's Cities Fight Trump
Liberal mayors see the Republican nominee's rhetoric as a threat to their diversity and inclusivity.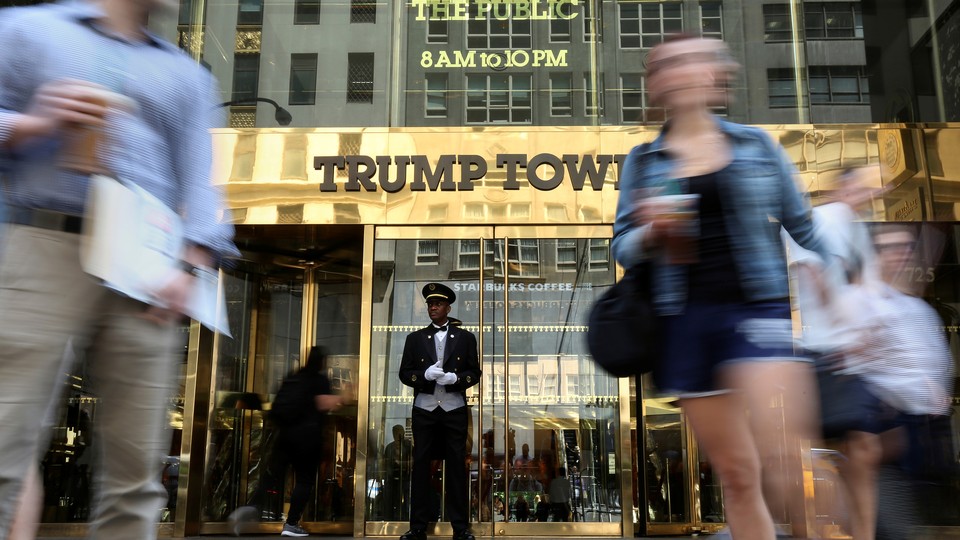 If nothing else, Donald Trump is a New Yorker. Born in Queens and now a high-rise real-estate tycoon who was regularly the subject of Daily News stories even before his aspirations for political office, Trump is a larger-than-life caricature of New Yorkness. He lives for the city.
That naked metropolitanism seems at odds with the current state of the Republican Party, of which Trump is now the nominee for president. The party's appeal to coal miners and other blue-collar professions, and to a very specific sense of race and Americanness, emphasizes rural Americana as rightness and uses cities as a foil. That cities are diverse and generally more liberal than rural areas is the basis of their status as a punching bag for Republican campaigners. Whether it's Senator Ted Cruz attacking "New York values" or Trump himself using fear about urban crime to galvanize voters, cities represent much of what Republicans claim to hate most.
Tuesday at the Democratic National Convention in Philadelphia, a group of mayors from many of those big cities coordinated an attack on the anti-city rhetoric of Trump and the Republican Party in an endorsement of Hillary Clinton. At a press conference, Mitch Landrieu, the mayor of New Orleans and vice president of the United States Conference of Mayors, along with a small army of mayors of other cities, issued a challenge to Trump that his vision of violence and decline in America and its cities was "just flat-out wrong."
Landrieu took special exception to the way Trump used a recent spike in homicides in his nomination speech at the Republican National Convention to suggest that "decades of progress made in bringing down crime are now being reversed by this Administration's rollback of criminal enforcement." Landrieu's city had a 30-year low in homicides last year after having been known for years as a hotbed for murder.
"What they're missing is the truth," Landrieu told me. "From 1996 until today, crime has decreased in major American cities all across America. … You can cherry-pick statistics and not show certain cities—for example my city, murder is down to the lowest it's been since 1970. And so if you pick small trends and you just look at it over a week or two weeks or three weeks, it belies the whole truth."
Landrieu's rebuttal was certainly a fair reading of facts—a one-year spike in murders does not constitute an alarming trend—but Trump seems to have public opinion on his side. National concern about crime was at a 15-year high even before recent high-profile killings in Baton Rouge and Dallas. Fear of crime often exists independently of actual crime, and Trump will likely continue this line of attack successfully in his assault against cities. Even if crime drops next year, many Americans still might perceive that cities are violent and dangerous places.
Some of that might have to do with the second part of Trump's anti-city rhetoric: demographics. Trump's anti-immigrant remarks and routine bigotry are also implicit attacks on big cities, which are common destinations for immigrants and more diverse than rural areas. And those destinations resemble what America is becoming. At the press conference, New York City mayor Bill de Blasio said that "when they talk about cities, they talk about places that represent our future." Mayor Eric Garcetti of Los Angeles followed by saying "we look like the future of this country."
The demographic shifts that are taking root in America have already taken place in many of its cities. Many cities represented by the Conference of Mayors are majority-minority—including Los Angles, New York City, and New Orleans—and many others are on the way.  Immigrants are reshaping cities and increasingly promoting concepts such as multilingualism that chafe against a very specific idea of Americanness.
Trump's attacks and the mayors' counterattacks are in essence a proxy war for what Americans want the country to look like, and that proxy war is of course backed up by actual rural and urban voting patterns. The election in November will go a long way towards determining if America will embrace urban life.