The Most Inspiring and Depressing Moment of the Democratic Convention
The father of a Muslim American who died in Iraq confronts Donald Trump.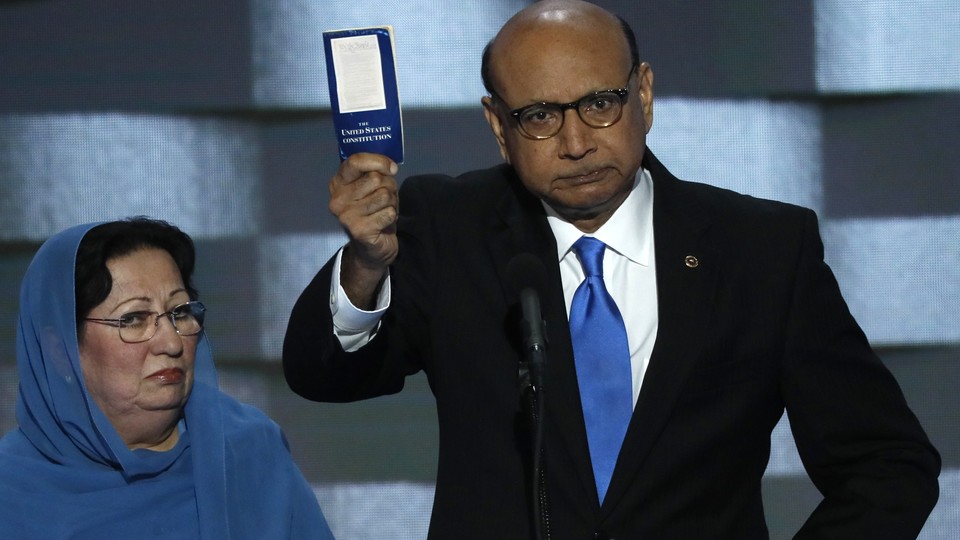 Khizr Khan began his speech at the Democratic National Convention on Thursday with words I wish he didn't have to say: "Tonight we are honored to stand here as parents of Captain Humayun Khan and as patriotic American Muslims—as patriotic American Muslims with undivided loyalty to our country."
I wish he and his wife didn't have to stand there as the parents of a 27-year-old Army captain who was killed by suicide bombers while serving in the Iraq War. And I wish Khizr Khan hadn't felt the need to declare his patriotism and loyalty to the United States of America. Those truths should have been self-evident.
The state of the union is not strong when an American feels compelled to clarify such things. In better times, Khizr Khan, who was born in Pakistan and moved to America from the United Arab Emirates, might have begun his speech with what he said next: "Like many immigrants, we came to this country empty-handed. We believed in American democracy—that with hard work and [the] goodness of this country, we could share in and contribute to its blessings."
But these are not better times. They're times when a candidate for the nation's highest office has called for banning all Muslims—the latest version of the proposal applies to everyone from countries "compromised by terrorism"—from its shores, ostensibly to protect the American people. And so, in that kind of climate, Khizr Khan had this to say instead: "Our son, Humayun, had dreams … of being a military lawyer, but he put those dreams aside the day he sacrificed his life to save the lives of his fellow soldiers. … If it was up to Donald Trump, he never would have been in America."
"Donald Trump, you're asking Americans to trust you with their future," said Khan, who works as a legal consultant. "Let me ask you: Have you even read the United States Constitution?" He pulled out a pocket version of the document from his suit jacket. "I will gladly lend you my copy. In this document, look for the words 'liberty' and 'equal protection of law.'"
"Have you ever been to Arlington Cemetery?" he asked. "Go look at the graves of brave patriots who died defending the United States of America. You will see all faiths, genders, and ethnicities."
The lines echoed something Khan told The Washington Post in 2005, one long and excruciating year after his son's death, in explaining why he and his family had originally decided to move to Silver Spring, Maryland. At the time, in the late 1970s, Pakistan was under military rule, and he had set out in search of more freedom and opportunity.
Ultimately, that opportunity came with sacrifice. Addressing Trump directly on Thursday evening, Khan called out the Republican nominee's tough talk: "You have sacrificed nothing and no one."