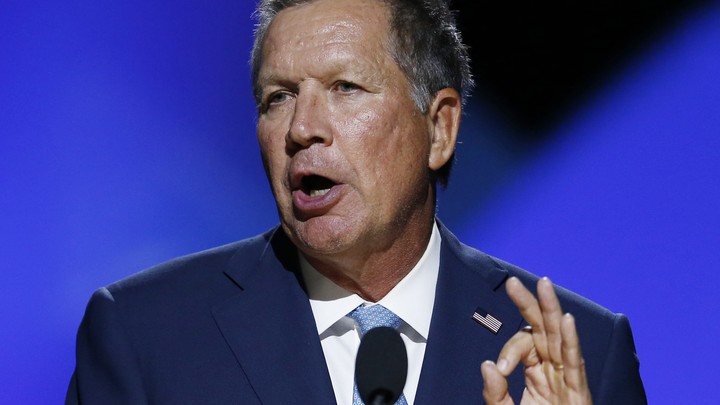 CLEVELAND—It's a little misleading to say that John Kasich is skipping the Republican National Convention being held in the state he leads.
Yes, the Ohio governor declined to actually speak at the convention, in large part because he has refused to endorse the candidate the convention is nominating, Donald Trump. But he's been a man about town this week nonetheless, attending several of the events surrounding the convention while shadowboxing with the Trump campaign. None of them carried more symbolic significance than his decision—his insistence really—to speak to the New Hampshire delegation on Wednesday afternoon.
Kasich finished a distant second to Trump in the first-in-the-nation primary, but the result was enough to sustain his candidacy, allowing him to stay in the race long enough to win Ohio in March. Speaking to a tent filled with delegates in the Little Italy section of Cleveland, Kasich spent 15 minutes reminiscing about the 106 town halls he held in New Hampshire and issuing a renewed call for unity—national, not Republican—before he uttered the words that many in the audience most wanted to hear.
"For the people in New Hampshire," Kasich concluded, "I'll be back."
This wasn't a man declaring his second presidential candidacy four years out, but neither was it an innocuous throwaway line, offered up as a matter of politeness. No politician goes to New Hampshire by accident, and no one forced Kasich to speak to the state's Republican delegation at a convention he pointedly refused to participate in. Even when he found out that delegates from Rhode Island made up half the crowd, Kasich said he wanted "to talk to New Hampshire."
That pledge came hours after The New York Times reported that not only did Trump's son, Donald Jr., offer Kasich the vice presidency, he offered to put Kasich in charge of the government while President Trump focused on "making America great again." Earlier in the week, the Trump and Kasich camps feuded over Kasich's refusal to endorse Trump or speak at the convention, with Trump campaign chairman calling the governor's decision "an embarrassment."
In his remarks on Wednesday, Kasich made no reference to Trump or even to the convention in town. It was mostly a nostalgia tour. He recalled his "victory" in Dixville Notch, the famous northern New Hampshire village where residents cast their votes at midnight. "You know Dixville Notch. That's where we find out who's going to be president," Kasich said ruefully.
He lamented what he called the drifting secularization of society, a shift that he said was not worrisome because of a loss of religion but because of its attendant loss of community and connectedness. "In our country," Kasich said, "people feel alone." And in the closest he came to alluding to Trump, Kasich offered this reflection: "I'm not a bumper sticker guy. That's probably why I didn't win."
But it was Kasich's allusions to the future rather than the past that offered the most hope to his many fans sipping drinks under the tent. "I'm hanging in there for 2020," said Janet Stevens, an alternate delegate from Rye. "We're waiting with open arms," she said at another point. Stevens was clearly no fan of Donald Trump, but she hedged on whether she was actually rooting for him to lose so that Kasich could have a path in four years. "I don't wish ill will on anyone, but I want to see Governor Kasich in the White House."
We want to hear what you think about this article. Submit a letter to the editor or write to letters@theatlantic.com.
Russell Berman
is a staff writer at
The Atlantic
, where he covers politics.