House Republicans Have Questions for James Comey
Lawmakers railed against the FBI director, who earlier this week said the agency would not recommend charges against Hillary Clinton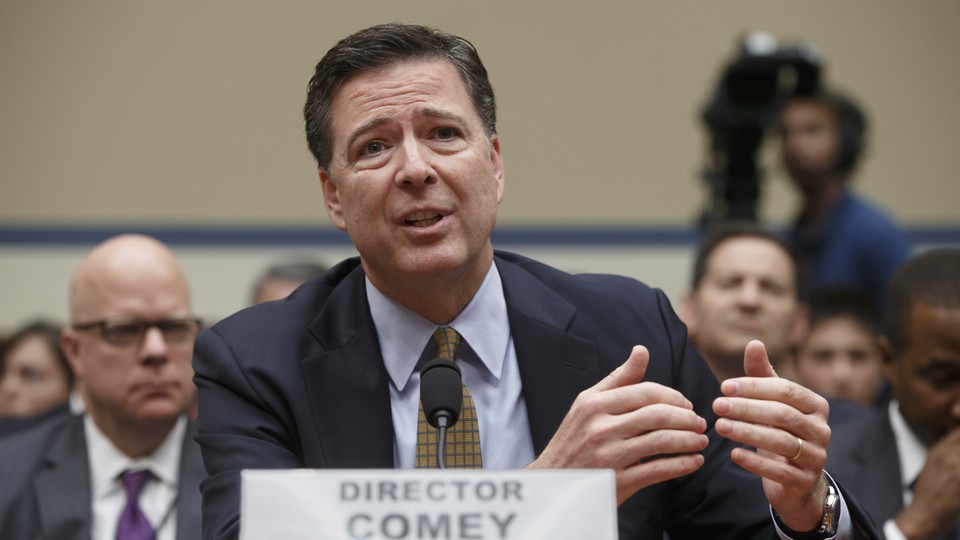 Updated at 2:18 p.m. ET
NEWS BRIEF  The investigation into Hillary Clinton's use of a private email server during her tenure as secretary of state formally closed on Wednesday, but House Republicans aren't prepared to let it go.
On Thursday, FBI Director James Comey testified before the House Oversight Committee, only two days after announcing that his agency would not recommend charges to the Justice Department. "I'm here because we're mystified and confused by the fact pattern you laid out and the conclusions that you reached," Chairman Jason Chaffetz said at the start of the hearing. "It seems there are two standards, and there's no consequence for these types of activities and dealing in a careless way with classified information."
Comey said in his statement Tuesday that Clinton's use of a private email server was "extremely careless." Of the 30,000 emails turned over by the State Department in 2014, 110 emails in 52 email chains contained information that was classified at the time they were sent or received. The decision confounded Republican lawmakers. "We believe you have set a precedent," Chaffetz told Comey in his opening remarks. "It's a dangerous one."
Ranking Member Elijah Cummings, a Democrat, appeared disturbed by his colleague's criticism of the FBI's decision, painting the hearing as a political attack. "No matter what recommendation you made, you were sure to be criticized," he said. "There's no question that you were extremely thorough."
Comey made clear his intentions to clarify how the FBI came to its conclusion in his opening statement, beginning by explaining the agency's focus in investigating a criminal case: determining what the person knew and whether they knew what they were doing was unlawful.
Comey repeated points from hist statement on Tuesday. "I see evidence of great carelessness," he said,"but I do not see evidence that is sufficient to establish that Secretary Clinton or those with whom she was corresponding both talked about classified information and knew when they did it they were doing something that was against the law."
Still, Chaffetz pressed on Comey on email correspondence that contained classified information and whether Clinton had lied. On the latter, Comey said, "We have no basis to conclude she lied to the FBI." Whether she did so before Congress, however, is unclear. As a result, Chaffetz appeared to suggest Congress will send a referral to the FBI to investigate if she lied under oath.
Gowdy, who led the House Benghazi Committe, echoed Chaffetz's line of questioning, also providing a laundry list of Clinton's statements on her use of a private email server, compared to what Comey has said. Also referencing Comey's remarks on intent, "You and I both know intent is really difficult to prove."
Comey's press conference Tuesday wasn't typical of how FBI investigations conclude. CNN reported that FBI officials don't usually reveal their findings when they don't intend to recommend charges. Comey's decision to go public on Tuesday therefore seemed to stump Chaffetz. "Why did you do what you did?" he asked. "My interpretation of what the FBI is supposed to be doing is come to a determination of the facts and then turn it over to a prosecutor."
Comey explained his rationale: "I thought that was very, very important for their confidence in the system of justice. And within that, their confidence in the FBI," he said. "I was very concerned if I didn't show that transparency, that in that lack of transparency people would say 'Geez, What is going on here? Something seems squirrelly here.' So I said I will do something unprecedented because I think this is an unprecedented situation."
David Petraeus, whose name has been floated as a point of comparison, was referenced in the hearing by Cummings. Petraeus, a former director of the CIA, pleaded guilty last year for sharing classified information with his biographer and lover. Comey noted that Petraeus understood what he was doing at the time and lied to the FBI: "It illustrates importantly the distinction to this case."
Republicans are unlikely to back down. The hearing proceeded well into Thursday afternoon. Earlier in the day, Speaker Paul Ryan recommended that the Director of National Intelligence James Clapper "refrain from providing any classified information to former Secretary of State Hillary Clinton for the duration of her candidacy," citing the FBI's findings.