Is Wikipedia Foreshadowing Clinton's Vice-Presidential Pick?
A certain senator's page has seen nearly 100 edits this week alone.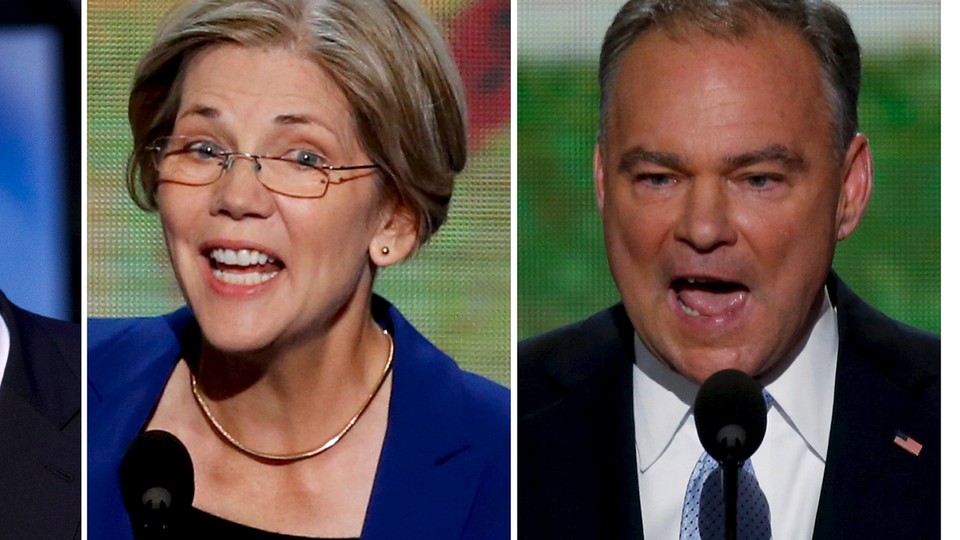 In 2008, after John McCain's surprise announcement that he had selected Sarah Palin as his running mate, The Washington Post reported an intriguing coincidence: Leading up to the announcement, Palin's Wikipedia page had seen more than 65 edits over the course of the day.
Can Wikipedia edits reveal something similar in this election? Hillary Clinton is expected to announce her VP pick in the coming days—or hours. Which potential candidates have seen the most edits to their Wikipedia pages this week?
Let's review.
The page of Ohio Senator Sherrod Brown has seen several changes over the past week. Elizabeth Warren, the senator from Massachusetts, saw few edits this week after an elevated number earlier this month, when she was touring with Clinton.
U.S. Secretary of Housing and Urban Development Julian Castro's page received about three edits per day this week, though most of the edits concerned his alleged violation of the Hatch Act.
Tom Vilsack, the U.S. Secretary of Agriculture and one of two candidates on Clinton's reported shortlist, saw about 30 edits to his page this week. Most of them were just to clean up information already on his page, and they came from registered Wikipedia users.
The Wikipedia page of Virginia Senator Tim Kaine, on the other hand, has seen 62 edits on Friday alone. There have been almost 90 edits over the past week. Many of them originate from a user called Neutrality, a longtime Wikipedia editor who has made more than 110,000 edits to the encyclopedia. Other minor edits come from two IP addresses not associated with Wikipedia users, appearing to originate respectively from Hicksville, New York, and the borough of Queens in New York City. Another user registered as a Wikipedia editor (and thus impossible to geographically track) added paragraphs about Kaine's experience as mayor of Richmond and his energy policies.
In short, Kaine's page has seen significantly more Wikipedia edits than any other candidate's.
This could mean nothing: Kaine has also seen extensive news coverage this week, and like the betting markets, Wikipedia could be a trailing indicator of media interest. And there appears to be no single-user smoking gun as happened with Palin in 2008. But there is still a flurry of activity on Kaine's page.