Is It Newt?
Fox News has suspended its contract with the former speaker of the House, fueling speculation that he could be Donald Trump's choice as a running mate.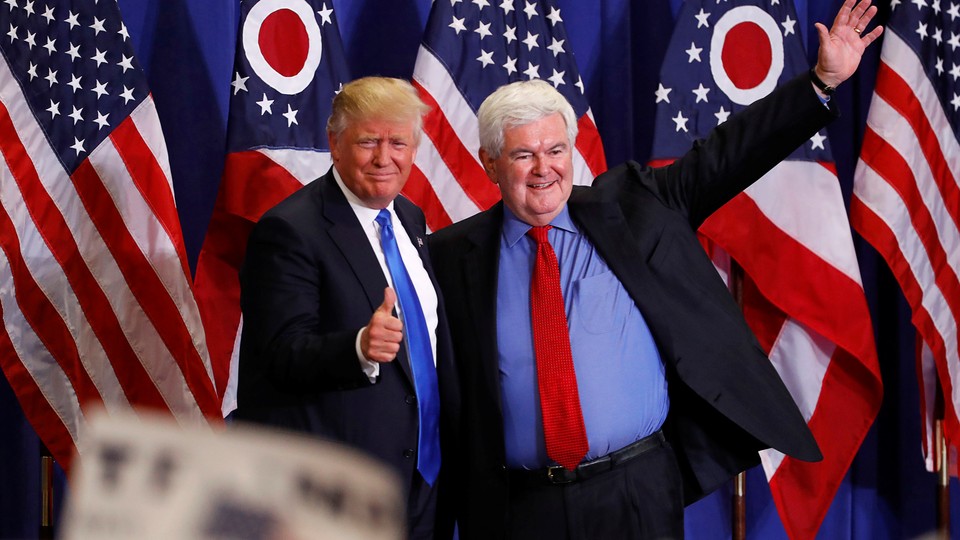 Frankly, this is fascinating news. As Brian Stelter of CNN reported Tuesday afternoon, Newt Gingrich's contract with Fox News—not to be confused with his long-defunct Contract With America—has been suspended:
"Fox News Channel has mutually agreed to suspend its contributor agreement" with Newt Gingrich "effective immediately." Story TK.

— Brian Stelter (@brianstelter) July 12, 2016
Fundamentally, this will feed speculation that Gingrich could be presumptive Republican nominee Donald Trump's choice as running mate. Gingrich has been one of Trump's top surrogates for months, becoming one of the first veteran Republicans to speak positively about the entertainer, at a time when he was still anathema to the party, or at least, to even more of the party than he is today. In recent weeks, the Great Mentioner has frequently cited Gingrich as a leading candidate to join Trump on a ticket, Gingrich recently joined Trump on a campaign jaunt to Southwestern Ohio, and he proudly boasted of having helped the candidate come up with a widely derided tweet about stars of David, anti-Semitism, and Frozen.
Fundamentally, Trump wants to fill out his ticket with a figure who is more of a political insider and has Washington experience, both of which Trump lacks. Frankly, Gingrich seems like an obvious pick: As a longtime U.S. representative, former speaker of the House, and former presidential candidate, he ticks the political boxes. But he also shares some things with Trump, including an unflagging and perhaps inflated sense of his own intellect, an propensity to say outlandish things, and three marriages.
In its statement, Fox was careful to portray the move as fundamentally a response to media attention, rather than a tip-off to coming news: "Due to the intense media speculation about Gingrich's potential selection as Donald Trump's vice presidential candidate, we felt it best to halt his contributor role on the network to avoid all conflicts of interest that may arise." Its announcement quickly halted all speculation.
Just kidding! Politics Twitter is, at the time of writing, consumed with face-palming by conservative political professionals, intense schadenfreude from liberals, and nearly frantic eagerness from journalists excited about the prospect of covering a Trump-Gingrich ticket, which would likely be the most free-wheeling and unpredictable duo in presidential-campaign history. Trump is expected to announce his choice later this week.
All this said, Fox's move isn't unprecedented. Because the network employs a huge number of former and sometimes current Republican politicians, such conflicts have arisen before. In early 2011, for example, Fox suspended its contracts with both Gingrich and former Pennsylvania Senator Rick Santorum, both of whom were considering presidential runs, and both of whom did in fact run.
Frankly, Gingrich would bring quite a few weaknesses to the Trump ticket, including a checkered past and a propensity for unpredictable statements. Fundamentally, however, he'd serve many of the purposes Trump has asked for in a running mate. Picking Gingrich would be a high-risk approach, but it might also carry a large reward. A moonshot, if you will. Newt would.