Why Immigrant Business Owners Are Conflicted About Trump
Ahead of the Republican National Convention, Cleveland's Middle Eastern community has mixed feelings about the candidate's views.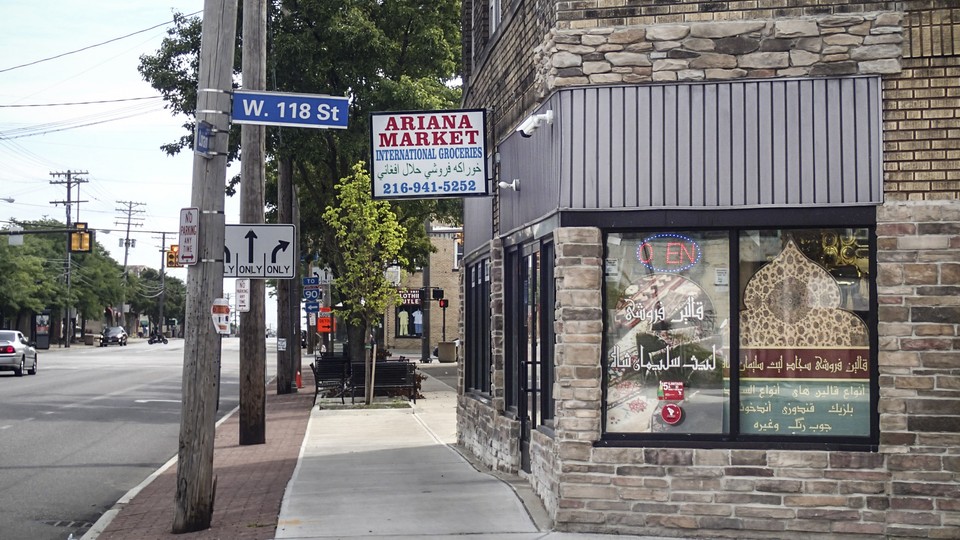 CLEVELAND—Standing behind the counter at Ariana Market this month, a Middle Eastern grocery store on Cleveland's west side, owners Azizullah and Laese Solemanshah offered a keychain decorated with the Afghanistan flag to one of their regulars. The man, a fellow Afghani immigrant, declined the gift, saying jokingly: "When Trump's elected, they'll kick me out if I'm caught with that." Soon, the presumptive Republican nominee will be seven miles away from the market for the party's national convention.
The encounter at Ariana Market captured a unique dynamic unfolding in the immigrant community in Cleveland, particularly among entrepreneurs. Trump has made immigration reform a cornerstone of his campaign, while also touting his business acumen as evidence that he's the most qualified candidate to run the country. Meanwhile, in Cleveland, an influx of immigrants has contributed, in part, to the city's urban revitalization.
In 2012, while representing just 4.9 percent of Cleveland's population, immigrants held more than 5.1 percent of the city's total spending power, equating to more than $576 million and nearly $75 million in state and local taxes. Cleveland lost nearly half of its population between 1970 and 2013, dropping it from the 10th largest city in the United States to 45th. The exodus threatened to ruin the city financially, according to Joe Cimperman, a former city councilman and president of Global Cleveland, a nonprofit specializing in economic development. "If not for immigration, Cleveland wouldn't exist anymore," Cimperman said.
So what do Cleveland's immigrant business owners think of Trump, the billionaire businessman, who has suggested a pause on legal immigration, a temporary ban of Muslims entering the United States, and a requirement for Muslims to register in a database? Could Trump be good for small businesses in cities like Cleveland? Will local entrepreneurs forgive his controversial rhetoric for a chance to have a president who understands their daily struggles in business? Most are divided.
Azizullah and Laese Solemanshah, 27 and 28, respectively, grew up outside of Jalalabad, Afghanistan. Their father disappeared when they were children, prompting their mother to move the family, including two other siblings, in with her father outside Jalalabad, they told me. Their life took an abrupt turn following 9/11. The Solemanshahs moved five times in six years between Afghanistan's capital, Kabul, and a camp just inside Pakistan's border, Azizullah Solemanshah said. Relief came when their father contacted them from the United States, where he had been granted asylum. With help from an inter-governmental organization, the Solemanshahs were reunited with their father in Cleveland in 2006, they said.
After high school, the Solemanshahs said they worked as translators in Afghanistan, Laese Solemanshah for one year, Azizullah Solemanshah for more than three. When Azizulllah Solemanshah returned to Cleveland in 2015, he said a psychiatrist diagnosed him with post-traumatic stress disorder. He and his brother opened Ariana Market to escape menial jobs and be their own bosses, but because of his condition, Azizullah Solemanshah said his brother does most of the store's work.
Solemanshah was shocked by Trump's surge this election. "He's using racism and anger to get more votes," he said. "He doesn't even have a problem with Muslims." He shrugged, adding, "He's just a good businessman." The Solemanshahs said they plan to vote for the presumptive Democratic nominee, Hillary Clinton, but only reluctantly. They respect Trump's business record, admitting he would probably have their votes if it wasn't for his immigration policies and characterization of Muslims. Citing his many flip-flops, they believe his campaign rhetoric is more negotiation than policy, and still have confidence in Trump's ability to create jobs.
Velimir Lucic, a 38-year-old Cleveland resident and owner of Tomo Sushi and Hibachi Restaurant in the city's Warehouse District, relates to Trump. Of Serbian and Croatian decent, Lucic and his wife, Valentina, immigrated to the United States in 2000 from Croatia after fleeing their home in Zenica, Bosnia and Herzegovina. Following a stint in Baltimore, the Lucics moved to Cleveland, where they knew of larger Serbian and Croatian immigrant communities.
After years of working overtime in Cleveland and gathering savings, Lucic opened Scripts nightclub in 2004, and then Lucic Contracting a couple years later. Both have since closed. He attributes part of the success of Tomo, which opened in 2013, to his failures, and laughs at the notion that Trump is a bad businessman because of Trump Steaks, Trump Mortgage, or any of his other ventures.
In some respects, Lucic epitomizes Trump's blue-collar base. He also backs Trump's immigration policies, linking his opinions to growing up during the Yugoslav Wars, living in fear of the Army of Bosnia and Herzegovina's 7th Muslim Brigade, whose leaders were convicted of war crimes, and points to the recent rise of extremism in Kosovo as proof that the United States needs to be smarter about terrorism.
In Cleveland's Ohio City neighborhood, Wael Ayyad, owner of Kan Zaman, a Middle Eastern restaurant, avoids talking politics altogether. Ayyad, 48, immigrated from Amman, Jordan in 1996, and opened Kan Zaman in 2002, he told me. The restaurant is decorated with flags and traditional gowns and dresses from nearly every Middle Eastern country. On an average evening, a passerby can find several men from Cleveland's Arabic community gathering on the patio to smoke hookah. "People can come in here and say 'I'm from here,' another person says 'I'm from here,' and then they talk politics, and I might have to say you need to go home," Ayyad said. "Because it's going to be a big problem and a big fight." Ayyad waved off Trump's immigration proposals saying, "There's a Congress."
Ayyad and the Solemanshahs dismissed the Republican National Convention, which is expected to inject $214 million to the city's economy, because they're too far from downtown to see an upswing in customers. Meanwhile, businesses in the Warehouse District, where Tomo is located, stand to reap the most benefits, and Lucic said he was excited for the convention.
Ayyad explained that the possibility of serving convention goers or protestors only strengthens his resolve to put his business' success ahead of his political ideology. Kan Zaman has outlasted numerous immigrant-owned businesses in the area since it opened, and Ayyad doesn't want to lose money by offending anyone.
The Solemanshahs conceded. Azizullah Solemanshahs said Ariana Market's customer base includes immigrants from India, Pakistan, Turkey, Somalia, Iraq, Jamaica, Syria, and Nepal. They can't afford to offend customers.