Seeing the Real Dallas
The city is not a hot bed of racial tension. It is a culturally relevant urban center with innovative policing—and other cities should learn from it.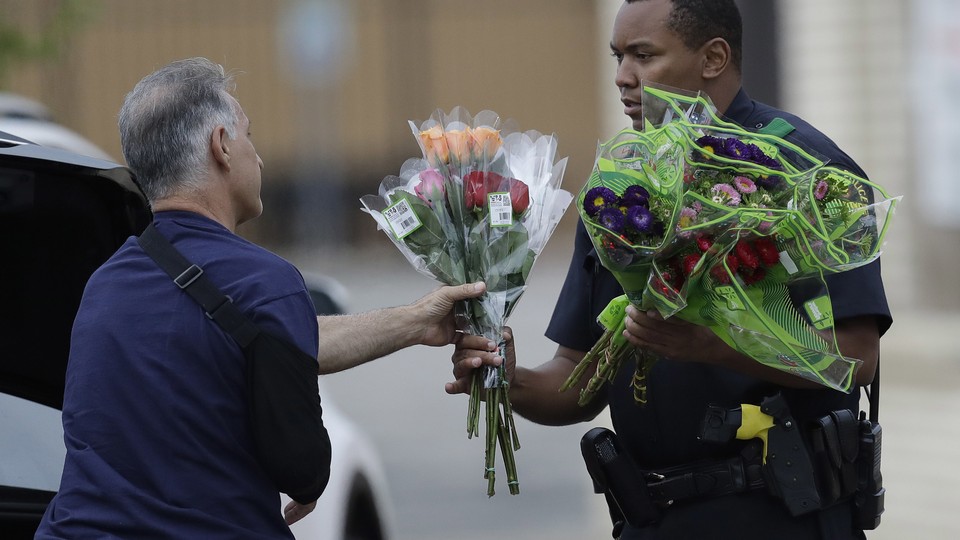 If ever an American city were unworthy of the strife of a black man killing five white police officers during a Black Lives Matter protest, it is Dallas.
Once maligned as the "City of Hate," after the assassination of John F. Kennedy more than 50 years ago, Dallas has come a long way. Today's Dallas is diverse, Democratic, and pioneering in its policing. Its once bombed-out-looking downtown is filling in with people, restaurants, and businesses. These days, instead of widespread hate, controversy in Dallas looks more like the enduring fracas over Trinity Park, an expensive effort to turn a floodplain into parkland along the banks of the green Trinity River.
Dallas isn't perfect of course. Its inequality is shaped like a doughnut: nearly empty at the center and richer and denser in its farthest suburbs, with all the attendant problems that brings. But undoubtedly, the politicians and the propagandists will try to shoehorn Dallas into a national story of racial division and distrust; less than 24 hours after the shootings, some already have. Texas's Republican lieutenant governor, Dan Patrick, lashed out at the protesters. Former Republican Representative Joe Walsh threatened the president and all but declared a race war. They are already trying to turn Dallas into a metaphor. But Dallas will stubbornly resist, which, in turn, makes one wonder about how local tragedies are remade into simplistic and divisive national narratives—and whether that makes any sense at all.
To understand the real Dallas, you first have to understand the stereotype: the JFK assassination, the oil boom, the Dallas Cowboys, Dallas the television show, big hair, big boobs, and The Real Housewives of Dallas.
Now forget all that. Yes, the Kennedy assassination rocked the country and the city to its core. Despite two memorials to Kennedy and a somber, penitent 50th-anniversary observation of his death, the city had, until recently, lived in the shadow of the guilt from that era. The Dallas Cowboys, of course, are no longer America's team; they're not even a winning team. The CBS series Dallas aired its last episode in 1991, and the much-revered Larry Hagman, who played the dastardly charming J.R. Ewing, was fittingly born in neighboring Ft. Worth in 1931 but died in Dallas in 2012. Fine, okay, big hair and big boobs never go out of style on TV—The Real Housewives of Dallas first aired on Bravo just three months ago. But it bears about as much reality to Dallas as reality TV does to life.
The real reality of Dallas is that it's a big city, at the core of a huge metropolis. Its 1.3 million people help it rank among the top 10 biggest cities in the United States. But Dallas is also the nucleus of a massive metropolitan area, known as the Metroplex: 9,000 square miles harboring 7.1 million people spread over 13 counties and six area codes.
Dallasites love to complain about traffic, but the fact is that Austin's is far worse; plus, Dallas has a pretty sophisticated commuter-train system. The Dallas Area Rapid Transit authority is spreading across the region like a spider web. Once unheard of in a city of cars, the train actually deposits suburban commuters right in the heart of the city, not far from Dealey Plaza and the mammoth, Mad Men-era headquarters of The Dallas Morning News. Its giant neon sign glows through the night when I visit and stay at the little Hotel Lawrence on Houston Street. (I live in the Austin area but work as a columnist for The Dallas Morning News.)
Once terrorized by organized white violence—systematic lynching and beatings swept Dallas County in 1860 in response to insurrection rumors and suspected arson—the city is now 25 percent African American, according to Census data. African Americans have served as mayor as well as city, county, and state legislators—and, today, chief of police. Blacks from around the country are moving to Dallas and live not just in the city proper but, increasingly, in the near suburbs. Garland, for example, was once 85 percent white. Now it is 15 percent black and 40 percent Latino.
Therein lies Dallas's real challenge: the inequality doughnut. Even as the city proper grows and the near suburbs diversify, white wealth is pushing steadily outward across the North Texas plain into new, more distant suburbs. That leaves the nearest parts of the city poorer, for the most part, with a smaller tax base for public services like education—which in turn breeds poverty. "To me, this is the big challenge for Dallas," said Bob Mong, the president of the University of North Texas at Dallas and the retired editor-in-chief of The Dallas Morning News, in an interview with me last year. He described it as the classic story of income inequality being told elsewhere—just highly visible with the growth of the Metroplex. The inequality donut threatens to constantly outstrip the best-intentioned development and civic efforts.
That said, the fact is Dallas is in the throes of a powerful renaissance, fueled by a growing economy—Toyota is leaving California and adopting nearby Plano as its North American headquarters—and a booming population, with nothing to stop growth except the Red River on the Oklahoma border.
For decades, the city has had a vibrant music scene and creative pulse in Deep Ellum, in the northeast quadrant of downtown, weirdly bounded by Interstates 30 and 45. A string of foodie restaurants have taken root in the West End, which until recently was home to the homeless (and on weekends, often still is) and is currently home to a new generation of gentrifying urban settlers.
The Democratic Party has controlled Dallas and Dallas County for most of the last 20 years, one of four major islands of blue—along with Austin, Houston, and San Antonio—in a sea of Texas red. And that has irked the Republican leadership in state government to no end. The next state legislature will likely try to crack down on equal-protection laws and bans on plastic grocery bags—all of which started in North Texas.
What probably surprises people the most is this: People actually like Dallas. Americans polled in 2012 by Public Policy Polling said 48 percent had a favorable impression of Dallas, while just 21 percent had a negative one. That made Dallas more popular than New York, New Orleans, Houston, Philadelphia, Chicago, and Miami. Oh yeah, and San Francisco. That really burned people in San Francisco, given the ongoing feud between Texas and California over businesses and jobs—and the fact that San Francisco has just always been considered cool. Certainly cooler than Dallas. Until 2012, that is. Confessing being thrown for a loop, San Francisco Weekly snarked: "We wish we could give you some insight as to why Americans think Dallas, a haven of strip malls and Republicans, is just as cool as San Francisco, but the pollsters didn't bother to ask."
Also, Dallas is safe. In 2015, the police force under Chief David Brown was credited with doing a better job of policing than most U.S. cities while simultaneously avoiding the tense standoffs with citizens that ensnared other departments that summer. Murders tumbled to the lowest rate since 1930 and, at 114, the lowest absolute number of murders since 1965. What's more, the Dallas Police Department accomplished this by eschewing the imposing military-surplus vehicles and confrontational tactics that got other departments in trouble. Dallas cops learned and embraced de-escalation tactics. In 2009, citizens filed nearly 150 complaints of excessive force by police officers; in 2013, they filed just 13. To be sure, groups like Black Lives Matter complain that no Dallas police officer has been indicted for brutality in 40 years; the trouble is that could be said in many cities in the United States.
By 2016, the single longest-running civic concern wasn't crime. It was the thoughtful creation of graceful parklands along the Trinity River, which had traditionally cut the city in half, while also making room for something that Dallas, for all its size, actually has too little of: bona fide green space. No expense is being spared. The sweeping Margaret McDermott Bridge—designed by the superstar architect Santiago Calatrava—will be suspended over the river; it will carry cars and provide separate walkways and paths for pedestrians and cyclists. By the time it's finished in 2017, the bridge alone will cost $800 million. The park will cost another $320 million—if it's realized. The project has been stuck in limbo or sent back to the drawing board for decades. "This must be a shared vision," intoned Mike Rawlings, the visibly proud mayor (and the former CEO of Pizza Hut), when earlier this year, he unveiled a swirling emerald model of a park covering hundreds of square miles. "And this hopefully can bring our city together."
Then the shots rang out Thursday in Belo Garden, just three blocks from where Kennedy had been killed a half-century earlier. Five officers were dead, and the police had used a robot with explosives to kill the alleged shooter. An understandably rattled Rawlings said: "Words matter. Leadership matters at this time."
But once the panic had settled, the second-guessing and recriminations began. Not so much in Dallas—at least not in public—and not just on cable television, with its entirely expected parade of know-nothing commentators shouting at each other. It was among the politicians and the propagandists. Lieutenant Governor Patrick went on Fox News to ramble—casting blame on everyone from Jesse Jackson to the Black Lives Matters movement—and to skewer the (peaceful) demonstrators themselves: "All those protesters last night, they ran the other way, expecting the men and women in blue to turn around and protect them. What hypocrites." A subsequent Patrick appearance on CNN was practically incoherent. Former Representative Walsh, now a radio talk-show host, tweeted: "This is now war. Watch out Obama. Watch out black lives matter punks. Real America is coming after you."
But in Dallas, real Americans were too busy to notice: They held a massive vigil for the slain officers and delivered an avalanche of flowers to police headquarters. Dallas is not the hot bed of racial tension that would normally breed tragedies like these. It is the place other more troubled cities would look to for answers. Which begs the question: How many local tragedies are just that, local, and not necessarily emblematic of any larger national truth? In a culturally thriving Dallas, crime and complaints against the police are at rock-bottom levels, but the prattling punditry is trying to shove the city into a mold to fit a national narrative.
Dallas made it through the ambush, albeit with scars. For now, it will have to endure being cast—against its spirit and all the evidence—as a kind of national poster child for tragedy instead of for urban renaissance or community policing. But if reflection has any bearing on truth, Dallas will prevail.