The House Prepares for a Tense Week Over Gun-Control Measures
The chamber will pick up where it left off after Democrats staged a sit-in on the matter late last month.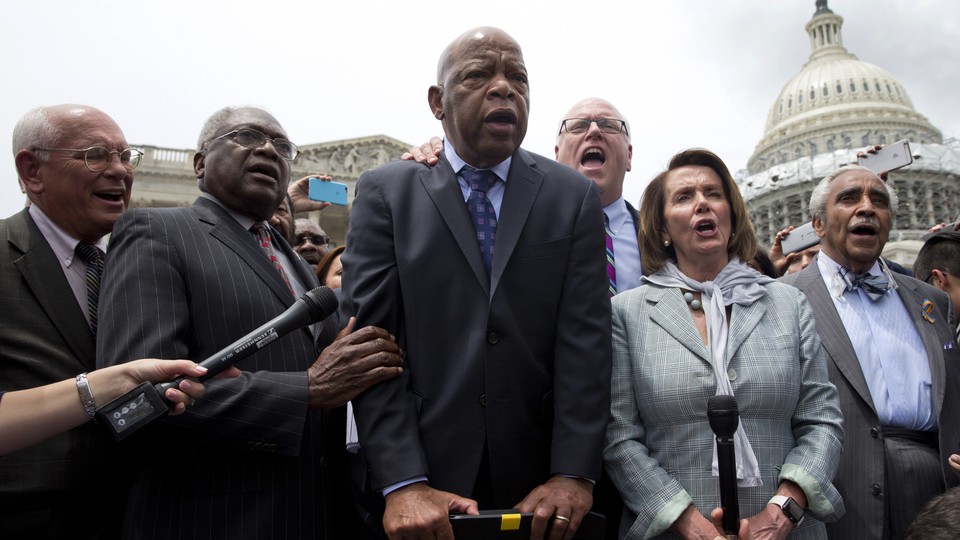 NEWS BRIEF A little over a week and a half after House Democrats staged a sit-in on the chamber floor calling for the chamber to vote on gun-control legislation, members are back in full swing and set to tackle gun proposals—again.
This week, the House is set to vote on an antiterrorism package put forward by Republicans. The proposal includes gun-control restrictions to bar people suspected of terrorist ties from purchasing firearms. Republican Senator John Cornyn introduced a similar bill last month, but Senate Democrats rejected it, arguing it was unworkable. House Democrats are expected to do the same.
Democrats are pushing for "no-fly, no-buy" gun legislation, which also calls for expanding background checks. Representatives John Lewis and John Larson are expected to meet with Speaker Paul Ryan. "Democrats asked Speaker Ryan to address the full Democrat caucus," said AshLee Strong, Ryan's spokeswoman. "He looks forward to meeting with Congressmen Lewis and Larson to discuss the important action the House will take to prevent terrorist attacks."
Lewis, who was an activist in the Civil Rights Movement, led the more than 24-hour sit-in late last month following the Orlando shooting, which left 49 people dead and 53 wounded. A Quinnipiac University poll released late last month found that a sweeping majority of registered voters support "no-fly, no-buy" legislation. But expectations for what's expected to be a tense few days on the Hill aren't high. Politico reports:
The gulf between the two parties is huge—it will only widen in coming days. The House could end up voting on one or more gun bills that have already failed in the Senate, meaning all the dramatics and rhetoric that will take place this week are little more than a carnival show designed to rile up base voters.
Still, Ryan is under pressure by his fellow Republicans, particularly for how he responds to Democrats, who are expected to give gun-control speeches when the chamber convenes at noon, Fox reports. It's unclear whether another sit-in is in the works.