House Democrats Take a Milder Approach on Gun Control
In a series of speeches Tuesday from the floor, members condemned Republican-backed legislation on firearms that's slated for a vote this week.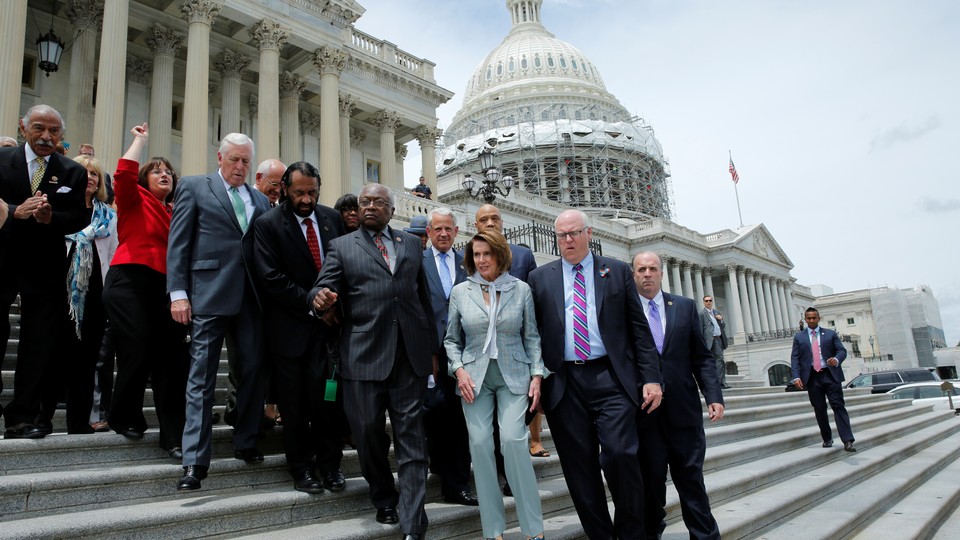 NEWS BRIEF  House Democrats restarted their gun-control protest Tuesday upon returning to Washington after an extended Independence Day break. But while members' demands are the same as when they staged a 25-hour sit-in last month, their tactics have shifted considerably: Rather than occupy the House floor, Democrats gave a series of brief speeches to promote two amendments—and convince House Republicans, despite uncertain chance of success, to give in to their demands.
"It is our goal and our hope that the speaker will provide an opportunity for the minority party to have its two votes taken up in this Congress," Connecticut Representative John Larson said Tuesday afternoon, referring to House Speaker Paul Ryan. "We prevail on the good nature of the speaker." Later Tuesday, Ryan will meet with Larson and Georgia Democrat John Lewis, who helped lead the sit-in, to discuss Democrats' wishes.
Members are expected to vote on gun-related legislation this week, just not the kind Democrats want. Democrats have asked Ryan for votes on two bills: one for universal background checks on all commercial gun sales, and another for "no-fly, no-buy" legislation, which would prevent individuals on terrorist watch lists from purchasing guns. Instead, members will be voting on a package of Republican-designed bills "to counter radicalization in the United States," The Washington Post reports:
They include the creation of a new government counterterrorism office; plans for a nationwide exercise to determine the threat posed by foreign fighters and U.S. citizens traveling to train with terror groups; authority to revoke the U.S. passports of people who belong to or have helped terror groups; and an alert system to notify the FBI whenever someone who has been on a watch list in the past five years purchases a gun. ...

The section of the legislation that would prevent a gun sale to a suspected terrorist requires the government to prove to a judge, in three business days, that there is probable cause that the would-be buyer has links to terrorism.
Democrats panned the watch-list proposal on the floor Tuesday. California's Mark Takano said it only "pretends to close" the terror watch-list loophole, and makes it difficult for the government to make its case in just three days. "It's nothing more than a political tactic to avoid responsibility—a contrived effort to look busy and feign concern," said Rhode Island's David Cicilline.
Republicans didn't try to mount a counter-effort during the speeches, which lasted about an hour. Both Democrats and Republicans were permitted to speak during that time, but mostly Democrats chose to talk. One of the exceptions was California Republican Tom McClintock, who had some strong words for his Democratic colleagues. "This was the lawless Left on full display," McClintock said, accusing Democrats of trying to "provoke a physical confrontation" and calling for members to be punished. Members of House leadership, though, were quiet. Majority Leader Kevin McCarthy spoke briefly from the floor, but focused on a wildfire in his native California instead of the gun debate.
It's not clear exactly Democrats will do if their effort falls even flatter. The Post reports members have mostly kept mum about specific future plans.