Rudy Giuliani's Presumption of Guilt
The former New York City mayor's proposal to electronically monitor those on the terror watch-list reflects a steady erosion of constitutional norms.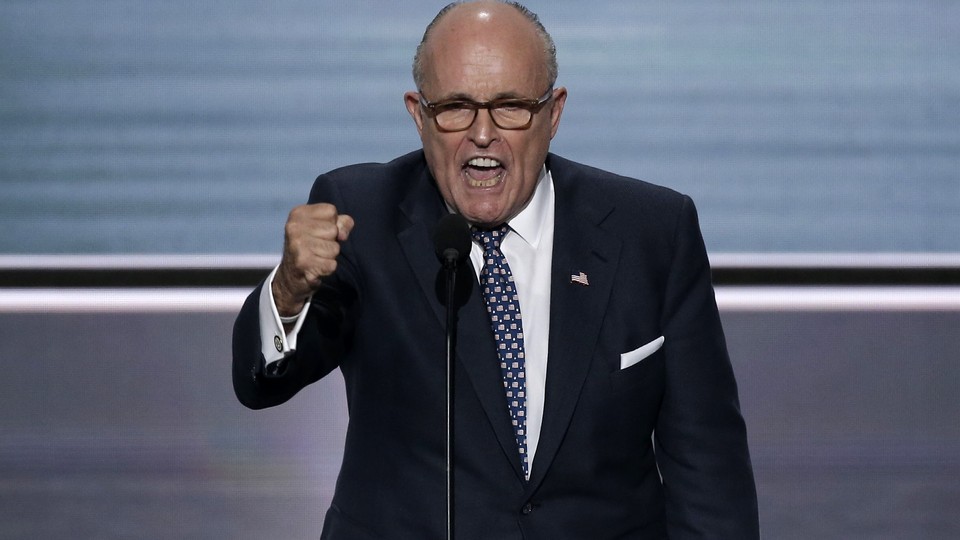 Donald Trump is no friend of American Muslims, as he's  proven time and again in words and deeds. While offering few details, the Republican nominee called for surveillance of "certain mosques" and said he would consider a federal database to track all U.S. Muslims after last November's Paris attacks.
Then, after the San Bernardino shooting last December, he called for a "total and complete shutdown of Muslims entering the United States" until American leaders can "figure out what the hell's going on." (Trump has since offered numerous contradictory revisions to that plan.) Leaders from across the political spectrum condemned the idea, including Trump's future running mate Indiana Governor Mike Pence, who called it "offensive and unconstitutional." (He's since changed his mind, as has most of the Republican Party.)
You'd think it would be hard to top Trump's track record. But one of his main advisors on terrorism found a way to one-up him:
Former New York City Mayor Rudy Giuliani on Wednesday said he would be in favor of forcing Muslims on the federal government's terrorism watch list to wear electronic monitoring tags or bracelets for authorities to track their whereabouts.

"I would think that's an excellent idea," said Giuliani, an adviser to Republican presidential nominee Donald Trump. "If you're on the terror watch list, I should you know you're on the terror watch list. You're on there for a reason."

Giuliani, who is advising the Trump campaign on terrorism and national security issues, told NJ Advance Media he would recommend that Trump undertake the same measures being used in France if he's elected.
When it comes to constitutionally fraught methods of surveillance, Giuliani also speaks from experience. "I was the mayor who put police officers in mosques, in New York and New Jersey," he told the Intercept earlier this month. "After the 1993 bombing of the World Trade Center by Islamic extremist terrorists from New Jersey, I did it in early January of 1994." Their presence stopped "three or four attacks," he told the Intercept, but declined to offer further details.
Giuliani also wasn't the only mayor to target Muslims for surveillance. Under his successor, Michael Bloomberg, the NYPD created what it called its "Demographics Unit" to spy on Muslim New Yorkers after 9/11. Plainclothes detectives and informants would routinely visit mosques and Muslim-run shops, restaurants, and organizations. There, they would catalog what they saw and build extensive dossiers for the nation's largest police department.
The unit's work remained secret until the AP first reported on its existence in 2012, nine years after it began. In 2014, Bill de Blasio and NYPD Commissioner William Bratton dismantled the program and later settled a major lawsuit over its alleged constitutional violations. Notably, the program failed to produce a single legitimate lead during the decade of its existence.
It's possible to detail at length the obvious constitutional flaws with government-mandated GPS trackers for people who have committed no crime and received no trial, singled out only by the whims of law-enforcement officials and intelligence agencies. It's possible to catalog violations of the First, Fourth, Fifth, and Fourteenth Amendments such a program would represent.
But what matters here isn't the proposal itself. It's a half-baked idea, one whose practical flaws were already demonstrated in France this week, where such surveillance failed to halt an attack. What matters instead is the zeitgeist in which such a proposal could casually arise. Tagging human beings en masse—operating under a presumption of guilt, not innocence—is not an idea that arises in a vacuum. It reflects the slow and steady corrosion of constitutional norms, a bipartisan weakening of America's commitment to civil liberties, a cumulative degradation of what American society considers acceptable behavior by its government.
Neither Giuliani nor Trump deserve credit for this shift in what Americans find palatable. But they have taken it to new heights over the past year. In the end, that may be Trump's greatest impact: not making America great again, but making the unthinkable acceptable.