Justice Ginsburg's 'Ill-Advised' Comments on Donald Trump
The U.S. Supreme Court justice said she regretted her remarks about the presumptive Republican presidential nominee, but did not explicitly apologize.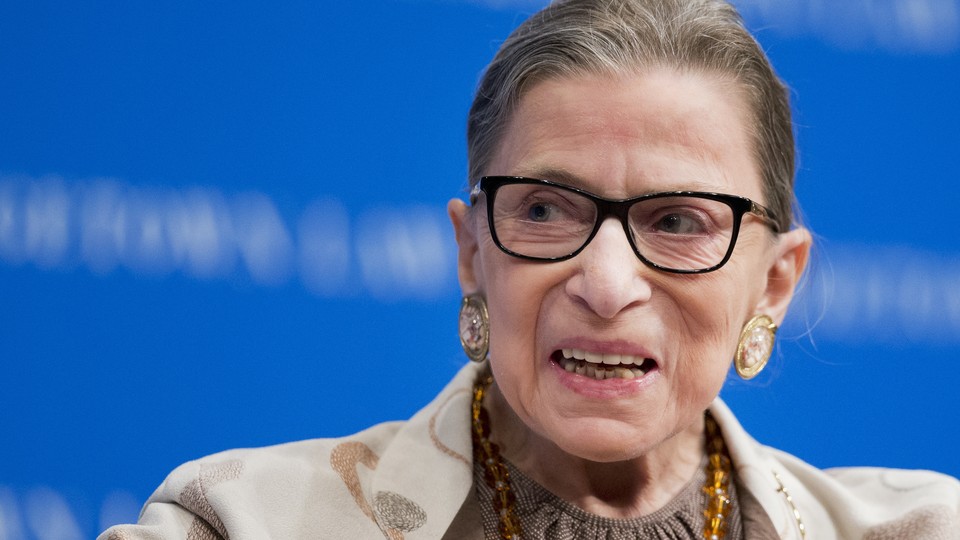 NEWS BRIEF Supreme Court Justice Ruth Bader Ginsburg said Thursday she regrets her comments criticizing Donald Trump, but stopped short of apologizing for them.
"On reflection, my recent remarks in response to press inquiries were ill-advised and I regret making them," she said in a statement. "Judges should avoid commenting on a candidate for public office. In the future I will be more circumspect."
In an interview with The New York Times published Sunday, Ginsburg said, "I can't imagine what this place would be—I can't imagine what the country would be—with Donald Trump as our president." She continued: "For the country, it could be four years. For the court, it could be — I don't even want to contemplate that." Then, in an interview with CNN earlier this week, Ginsburg stood by her criticism: "He is a faker," she said of Trump. "He has no consistency about him. He says whatever comes into his head at the moment. He really has an ego. ... How has he gotten away with not turning over his tax returns? The press seems to be very gentle with him on that."
Ginsburg's comments enraged Trump, who called her remarks "highly inappropriate." "I think it's a disgrace to the court and I think she should apologize to the court. I couldn't believe it when I saw it," Trump told the Times. He added: "That she should be saying that? It's so beneath the court for her to be making statements like that. It only energizes my base even more. And I would hope that she would get off the court as soon as possible."
The presumptive GOP presidential nominee tweeted Wednesday: "Her mind is shot —resign!"
As my colleague Matt Ford noted, Ginsburg's decision to publicly criticize a presidential candidate was surprising. He writes:
The Constitution grants her and her colleagues lifetime tenure precisely to insulate them from these forces. While the current justices are far from cloistered monastics—nor should they be—they still avoid commenting on electoral politics or specific candidates.
Former President Bill Clinton appointed Ginsburg to the Court in 1993. It's worth noting that Ginsburg did not explicitly apologize for her remarks.