Gaffe Track: That's No Sheriff's Badge, Donald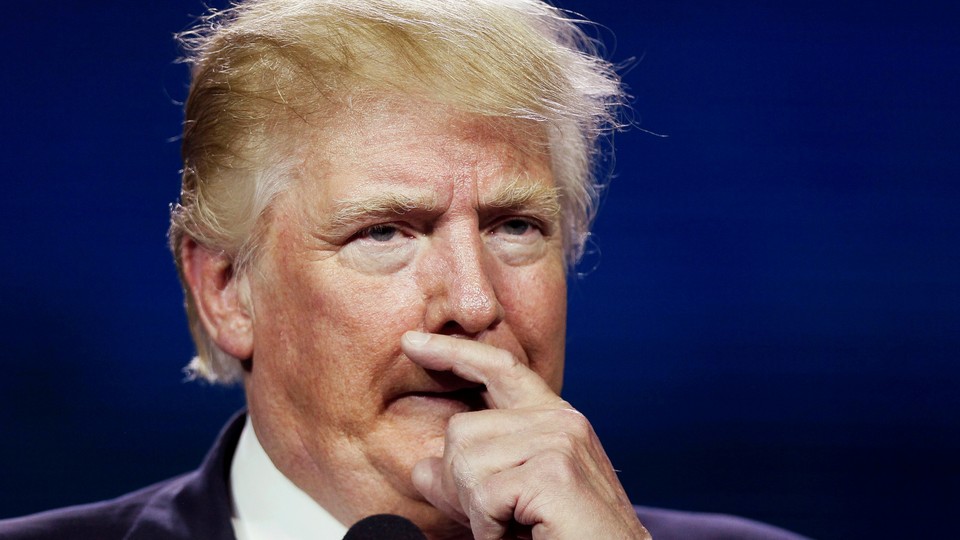 Editor's Note:
This article previously appeared in a different format as part of The Atlantic's Notes section, retired in 2021.
The candidate: Donald Trump. Yep, again.
The gaffe: On July 2, Trump tweeted out an image featuring Hillary Clinton's face over a background of cash, with a six-pointed star reading "Most corrupt candidate ever." Many people immediately recognized this as an anti-Semitic dogwhistle, as the six-pointed Star of David is a symbol of Judaism. Trump deleted the tweet, then resent the same image with the star changed to a circle.
The defense: Trump argues that it was a sheriff's badge, or perhaps a "basic" six-pointed star. But a sheriff's badge wouldn't make any sense in this context. There's also the small problem that the image appears to have originated in a neo-Nazi-frequented message board, then traveled to an anti-Semitic Twitter account before being picked up by Trump.
Why it matters (or doesn't): Trump's tweet has produced a heated debate over whether Trump is anti-Semitic. That argument is to a certain extent beside the point. It's hard—though some diehards are finding ways—to ignore the pattern of Trump encouraging anti-Semitic and other racist elements, regardless of whether Trump himself bears any personal animus toward Jews. (One of his staunch defenders at this moment is his son-in-law Jared Kushner, who is Jewish.) Time and again, Trump has tweeted or retweeted material that originated with white supremacists. There was also, of course, the moment where he declined to condemn an endorsement from former KKK leader David Duke, and later tried to blame it on a bad earpiece. (Duke helpfully insists the star was a Star of David, by the way.) The white supremacists are certainly convinced that Trump is speaking to them with a wink and a nudge. In any case, Trump shows no remorse.
The lesson: This schmuck's shtick is still a shanda.