Comey: 'No Reasonable Prosecutor Would Bring Such a Case'
The FBI director said the agency had concluded its investigation into Hillary Clinton's use of a private server on Tuesday.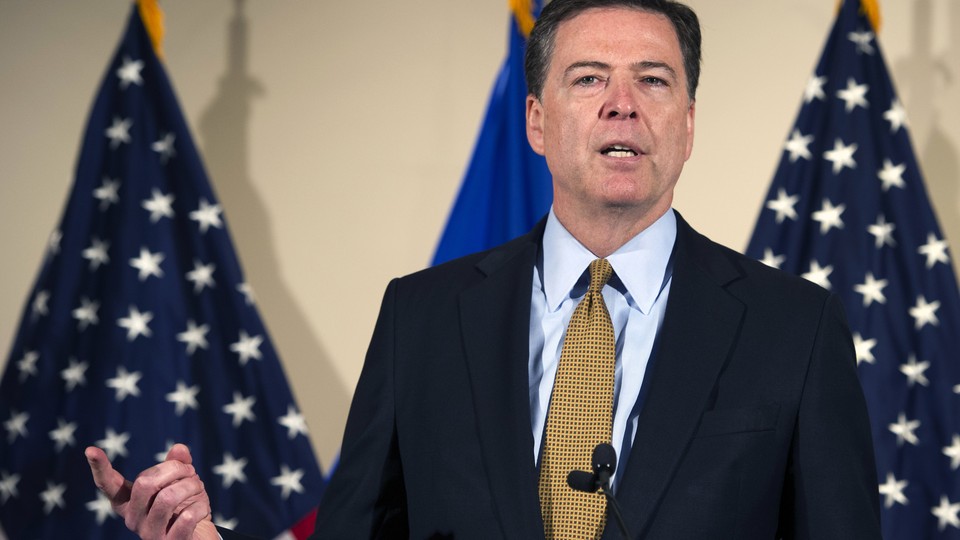 NEWS BRIEF With the Democratic convention only a few weeks away, the Hillary Clinton camp can release a sigh of relief after FBI Director James Comey announced that the agency found that "no charges are appropriate" in the probe into the former secretary of state's emails.
"Our judgement is that no reasonable prosecutor would bring such a case," Comey said. "In looking back at our investigations into mishandling or removal of classified information, we cannot find a case that would support bringing criminal charges on these facts."
On Tuesday, Comey announced that "The FBI is completing its investigation and referring to DOJ for a prosecutive decision." He added that it was going to be "an unusual statement." And it was certainly a long-anticipated one. The FBI probe into Hillary Clinton's use of a private email server during her tenure as secretary of state has long haunted her presidential campaign.
Comey likened the former secretary of state's emails on Tuesday to "a huge unfinished jigsaw puzzle and dumping all the pieces on the floor." Of the 30,000 emails turned over by the State Department in 2014, 110 emails in 52 email chains were determined to contain classified information at the time they were sent or received, Comey said. But there wasn't reason to believe that there was intentional misconduct. Comey added, however, that Clinton and her aides were "extremely careless." Comey continued, saying the "security culture of the State Department in general—and with respect to the use of unclassified systems in particular—was generally lacking in the kind of care for classified information that's found elsewhere in the U.S. goverment." And although the FBI found no proof her server had been hacked, Comey said that "it is possible that hostile actors gained access to Secretary Clinton's personal e-mail account."
The press conference came three days after the agency interviewed Hillary Clinton over her use of a private email server during her tenure as secretary of state. Agents interviewed the presumptive Democratic nominee for more than three hours at FBI headquarters in Washington. At question was whether Clinton or her aides put classified information at risk by corresponding on a private server. The New York Times has more on the meeting:
Accompanying Mrs. Clinton into the meeting were her lawyer David E. Kendall; Cheryl D. Mills and Heather Samuelson, longtime aides who are also lawyers; and two lawyers from Mr. Kendall's firm, Williams & Connolly, Katherine Turner and Amy Saharia.

Eight officials from the F.B.I. and the Department of Justice conducted the interview, according to a person who was familiar with the substance of the session but declined to be named because the meeting was private. This person characterized the meeting as "civil" and "businesslike."
Clinton told MSNBC's Chuck Todd in an interview following the meeting: "I've been eager to do it, and I was pleased to have the opportunity to assist the department in bringing its review to a conclusion."
Last week, Bill Clinton and Attorney General Loretta Lynch met in Phoenix. While Lynch insisted that the meeting was of a personal nature, it raised questions about the investigation into Clinton's emails. Lynch announced on Friday that she would accept the recommendations put forth by federal prosecutors.
Republicans, including Donald Trump, have targeted Clinton on the matter of her emails, which also appears to have influenced voters. A Washington Post / ABC News national poll released in March found only 37 percent of people view Clinton as honest and trustworthy.
President Obama will join Clinton on the campaign trail on Tuesday in North Carolina.