Donald Trump Takes the Lead in Two Swing States
The presumptive Republican nominee is ahead in Florida and Pennsylvania, according to a newly released Quinnipiac University poll.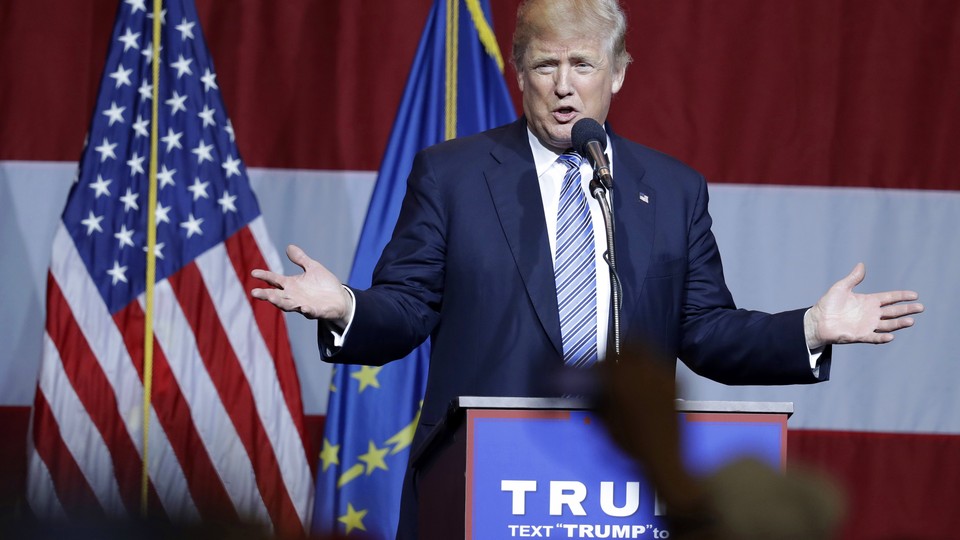 NEWS BRIEF Donald Trump is edging out ahead in two swing states, according to a newly released Quinnipiac University poll.
In Florida, Trump leads Hillary Clinton by three percentage points, while in Pennsylvania, Clinton trails behind by two percentage points. The presumptive Republican nominee's standing in the two states is a reversal from June, when Clinton held the lead. In Ohio, Clinton and Trump are again tied, this time at 41 percent.
Between June 30 and July 11, Quinnipiac University surveyed roughly 1,000 voters in Florida, Ohio, and Pennsylvania. The results in each state are within the margin of error, reflecting how close the race is. "We know the battlegrounds are going to be close til the end," Clinton Press Secretary Brian Fallon tweeted on Wednesday. "That's why we need to keep working so hard. Trump is a serious danger, folks."
Trump leads among white voters with a college degree in Florida 51 percent to Clinton's 34 percent, while trailing behind Clinton among nonwhite voters by 35 percentage points. "In Florida, Donald Trump is getting only 21 percent of the nonwhite vote," said Peter A. Brown, assistant director of the Quinnipiac University Poll. "Although he is winning among white voters, who are mainly Republican, victory in Florida will be a very difficult lift for him if he can't do better among nonwhite voters." While Florida has historically leaned Republican, an increasingly diverse electorate might provide a boost to Democrats in November, particularly if Trump continues to alienate Hispanic voters.
In Ohio, Clinton leads among white voters with a college degree, 43 percent to 40 percent, as well as among nonwhite voters. Similarly, in Pennsylvania, a sweeping majority of nonwhite voters back Clinton, but Trump leads among white voters with a college degree.
Voters largely believe Trump is more honest and trustworthy across Florida, Pennsylvania, and Ohio. It's unclear what influence, if any, the latest developments in the Clinton email probe may have played. Last week, FBI Director James Comey said he would not recommend charges in the investigation into Clinton's use of a private email server while secretary of state, adding that nevertheless her email use was "extremely careless." The Justice Department followed suit and decided not to prosecute Clinton. Still, House Republicans are calling on the department to open an investigation into whether Clinton lied in her testimony about her private email server before Congress last year.
State averages compiled by RealClearPolitics differ from the Quinnipiac poll, with Clinton up by a little more than 1 percent in Pennsylvania and Ohio and tied with Trump in Florida. Politico notes how polls have fluctuated over the last few months:
While the Quinnipiac results are eye-popping, they don't represent any significant movement—except in Florida. In three rounds of polling over the past two months, the race has moved from a four-point Trump lead in Ohio in the first survey, then tied in the next two polls. In Pennsylvania, Clinton led by one point in the first two polls and now trails by two.

But in Florida, the race has bounced around. Clinton led by one point in the first poll two months ago, but she opened up an eight-point lead in June—a lead that has been erased and more in the new Quinnipiac survey.
The release of the results comes days before the Republican National Convention kicks off and follows Bernie Sanders's endorsement of Clinton.