Do Republicans Think Trump Can Win?
Nonpartisan prognosticators and party officials seem bleak about the GOP's chances in November. But delegates in Cleveland were at least somewhat more optimistic.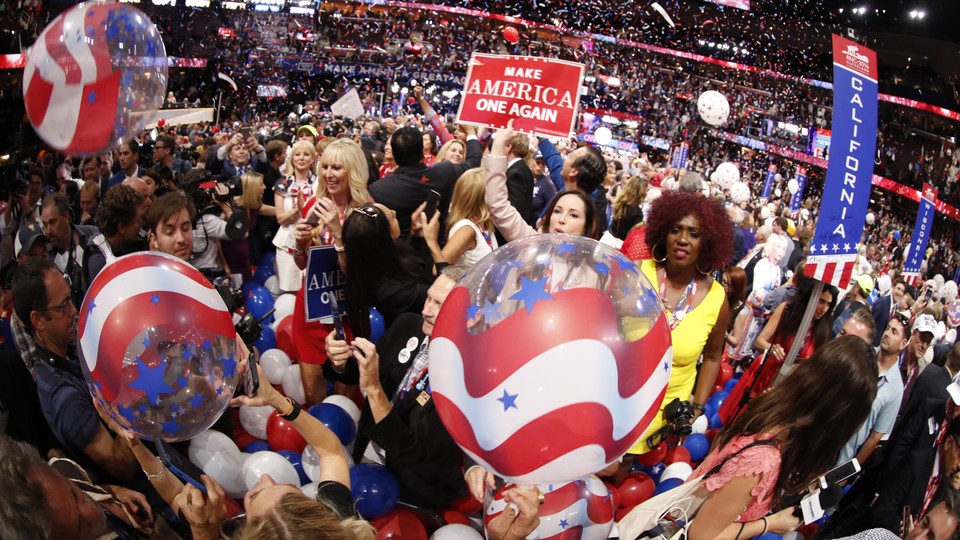 CLEVELAND—Donald Trump is really, truly, finally the Republican presidential nominee. Now, can he win?
The challenges that Trump faces are formidable. FiveThirtyEight gives him a less than 40 percent chance of winning, though that number has improved significantly over the last two weeks. Other forecasters have pointed to Trump's incredibly low favorability numbers. Many top Republican insiders seem glum about his prospects, and George W. Bush reportedly told friends, "I'm worried that I will be the last Republican president."
But many of those Republicans skipped the Republican National Convention. What about the ones who were actually at the Quicken Loans Arena this week? Do they expect Trump to roll to victory in November? Or are they true believers who see Trump as a Barry Goldwater figure—the only acceptable choice, but one who's going to be buried under a landslide?
It turns out that asking people who they think will win an election, rather than who they want to win it, is a more reliable predictor of the victor. So I started asking delegates on Thursday whether they thought Trump could actually win. It turns out that the views are as divided as the fractious convention. But with many of the most pessimistic figures staying home—or having left in disgust or resignation by the time Thursday night rolled around—every delegate I asked was at least willing to entertain the notion of a Trump victory.
Some delegates dismissed the dire predictions of data crunchers, in effect putting their faith in the Silent Majority—the fabled group that Richard Nixon coined and Trump revived—to put the nominee over the top.
"He's gonna win by a landslide," said Bob Hayssen, a New York delegate who was decked out in Trump regalia. "There are millions of people out there that are afraid to admit they're going to vote for Donald Trump."
But that's not because there's anything wrong with Trump, he said: "They're going to get bashed by their liberal friends!" That wasn't a problem for Hayssen, who showed me a picture of the tableau in his yard: 10 Trump signs, a cinderblock centerpiece, and a concrete Rottweiler he'd dubbed Lyin' Ted. "I get bashed ever day, but I'm not a bashful guy," he said.
Carolyn Shinkle, attending the convention from staunchly liberal Massachusetts, expected a similar phenomenon. "I think he can win, definitely," she said. "There are many people who don't want to, for various reasons, say they're voting for Trump." Unlike Hayssen, she foresaw a tight election, but watching Trump roll through the primaries had given her faith in his ability to win. Kay Rendleman, an alternate delegate from Colorado, was similarly impressed by his primary performance. "I think he has a good shot because he's defied the odds," she said. "He tapped into a lot of frustration with government encroachment into every area of our lives."
Despite generally harsh reviews from the media, Texas delegate Ann Kate said the convention had gone a long way toward reassuring her, and she believed he had a chance to beat the predictions in November. "I'm more convinced than ever that I can vote for him," she said. "He wasn't first choice, or—he was pretty far down the list. Even my husband, who said I could never vote for him, today said, 'Well, maybe ...'"
Conventioneers are split between political professionals and those for whom politics is an important, passionate avocation. Among the attendees who work in politics and policy, there were somewhat more tempered expectations. The Republican National Convention was by any measure a negative convention, centered largely on attacking Democratic candidate Hillary Clinton. Some delegates acknowledged that while Trump could win the election, he'd need some help from Clinton.
"I think he could," said Leo Smith, the strategic voter-engagement director for the Georgia GOP. "The fact that he's competing against Hillary is his biggest chance." Smith laid out a three-point plan for how Trump could get over the top: Unify the party, staff up properly, and develop a strategy to engage voters. But those were all things that were meant to happen either well before or during the convention.
"I certainly think he can win," said Michael McNeely, the first vice-chair of the Georgia GOP, who was sitting with Smith in the concourse of the Q. (In June, BuzzFeed reported that McNeely had been thrown out of a Trump rally in Atlanta by security for using racially suggestive language.) He cited Trump's surprise win in the primaries and Clinton's extremely high unfavorability. But Trump's unfavorables are even higher, I pointed out.
"It's unique to have two candidates who have overcome challenges like this," he said. "In any other election, a Hillary and, say, a Marco Rubio, it could certainly change the dynamic."
Later in the evening, I found D.C. delegate Rachel Hoff, a national-security analyst who, as the GOP's first openly gay delegate had staged an unsuccessful push to include a neutral plank on marriage equality in the party platform.
"I do think he can win," she said. "I learned my lesson by saying he couldn't win the primary." But Hoff declined to speculate on what it would take for Trump to win. "I don't plan on voting for him in November, so I'm not interested in giving suggestions."
Elsewhere on the convention floor, I ran into Representative Mark Sanford of South Carolina, who was a veritable rock star at the convention, given how many elected officials were staying away. As he pressed the flesh with a constant stream of well-wishers, Sanford offered one of the more definitive predictions about Trump's destiny in November, but even he hedged. "He'll win big or lose big," Sanford said. "I don't think it will be in between."