Why the Democratic Party Can't Escape Mass Incarceration
It's the issue at the heart of the convention: a policy they helped create, and are now debating how to fix.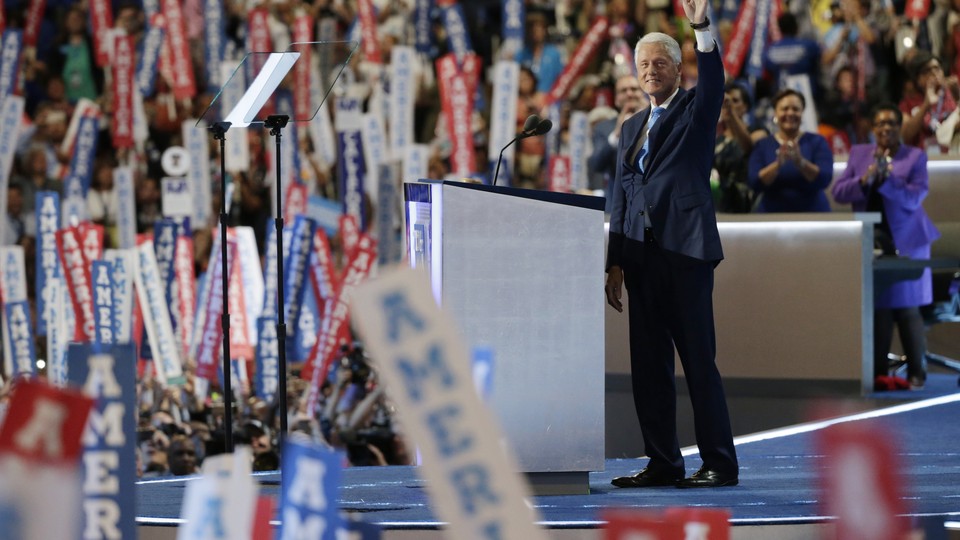 PHILADELPHIA—Bridge-building is the dominant theme of this year's Democratic National Convention. Likely intended as a counter to the "build a wall" chants of the Republican National Convention in Cleveland last week, the image of building bridges evokes unity, connectedness, and effort to promote good-faith communication between different identity groups.
But for all its efforts to build bridges, the Democratic Party is also expending just as much energy on burning one. The 2016 Democrats are running as far away as possible from the criminal-justice policies of the 1990s Democrats, in many cases actively undoing the policies the party once sold as common sense. Many of the Democratic leaders on stage this week were also star players in the fight to enact a broad set of racially inequitable, pro-prison reforms around the early '90s. The dissonance has undergirded the entire convention.
The Black Lives Matter movement has been front and center throughout the week of the convention. In assessing just how much it has affected politics and policy, there's no need to go any further than the content of stage speeches: Almost all of the major prime-time speeches mentioned police brutality or black lives. President Obama implored the country to "work with police and protesters until laws and practices are changed," a directive that's in the party's official platform on criminal-justice reform. Other speakers, such as former Attorney General Eric Holder and the vice-presidential nominee, Tim Kaine, echoed that call to action.
The movement's influence was most present during a touching and heartfelt presentation on Tuesday by the "Mothers of the Movement," a group of mothers of black people killed by police and racial violence. Geneva Reed-Veal, Lucia McBath, and Sybrina Fulton—the mothers of  Sandra Bland, Jordan Davis, and Trayvon Martin, respectively—stressed criminal-justice reform and endorsed Hillary Clinton as the candidate to enact it. "Hillary Clinton isn't afraid to say black lives matter," McBath said. "We're going to keep building a future where police officers and communities of color work together in mutual respect to keep children, like Jordan, safe." Chants of "black lives matter" resounded across the expanse of Wells Fargo Center from delegation after delegation during their presentation and others. An embrace of criminal-justice reform was perhaps the greatest point of unity among the Democrats' diverse and fractious coalition, from Bernie Bros to black women in church hats holding "I'm with Her" signs.
But one moment that complicated the feel-good racial narrative on Tuesday night in particular was the speech from Bill Clinton. Many in the Black Lives Matter movement have pegged the former president, however unfairly, as the main architect of the criminal-justice policies that increased incarceration rates and over-policing. Criticism of his role in the 1994 Violent Crime Control and Law Enforcement Act has united black activists, and his reputation as a saxophone-playing, hip friend of black people—perhaps the most enduring constituency of his pop-political persona—has been eroded. Perhaps fittingly, the biggest challenge to his record on the 2016 campaign trail came from black activists on an earlier visit to Philadelphia. Those same activists have also led the biggest Black Lives Matter protest groups at the convention.
Whether the criticism of his record is based in a fair policy assessment or not, Bill Clinton's presence was incongruous with the mood created by the tribute to black lives. He faltered when the time came for him to speak on the issue. "If you're a young African American disillusioned and afraid," Clinton said, "we saw in Dallas how great our police officers can be. Help us build a future where nobody is afraid to walk outside, including the people that wear blue to protect our future." The line, an awkward, seemingly ad-libbed or shoehorned fragment, seemed to put the onus of change on black people.
Most Democrats who have been in national office long enough played a part in the crime bill's passage.
Bill Clinton wasn't the only one who struggled to promote the turn towards criminal-justice reform. In fact, his speech and his placement on the agenda were emblematic of the conflict between the Democratic Party of Hillary Clinton and the Democratic Party of Bill Clinton. The evolution has been slow, fitful, and incomplete. It wasn't so long ago that Hillary Clinton herself was often blasted for her use of racist "superpredator" rhetoric and her role alongside her husband as a promoter of coded racial fears that provided the momentum for increasingly draconian crime laws.
Indeed, most Democrats who have been in national office long enough played a part in the bill's passage. Vice President Joe Biden wrote the '94 Crime Bill and endorsed its "tough-on-crime" policies when he was a senator from Delaware. House Minority Leader Nancy Pelosi voted for it. Even Senator Bernie Sanders, despite what he has since characterized as a tough compromise to gain provisions on violence against women and gun control, cast an "aye" vote for the bill's provisions to eliminate college-education grants for inmates, install mandatory-minimum sentencing and repeat-offender sentencing, and greatly expand the capacity of federal and state law enforcement and prison.
Democrats are also trying to escape that era's state and local crime laws, which most impacted the lives of Americans. Even for these legislative measures, Democratic leaders acted in concert with their federal counterparts to create a system that increasingly treated imprisonment and aggressive policing as panaceas. Many of those officials were also on center stage during the convention. Kaine himself was a vocal advocate for Project Exile when he was mayor of Richmond. That program, which was initiated the year before Kaine took office in 1998, automatically sent all gun offenders in the city into federal court, where five-year mandatory-minimum sentences—set by the Violent Crime Bill—applied. Predictably, it openly targeted black neighborhoods and, despite controversy around its methods, has become a template for similar policies in other cities and states.
Other local leaders from cities that are currently loci of Black Lives Matter protests were front and center at the Democratic National Convention. Wednesday night's speaker Michael Bloomberg, the former mayor of New York, is not a Democrat, but his endorsement of broken-windows policing and stop-and-frisk policies in a liberal city has been a model for several other municipalities. Democratic National Committee secretary and emergency-gavel-person Stephanie Rawlings-Blake is also the mayor of Baltimore, a city shaken by the news that all charges against police officers would be dropped in the Freddie Gray case just before the third day of the convention started in earnest.
That all isn't to say the Democrats' efforts to reverse two decades of carceral policy is necessarily disingenuous. Many Democrats—including Wednesday's speaker Jesse Jackson, Sr.—spoke out vehemently against the crime bill and its ilk. Some Democratic officials have been ahead of the curve in anticipating the long-reaching effects of those policies and fighting them. Mayor Stephen K. Benjamin of Columbia, South Carolina, walked me through his city's efforts to push community policing, data collection, and body-camera adoption back in 2014, even though citizens' trust of law enforcement has been eroded to nothing. "We decided in order to build a first-class police department we had to start moving forward aggressively in everything," Benjamin told me at an event Wednesday. "But we're not an outlier here."
Even with genuine, well-intentioned policy and forward-thinking leaders, the dissonance within a party that championed mass incarceration and policing expansion, and that now champions reform, creates awkward moments during speeches. The party and its leadership—even the people of color within it that also pushed for crime bills—can't be correct on race both today and 20 years ago. The longer the Big Tent is examined, the more it threatens to fold.