A 93-Year-Old Democratic Delegate Who Has Seen It All
This will be the Ruby Gilliam's eighth national convention—and she says she has a few more left in her.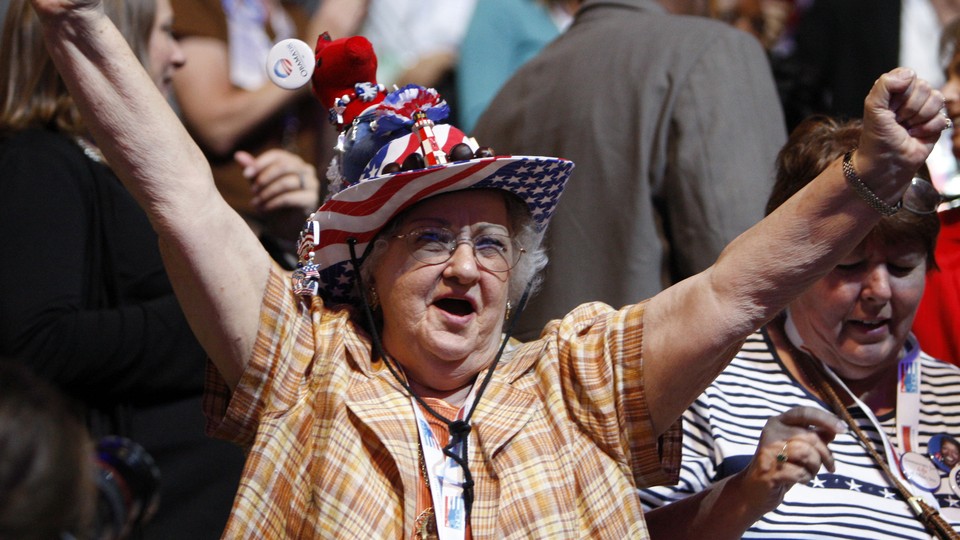 Ruby Gilliam is for Hillary Clinton. That's unusual for her age: Only a third of people over 65 support the former secretary of state. But then again, Gilliam is unusual. At 93, the Ohio Democratic delegate will be representing her state at a national convention for the eighth time. For every convention, Gilliam wears a new hat, faithfully crafted by a local haberdashery and displayed for a while in the window of the Carroll County party headquarters.
"I've lived a political life, all my life," Gilliam told me from her home in Minerva, about an hour outside Akron. One of her earliest memories is watching Franklin D. Roosevelt speak at a rally in Kentucky, perched atop her father's shoulders. "My brothers were a lot older, and someone was running for an office all the time—and I was passing out literature."
In the 1950s—she's not sure exactly when—she first got involved in her local Democratic committee. For more than 25 years, she served as the chairwoman of the Carroll County Democratic Party. When she first won election to represent Ohio at Michael Dukakis's 1988 convention in Atlanta, she nearly lost her mind: "I was never so excited in my life!" (She also fell down a flight of stairs while in Atlanta, but that just seems funny now.)
Gilliam thinks Clinton is the most qualified candidate to lead the country—period. But most Americans aren't so decisive. Nearly two-thirds of voters think Clinton's honesty is a serious concern, and at least one poll suggests a plurality of Americans trust Donald Trump more. On the other hand, 58 percent of voters also think Clinton is better prepared to be president. So she's dishonest, but trustworthy enough to take the Oval Office? Which is it?
Gilliam gave some thought to the matter. "I think she is trustworthy," she said. "I think she has been thrown into situations that you debate, 'Which way do I go on this?' You have to make a decision, and we've all made mistakes, and everything doesn't work out for the best. Life doesn't promise you that everything is going to be good."
She knows what she's talking about. Her first husband died overseas during World War II, just after he'd been recommended for promotion to captain. It still pains her to talk about it. Distraught, Gilliam joined the women's division of the U.S. Naval Reserve, manning a room-sized computer used to track injuries and fatalities. The assignment was bad luck, in a way, she said—her own husband had just been killed, and there she was, punching out keycards to send notices to other widows.
But she did her duty, and she met a young Marine. Two years later, after the war ended, they married and moved near Canton, Ohio. She has lived in the area ever since.
Over the years, Gilliam has had plenty of time to scrutinize the candidates as they came and went, paying homage to her swing state. And her political memory is long. (Bill Clinton, for example, talked for far too long during his speech in 1988, but Gilliam nevertheless respectfully kept her seat the entire time.) She also has had decades to develop her inner sense of character, though she's sometimes too polite to share publicly what it tells her. When it comes to Donald Trump, however…
"I know I'm not supposed to judge people," she said. "But you know what? He has put himself out there to be judged. If he wins, we will survive. But I hope and pray that he doesn't."
It's up to the voters now. America may never fully decide if Clinton is trustworthy, but Gilliam's gut tells her she is. What many see as Clinton's flaws, Gilliam sees as battle scars: "I think she would make the greatest president we ever had, with her knowledge and her experience and all the things—good and bad—that have happened to her."
"Things have happened to me that I never dreamed up in my life as a little girl," she said. "But Hillary has experienced things that, being 93, I will never achieve." Still, for someone who once saw FDR speak while her legs dangled from her father's shoulders, there is at least one more new thing Gilliam will achieve in her lifetime: She'll watch a woman claim the nomination—and she'll do it in her new convention hat.
In fact, as we ended our conversation, she was off to the haberdashery. It was time to go pick up her latest one.