Diversity Takes Center Stage at the Democratic National Convention
Delegate Anthony Woods, a former congressional candidate and veteran, is familiar with the DNC's narratives of inclusion.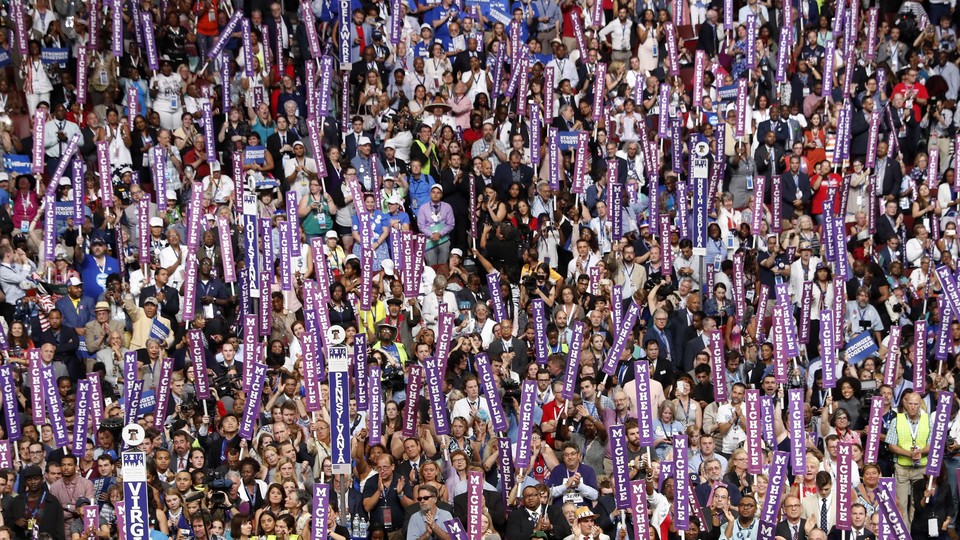 The Democratic National Convention is highlighting diversity this week, with a roster of speakers that includes Representative Keith Ellison of Minnesota, the first Muslim to be elected to Congress, as well as members of the Congressional Hispanic Caucus and the Congressional Black Caucus. But even offstage, in the audience, there will be plenty of diversity, with a slate of multiethnic and multicultural delegates. Among them, Maryland delegate Anthony Woods.
The California native fell upon the task of being a delegate almost accidentally. A friend tapped him to apply ahead of Maryland's April primary, as the state sought to pull together a varied delegation. Woods checked off a lot of boxes: He's young. He's gay. He's African American. And he's a veteran. But though this is his first time as a delegate, it's not Woods's first encounter with politics—that dates back to 2008. In fact, 2008 was a big year for Woods.
Woods, now 35 and a former U.S. Army captain, has been deployed to Iraq twice, first in 2004 and then again in 2005. He came from a military family, so service "was always an idea or an option," he told me. But his career in the military was interrupted in 2008, as a result of the "Don't Ask, don't tell" policy, implemented in 1993. It all started when Woods began to feel a pull to come out to his commanding officer. "The idea of lying to maintain the secret identity was more detrimental to being a good officer than just being honest," he said. So he told the truth—in violation of the policy. In 2008, he was honorably discharged.
The move was disheartening. Woods had aspired to teach cadets at his alma mater, West Point. With a military scholarship, Woods had attended graduate school at Harvard's Kennedy School of Government with his sights set on academia—he even delivered the commencement address at his graduation there. But eventually, that dream also contributed to his desire to be honest. "Lying to [cadets], while they're living under an honor code—there's something wrong with that picture," Woods said. The military required Woods to reimburse his tuition money when he was discharged.
Woods landed a stint in New York as an aide to then-Mayor David Paterson. It was still 2008, and Barack Obama was on the cusp of history. Woods attended the Democratic National Convention with Paterson that year and recalled that it was "an awesome experience." The next year, Woods decided to run for U.S. Congress in California. Looking back, Woods used two words to describe the experience: "exhilarating" and "terrifying." He didn't win the election, but Woods's commitment to public service persisted. He didn't expect, however, that it would eventually take shape as a delegate from Maryland—where he now works as a consultant. But, when his friend suggested it, Woods decided to throw in an application. Shortly thereafter, he was selected and later picked by voters on the ballot during the state's primary, which Hillary Clinton won.
The former secretary of state carries a wide lead among nonwhite voters, when compared with Donald Trump, according to polls. Among black voters, specifically, she's far ahead, at 90 percent. Woods cites Clinton's experience as a factor in supporting her, but perhaps more importantly, he notes that she'd be the first woman president, if elected. "I think about it in the context of President Obama," he said. "The unknown effect of what that has on a child of color in this country or around the world changes your perception of what is possible."
Woods understands a thing or two about overcoming obstacles and discovering what is possible: Since President Obama ended "Don't ask, don't tell" in 2011, Woods is back in the military as an officer in the Army Reserve.