Ted Cruz Is Readying for 2020
With staffing changes and the establishment of two nonprofit groups to advance his agenda, a future presidential campaign appears to be under way.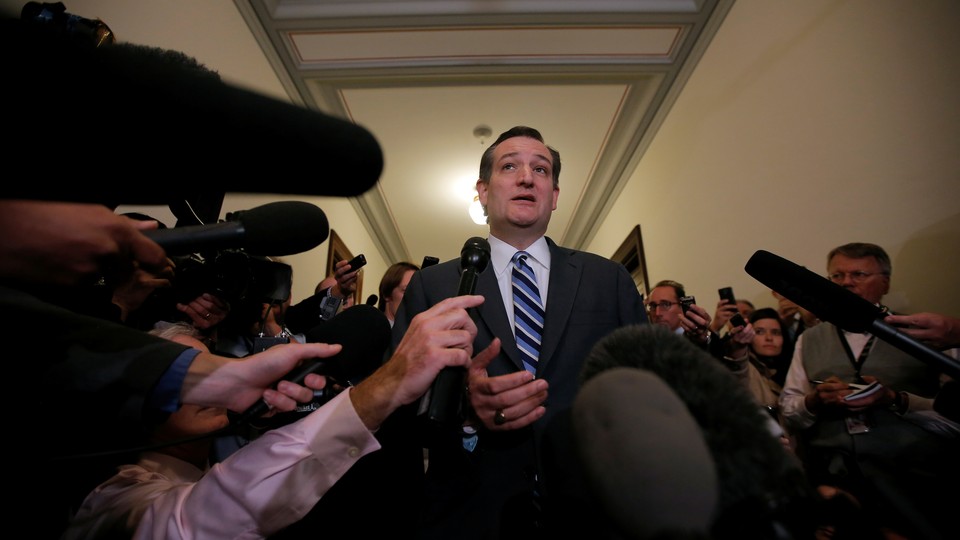 NEWS BRIEF Ted Cruz's 2016 presidential campaign ended just two months ago. But his campaign for next cycle is already getting started.
According to a report Wednesday in National Review, the Texas senator is making big changes inside and outside of his Senate office to ready his political operation for a 2020 run. Cruz has been "conspicuously silent" recently, the report notes, but behind the scenes has "supervis[ed] the vast expansion of his electoral enterprise, integrating the operations of his campaign team," and has instituted staffing changes to reflect his long-term goals.
Among them is Cruz's decision to bring on a longtime Republican campaign operative—with no Hill-office experience—as his Senate chief of staff. His current chief is departing to work as a senior adviser to two new Cruz-aligned nonprofit groups:
Central to [Cruz's] plans is the creation of two new affiliated nonprofits, their names to be announced in the coming days, which will effectively keep Cruz's political machinery humming over the next four years. These groups, one a 501(c)3 and the other a 501(c)4, will be responsible for everything from championing Cruz's legislative priorities to maintaining his donor database and coordinating his early-state travel. They will be an outgrowth of Cruz's existing campaign apparatus, the nucleus of which has remained active in the aftermath of his departure from the race on May 3.
Cruz is making tweaks to a political operation that was widely praised during the 2016 campaign. The Cruz team was known for its sophisticated use of analytics, issue testing, and voter outreach, among other elements. The New York Times also noted in October that Cruz was able to translate his early start in the race—he was the first to announce his campaign—"into a sprawling ground game."
The senator's impressive operation wasn't able to win against the unexpected, unconventional campaign of Donald Trump, but perhaps he's hoping—with targeted changes—to gird against any similarly out-of-left-field candidates in 2020.