'Low-Key, Loyal Effectiveness': Clinton Chooses Tim Kaine
With her party's convention in Philadelphia approaching, the Democratic nominee has a running mate.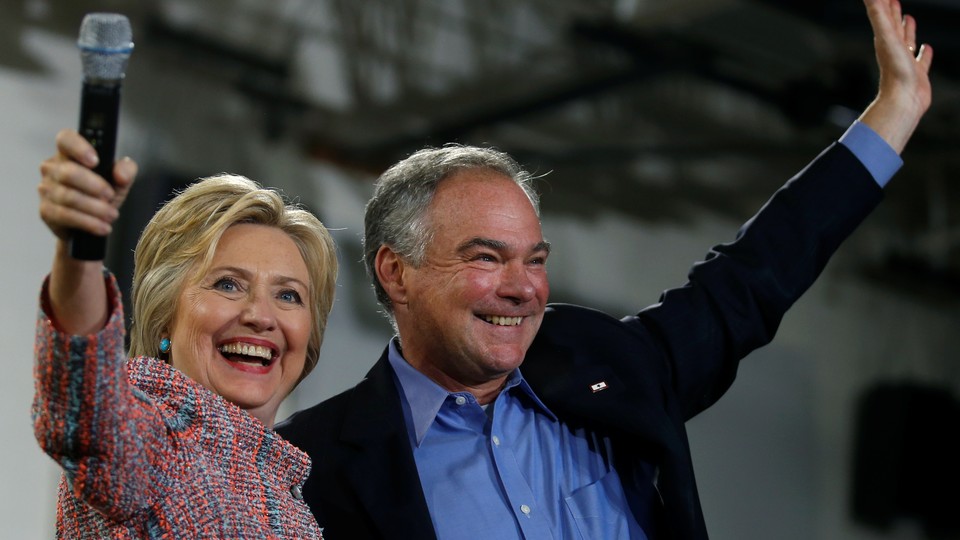 NEWS BRIEF The general-election tickets are complete: Hillary Clinton has chosen Virginia Senator Tim Kaine as her running mate.
Clinton's announcement Friday comes one day after the Republican National Convention wrapped up—with an ominous speech from her opponent, Donald Trump—and can help build excitement among Democrats going into Philadelphia next week. Clinton is campaigning through Saturday in Florida, and CNN has reported that she will appear with her chosen candidate at a rally Saturday at Florida International University.
In recent days, Kaine and Secretary of Agriculture Tom Vilsack had reportedly risen to the top of Clinton's short list, as they "fit Clinton's ideal of low-key, loyal effectiveness," sources told The Washington Post. Other reported contenders included: Senators Elizabeth Warren, Cory Booker, and Sherrod Brown; secretaries Julián Castro of the Housing and Urban Development Department and Tom Perez of the Labor Department; and Colorado Governor John Hickenlooper.
Kaine was widely considered among Clinton's safest options. As such, depending on one's point of view, he is either a welcome selection or a rather dull one. Her choice isn't historic—as it would have been if Clinton had selected Warren or Booker. He's no firebrand, though at a recent rally with Clinton he did show a willingness to take on Trump. And Kaine, a moderate, poses a risk in alienating the Bernie Sanders crowd: Liberals hoping for more influence may be disappointed, The New York Times reports, because of Kaine's friendly attitude toward free trade and deals like NAFTA and the Trans-Pacific Partnership.
Still, he satisfies what Clinton was reportedly looking for: experience, particularly in the field of national security. Kaine serves on the Senate Foreign Relations and Armed Services committees. He had a substantial resumé even before he was elected to the Senate in 2012: Kaine has served as Democratic National Committee chair, governor of Virginia, and the mayor of Richmond. He's also a Spanish-speaker, and showed off some of those skills at a July rally with Clinton. Back in 2008, President Obama considered him as a possible vice-presidential candidate.
Another important factor going into November: Kaine's selection doesn't hurt his party's representation in the Senate. Democrats are angling to retake control of the upper chamber. If Clinton had picked one of the other senators allegedly in contention—and the ticket won—a Republican governor would be tasked with choosing his or her immediate successor. Virginia's governor is Democrat Terry McAuliffe, a Clinton ally.
And speaking of Virginia: It's an important swing state, which Clinton won in the Democratic primary. Kaine could perhaps nudge it even further into Clinton's corner.