Cleveland Finally Gets Its Protests
After a series of planned demonstrations amounted to little, a tense situation broke out in Public Square downtown Tuesday afternoon.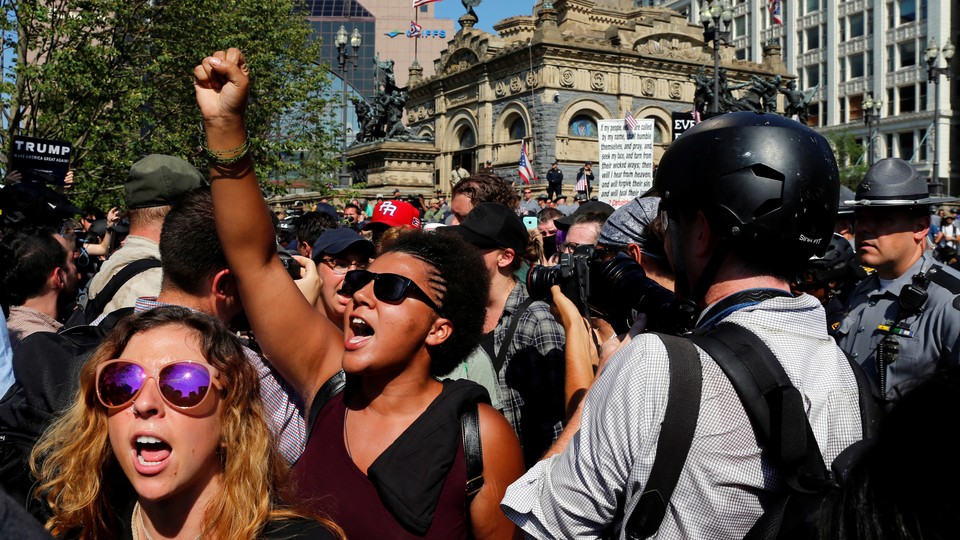 CLEVELAND—The protests in Cleveland have been a dud—at least until Tuesday afternoon. Despite grave concerns about security, most demonstrations had been small, undersubscribed, and low-key.
That changed mid-afternoon in Public Square, in the center of the city. When I arrived a little before 4 p.m., the ratio of police to reporters to civilians was roughly 1:1:1. There were isolated pockets of demonstration: A man and his daughter, wearing camo pants and hand-written T-shirts, shouted about Tamir Rice. A Black Lives Matter supporter, a young African American, and an older man, also black, wearing a Second Amendment T-shirt, shouted at each other. But for the most part, things were calm.
Then Alex Jones, the talk-radio host and conspiracy theorist, showed up. Although his own rally in the Flats on Monday was unexpectedly small, a crowd of journalists surged around him as he shouted into a megaphone in the center of the square. A crowd of reporters, observers, and leftist activists stood on steps on the south side of the square, and a few—led by Pat Mahoney, who was waving a red flag and smoking a cigar—started singing to drown him out, delivering several verses of the union anthem "Solidarity Forever." (Mahoney, of the western suburb of North Olmsted, was wearing an Industrial Workers of the World shirt and identified himself as a member of the Wobblies' Northeast Ohio chapter.) The scrum around Jones surged toward the steps. There was shoving and shouting, and suddenly it seemed like fights might break out. But peace prevailed, and police made their way in, grabbed Jones, and hustled him out of the square and into his own waiting SUV—followed by cameramen and young men shouting, "InfoWars dot com!"—which then peeled out.
As Jones left, the Revolutionary Communist Party was setting up for a planned rally in the center of Public Square. They bore a huge banner with pictures of black people killed by police and small signs that read "America Was Never Great: We need to OVERTHROW the system." With their own megaphones, they took turns railing against police violence. In their view, law enforcement's problem isn't a few bad apples—it's that police departments are designed as a tool of systemic class oppression. As Mark Oppenheimer explained in a Boston Globe piece years ago, the Revolutionary Communists are an esoteric bunch, led by a reclusive leader named Bob Avakian. The keynote speaker for the rally was Cornel West, the academic and public intellectual who was a major backer of Senator Bernie Sanders's presidential run. West has the unusual distinction of being a member of the Democratic Party's platform committee, endorsing Green Party candidate Jill Stein, and appearing at a rally for the Revolutionary Communists—although he identified himself as a revolutionary Christian.

Meanwhile, police began to move into the square, gradually blocking off areas with their bicycles: One for the Revolutionary Communists to the north, one for a group of Christian demonstrators to the east, and observers of all sorts all around. The police occupied the center of the square and eventually closed off the sides, letting people leave but not enter. It was a diverse coalition of cops: Cleveland Police; Cleveland Clinic Police; officers from the Ohio cities of Akron, Avon Lake, Columbus, and Wauseon; state troopers and highway patrol from Ohio, Georgia, Indiana, California, Utah, and South Carolina. Members of a special Cleveland police unit detailed to filming demonstrations roamed, holding digital cameras aloft. Cleveland Chief of Police Calvin Williams stalked between officers in his crisp white shirt and hat, directing things.
West finally spoke around 4:45 p.m. "We want the young people to know that there will be no peace unless there's fairness. There will be no justice unless there's accountability," West said. Then he shuffled out of the crowd, surrounded by reporters. West's departure seemed to pull the air out of the whole scene. The Revolutionary Communists were burnt out and ready to leave. The rest of the crowd had exhausted itself too, and the cops by this time controlled most of the square.
The police managed to prevent much in the way of confrontations, though heated words were exchanged. The irony was that in many cases, the parties involved in the furious shouting matches had different solutions in mind but agreed on the underlying point: The police need reform. Preston Kamler shouted at the RevComs, accusing them of being paid by George Soros. Kamler, who wore a red Trump T-shirt, told me he'd driven from Springfield, Missouri, to be there. He agreed that the police needed reforming, but he felt the way to do that was to end the war on drugs.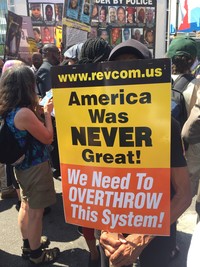 "The judicial system is prejudiced against the poor, not necessarily against blacks," he said. "If you're a rich white kid or a rich black kid, you can get off. If you want to end abuses, end the drug war. It gives them a reason to militarize."
Earlier, during a West-led press conference to preview the rally, I spoke with Andrew Smith, a young man from Myrtle Beach, South Carolina, who wore a camouflage Make America Great Again hat and a T-shirt that depicted Trump with a revolver, a la Dirty Harry, and read, "Go ahead ISIS, make my day." Smith shook his head. "There are real problems with the police, but this stuff doesn't help," he said. Smith's theory was as overarching as the communists: He believed police-reform movements were a cover for a progressive effort to federalize the police, which he said would only make things worse. The demonstrators and the Trump supporters on hand were, it seems, separated by a common language, as a well as dozens and dozens of bicycle police.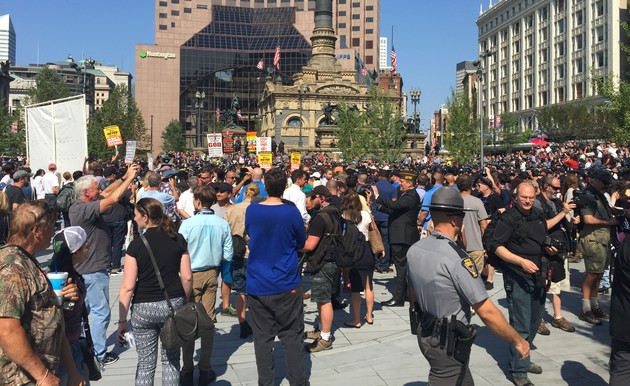 Many of the attendees were neither affiliated with the groups nor members of the press: They were just there to gawk and see what happened. Marty Thompson said he was backing Trump, but he hastened to distance himself from the hardest-core backers. Mostly, he was downtown to see what went down.
"When I got down here it was a little quiet," he said. "I was hoping for a little excitement," though not too much. And despite the very real tension and buzz of worry in Public Square—Would there be a crush? Would there be tear gas? What was the police strategy?—there were only hundreds of people in the square anyway. Just a block away, the streets were quiet, sunbaked, and mostly empty thoroughfares of summer in the city, peopled only by hot-dog vendors and tired bus drivers.