The Church Camps That Aim to Bridge Race Relations
Religious communities across the United States host "Freedom Schools" to empower kids to change the world.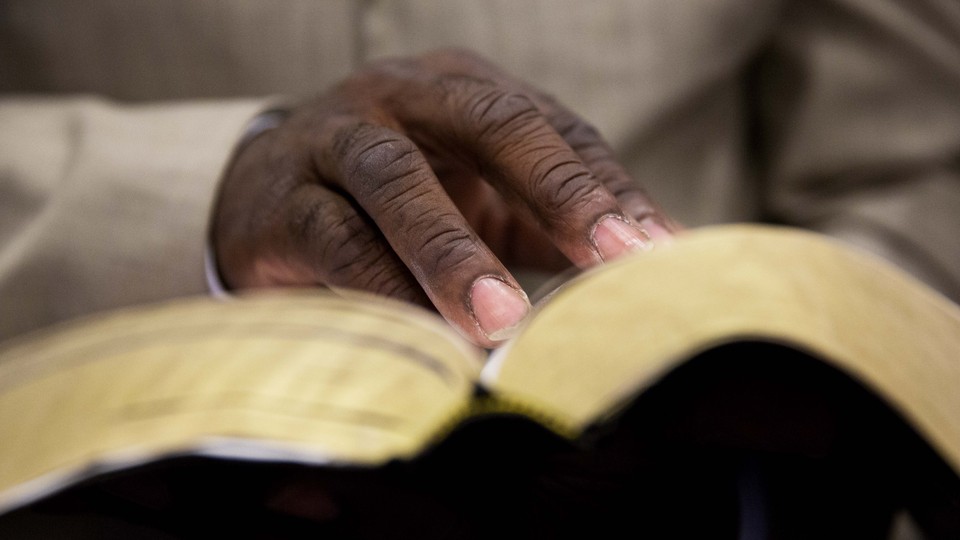 ROCKY MOUNT, N.C.— Many American Christians still grieve something Martin Luther King Jr. articulated more than 50 years ago: Churches are among the most segregated spaces in America. King imagined a universal, all-inclusive sisterhood and brotherhood with an equitable distribution of resources—a "Beloved Community" where there is peace because there is justice. Plenty of religious people have felt a duty to help bring this dream to life, yet most have failed to racially integrate their own congregations.
Now, though, some church communities are looking outside their walls for the reconciliation they haven't found inside. Some white, progressive Christian clergy have embraced movements like Black Lives Matter and the NAACP-led Moral Mondays here in North Carolina. White Christians are often following black leaders in these movements, rather than leading. They are partnering in community service or political advocacy across racial and religious lines. They are taking action on issues that disproportionately affect communities of color, like gun violence and voter suppression. They're also trying to foster cross-racial friendships and broader reconciliation within their communities.
Across the nation, churches are bringing this movement to summer camp. Joining with social-justice organizations like the Children's Defense Fund, the American Friends Service Committee, and the Industrial Areas Foundation, congregations are hosting "Freedom Schools" and other activism camps—to empower kids to change the world, but also to help them understand one another across racial divides.
For three years, the former auto-parts plant that houses Peacemakers Freedom School sat vacant in South Rocky Mount, where modest homes mix with collapsing warehouses below a set of railroad tracks that divide the rich, white and poor, historically black parts of town. Peacemakers started in 2006 with pick-up kickball and Bible studies as an outreach effort of Church on the Rise, a predominately white Assemblies of God congregation. Its main campus is an 18-acre meadow at the city's forested northern edge, surrounded by a gated golf-club community and the campus of North Carolina Wesleyan College.
In the quest for racial reconciliation, congregations are trying to face the realities of persistent racism and racial inequality. Some white churches might take this on with a hint of paternalism, but some, like Church on the Rise, are trying to yield to black culture and leadership within their programs.
"Breathe in all the positive energy for the day," 20-year-old Abbie Clifton told a crowd of more than 100 kids gathered one Thursday morning in June. "Breathe out the negative."
"Àṣẹ," she concluded, a benediction in the Nigerian language Yoruba, roughly translated as "so be it." Clifton offered this blessing at the end of Peacemakers' Harambee, a frenetic morning rally that involves everything from daily "recognitions" of positive behavior to story-readings by local African Americans. Harambee is similar to participatory black-church worship, but instead of a pastor or choir, a team of college students and young school teachers use their summer breaks to teach kids from this depressed Southern city about their history.
Here, and at nearly 180 other Freedom Schools across the U.S. designed by the Children's Defense Fund, these "servant-leader interns" rouse the young "scholars"—not students, not campers—in singing Quincy Jones's gospel arrangement of Handel's "Hallelujah Chorus" and Labi Siffre's apartheid protest ballad, "(Something Inside) So Strong." Harambee itself is a Swahili word, meaning "let's pull together."
Among the crowd of kids and staff, who are mostly African American, Clifton is conspicuously white. So is the executive director, Jesse Lewis, and the site coordinator, Nate Reisinger. Lewis, Clifton, and two other Freedom School staffers belong to Church on the Rise. A decade ago, its members started meeting with black elders to discuss ways of helping a neighborhood trapped in cycles of crime, poverty, and unemployment. In 2012, they incorporated as Peacemakers Family Center. The factory that once made plastic interior-car-door panels now houses a thrift store, a food pantry, after-school tutoring, a computer lab, GED classes, and the South Rocky Mount sanctuary for Church on the Rise.
The main suburban campus attracts a worshipping community that's three-quarters white; here on the south side, it's three-quarters black. With high-energy Pentecostal worship that bridges white and black Christianity, Church on the Rise has been more successful than most congregations in building a multi-racial community. The CDF Freedom School curriculum, delivered by a majority-black teaching staff, dovetails with this effort, swapping typical Vacation Bible School lessons for studies of African diaspora cultures. The church is hoping it can model King's Beloved Community to catalyze reconciliation beyond its original community.
"At times, the city can be divided, and I'm talking about more than just the railroad tracks," said Reverend Roderick Tillery, the principal of Rocky Mount Middle School and a black Baptist pastor in nearby Elm City. "Peacemakers can help to bridge that gap. It brings people from all backgrounds together."
Across the country, faith-related activist camps like Peacemakers are getting kids together to build trust between black and white communities. The Children's Defense Fund camps started in 1995 to revive the 1960s Freedom-School tradition of black-youth empowerment. Hosted by nonprofits in 30 states from Washington to Florida, CDF Freedom Schools teach literacy, black history, volunteering, and community organizing. While it's not a religious organization, CDF teams up with scores of churches and synagogues, creating what may be America's largest faith-based network of justice-oriented summer camps.
"This is a really good opportunity for the kids to be awakened to the realities of our history but also in our own day," said Reverend Justin Hildebrandt, whose Connexion United Methodist Church hosts a CDF Freedom School outside of Boston, Massachusetts. "We don't talk enough about race. We don't do a good job of teaching this part of history. We want to bury it. We want to pretend that we can be colorblind. To have a student of color next to a white student both learning about what happened during the civil-rights movement, about what happened during slavery—it shows them that they can change their world now."
Other religious nonprofits have started their own racial-justice-oriented summer camps. Since 2001, the Quaker group American Friends Service Committee has been sponsoring its own Freedom Schools—currently, the group runs the program in Seattle, Pittsburgh, St. Louis, and St. Paul. Koinonia Farm—a southern Georgia Christian community founded in 1942 to promote to racial equality—holds a Peacemakers Camp each summer.
"It is pretty hard to talk about peacemaking in this country without addressing the pervasive racial animus," said Reverend John Wierville, whose Berea Mennonite Church runs a program called Peace and Carrots Camp in Atlanta, Georgia.
In the past decade, big interfaith community-organizing groups such as PICO National Network, Gamaliel and the Industrial Areas Foundation, or IAF, were likewise making efforts to empower youth activists and address racial injustices, which past leaders saw as unproductive to political advocacy.
"Both PICO and Gamaliel have shifted out of race-neutral," said Richard Wood, a University of New Mexico sociologist who is the co-author of A Shared Future: Faith-Based Organizing for Racial Equity and Ethical Democracy. "They're just less fearful about working across racial lines than sometimes older generations have been."
In North Carolina, Durham's local affiliate of the Industrial Areas Foundation, called Congregations, Associations, and Neighborhoods, or CAN, developed with this sort of explicitly race-conscious philosophy.  The organization recently won a campaign pressing school administrators to audit the local school-counseling program, fill all counselor vacancies with bilingual staff, and fund liaison positions at Durham Community Technical College for high-school students. Those goals came out of discussions with middle schoolers belonging to CAN member organizations.
Just days after securing that agreement with the county commissioners, CAN held a community-organizing summer camp in place of member churches' Vacation Bible Schools. It was called "We Have the Power" and hosted by Duke Memorial United Methodist Church in partnership with other progressive white churches, black churches, a Reform Jewish synagogue, and local Unitarians. There, kids as young as four learned to advocate for their neighborhoods, role-playing real Durham situations: the arrival of the highway that cut through a once-vibrant black business district in the 1960s, for example, or the high- and mid-rise condo and apartment buildings that are going up in the city today. Many of the kids, staff, and volunteers were white folk from Duke Memorial, but for one African American mother, that was part of the draw.
"I hope that Myles goes home with a sense of what it means to be part of a community," said Kafi Hill, whose 5-year-old son attended this activism camp. "If you work together, you can find a common ground."
Although Myles has gone to diverse schools and a diverse church, his mom was glad to hear him singing the songs like "Ain't Gonna Let Nobody Turn Me Around" that he learned at activism camp. "It may not have the racial undertones that it had back in the '60s or '70s, but we have to stand strong. We have to be a community," she said. "That's what a lot of the songs are about."
That sense of community is exactly what motivated "We Have the Power" organizers. "I used to be depressed that our church is so homogenous, so white," said Tony Nicholson, who serves on the team that led Duke Memorial to join the minority-led Durham CAN a year ago. "When you're wanting people who are different from you to come to your church, it's not necessarily right. You still have the power. You're still in control. But we can be part of God's kingdom in this way. You can take different kinds of people, and they're coming together as equals."
Back in Rocky Mount, Abbie Clifton has made an impression on 15-year-old Nyah Hudson. "She's like a role model for me because even though she can be happy and funny and crazy, she's confident," Hudson said. "She knows how to be present. She knows how to be nice to everybody."
"We respect each other," Clifton said. "She sees me on a friendship level first and on a higher-authority level second. My entire class is African American, but they don't see me as being different than them, and I don't see them as being different than me. We relate on a different level than the color of our skin."
At Rocky Mount High, Hudson said, her two best friends are white and Latino, but it's not that easy to make friends across racial lines. "You have to know what people are open to talk to you," she said.
Peacemakers Freedom School has helped Hudson find her way into activism alongside mentors and peers of different races and socioeconomic backgrounds. Together, they've walked the neighborhood registering new voters and warning families against the dangers of guns and gangs.
"It helps them to stand together instead of having to stand alone," said Clifton. "It's like positive peer pressure. When they see Nyah standing up against gang violence, they're going to want to be a part of what she's a part of."
These camps might have kids singing songs, shooting hoops, watching chicks hatch, or building a pretend city out of cardboard. And, hopefully, they'll find a sense of racial healing along the way.