Chris Christie Is Still Auditioning to Be Donald Trump's Vice President
The New Jersey governor went on the attack Monday on behalf of his party's nominee.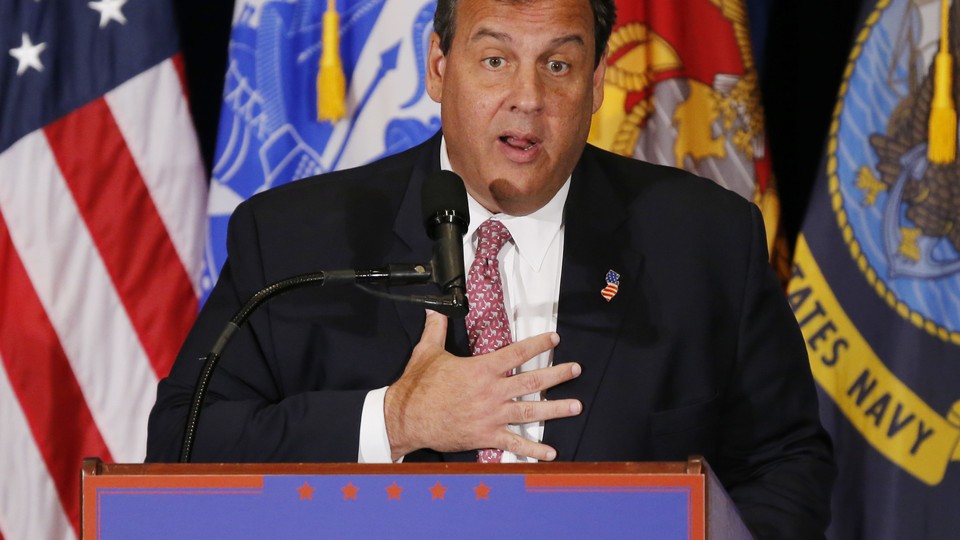 NEWS BRIEF  Chris Christie gave another screen test Monday in the months-long audition process to be Donald Trump's vice president.
As Trump prepares to name his running mate, the New Jersey governor—whose surprise endorsement of Trump back in February kicked off months of speculation over his status in a hypothetical administration—was back on the trail with his party's presumptive nominee, introducing him at a Virginia Beach, Virginia, event focused on veterans' issues.
Christie used his opening remarks as a jumping-off point to discuss law and order more broadly, at home and around the world. Trump did the same once he assumed the lectern. Both campaigners alluded to major events from last week to make the case that America is rampant with lawlessness, and to argue that Hillary Clinton can't fix it: the deadly attack on police in Dallas, following police-involved shootings in Louisiana and Minnesota; and the FBI director's statement recommending that Clinton see no charges in an investigation into her email practices.
"Safety and security is not just about being safe and secure from threats outside this country—it's about making sure that we are safe and secure from threats of violence from within our country as well," Christie said, calling for greater respect for police and for giving them "the benefit of the doubt." In quick succession, he connected poor treatment of police to his tenure as a U.S. attorney to Clinton's use of private email, suggesting her practices threatened Americans' well being.
"We need once again to have a president who puts the safety and security of our citizens first, and does not blink or hesitate to take the strong action that needs to be taken to make sure that those both at home and around the world know that lawlessness will not be tolerated from anyone, no matter how powerful or lack of power that those people may have," he said, adding Clinton is "not a person who will stand for the rule of law. That's a person who will stand for the rule of her."
Christie plays the role of attack dog with gusto; it's one he's assumed in recent months on the trail with Trump, and one typically suited to a vice presidential nominee. But where Christie— who's leading Trump's White House transition team—fits into Trump's short list is something of a mystery. The Washington Post reported Monday that Christie is one of Trump's two top candidates for vice president, with Indiana Governor Mike Pence in the lead. Christie reportedly met with the attorney heading up Trump's vetting operation over the weekend, in a confab described as the "last part of Christie's vetting." But last week, a separate report from NJ Advance Media suggested former House Speaker Newt Gingrich is "the likely pick" over Christie, who was seemingly being vetted as a courtesy.
Trump said he will decide on his vice-presidential pick in the "next three to four days," and suggested he's more likely to choose a politician over retired Lieutenant General Michael Flynn, one of five people on his list.
A military pick probably would have been welcome news for Monday's veteran crowd, especially as Trump tries to rehabilitate his reputation in the community. Trump has long made veterans' issues central to his message, pledging to reform the Department of Veterans Affairs. But Trump's veteran bona fides took a hit this spring following reports that Trump hadn't donated all the money he raised for veterans groups during an event in January. The presumptive nominee later staged a press conference in late May to defend himself and insist on his loyalty to U.S. veterans. On Monday, he laid out a vision for change that included a full investigation into the department; and improved health care, mental health care, and job access for veterans.
In his remarks, Trump linked malpractice at the Veterans Affairs department with his general-election opponent. "We need to clean out the corruption in government and Hillary Clinton will never be able to do it," he said. "She's incompetent and has proven time and time again that she doesn't have what it takes."
Clinton, too, won't be able to bring security to America's neighborhoods, Trump suggested, echoing Christie's remarks as he called himself the "law and order candidate." "Every kid in America should be able to securely walk the streets in their own neighborhood without harm. Everyone will be protected equally and treated justly without prejudice. … We will protect all Americans," Trump said. "Without safety, we have nothing. It's the job of the next president to make America safe again for everyone."
If Christie isn't named as Trump's vice president, he could still be involved in that effort. Trump himself has suggested the governor would make a "great attorney general."