Can Training Programs Help Improve Police-Community Relations?
Lawyers and activists are educating residents in cities across the country on encounters with law enforcement.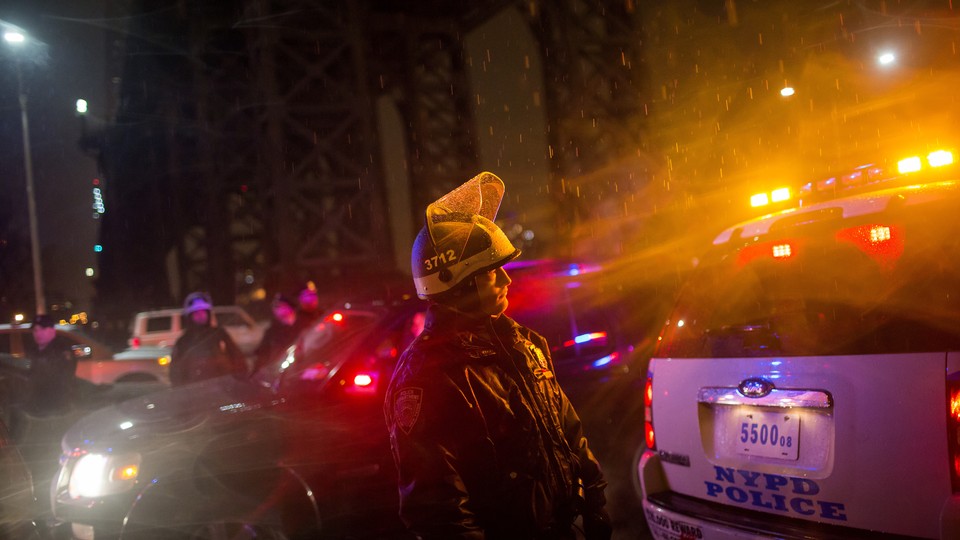 There are four levels of police encounter, the trainer, standing at the front of the room, told the 10 people gathered around the table. It was an evening in late June, in a meeting room on the fourth floor of a community center in Crown Heights, a neighborhood in Brooklyn, New York. A spacious mural of a community scene decorated the wall, with the image of a young man holding a sign that read "Fair & Just."
The first, most basic level is an approach, said Djibril Toure, who was conducting a Know Your Rights training session for the Brooklyn Movement Center. Toure explained: Imagine a police officer comes up to you and asks, "Hey, how are you doing today? Do you live in this building?" Or, "Hey, can I see some ID?" Even if you feel you have not done anything wrong, anything illegal, Toure told the class, you must remain calm. He repeatedly reminded his students that they have the power of consent, and after a police encounter, the right to file a complaint. Over the nearly 90-minute workshop, he then walked the class through escalating levels of police encounters, including if a police officer asks to search your property or your person, and possible arrest.
The conversation in the meeting room that evening is part of an ongoing national discourse propelled by reports of stifling over-policing in black neighborhoods, and deaths of black men at the hands of law enforcement. Days after the training session, the nation lamented the officer-involved shooting deaths of Alton Sterling in Louisiana and Philando Castile in Minnesota. Then came the killings of five police officers in a shooting in Dallas, Texas, and three officers in Baton Rouge, Louisiana.
Know Your Rights training programs have been held by lawyers and community activists in neighborhoods in urban cities nationwide, designed to help residents understand the limits of police authority. Studies have long shown an issue with racial bias in policing, and have also revealed racial disparities in police use of force. Crown Heights is largely made up of African American, Caribbean and Caribbean American residents. In recent years, murder and shooting incidents have dropped in the two police precincts, the 71st and 78th; in the 71st precinct, murder was down 71 percent in 2015 from 2001, and shooting incidents down roughly 35 percent over the past six years. Still, residents have felt an increased police presence in the neighborhood.
Kimberly Enjoli, who has lived in Crown Heights for nine years, came to the Know Your Rights training, she said, to respond to an "escalating" police presence in her community, and in someway join nationwide rallies against police violence. Enjoli, 34, said she has participated in similar trainings in the past, and had recently joined the Brooklyn Movement Center's new cop watch training program, "just to do something," she explained, "other than be anxious about the police here."
Enjoli moved to Crown Heights during a weighty shift in the neighborhood. Between 2000 and 2010, according to U.S. census data, the number of white residents in Crown Heights nearly doubled to 16 percent, while the number of black residents fell by 9 percent. In May, the NYU Furman Center for Real Estate and Urban Policy listed Crown Heights North as one of the city's 15 most gentrifying neighborhoods, following a leap in rents and incomes. Brooklyn, however, ranks third in New York in income inequality, and one in five Brooklyn households has a median income of over $100,000 per year—twice as many as a decade before—while nearly 1 in 4 Brooklyn residents lives in poverty.
Enjoli noted the uptick in white residents, as well as bars and restaurants, in Crown Heights. Over time, Enjoli said, "there were just police walking up and down the block, patrolling," she said, particularly commercial corridors like Franklin Avenue and the subway station. "I imagine the new residents feel safer having more police around, but I don't," Enjoli added. "It of course makes me anxious as a black person who watches the news."
A few days before the Know Your Rights training, a police officer from a neighboring precinct was sentenced to two years probation for assaulting a suspect during an arrest in 2014. A video recorded by a pedestrian showed Officer Joel Edouard wrestling with a man who repeatedly yelled for help. After back-up officers arrived, Edouard, who had briefly pulled out his gun and walked away from the scene, returned and appeared to kick the man in the head. The New York Daily News reported that Edouard, while on patrol, had spotted the man, Jahmi-El Cuffee, 34, sitting outside on a fish tank, rolling a marijuana cigarette and drinking alcohol. Edouard and his partner approached Cuffee, who reportedly threw away the joint, and asked for his identification.
Social psychologists, who have worked with criminologists, have established "that police have been conditioned to think that crime is something black people do," said Delores Jones-Brown, the founding director of the John Jay College Center on Race, Crime and Justice at the City University of New York, where she currently serves as faculty research fellow. Police have been shown to have an implicit bias, particularly in dealing with black and brown people, she said. "People are entitled to individual assessments of whether or not they are involved in criminality. To assume criminality when you see a black or brown young man is just wrong. It is legally wrong and morally wrong and ethically wrong." But, Jones-Brown added, police departments are more willing to train their officers now than in the past.
In New York City, a legislative package called the Right to Know Act would require police officers to identify themselves during encounters, to provide their full name, rank, command, and a phone number for the Civilian Complaint Review Board at the conclusion of encounters that do not end in an arrest or summons. Police officers would also have to provide the specific reason for the encounter. However, until the bill passes, and until police officers are held criminally accountable for abuses, experts say, the stress and trauma of dealing with police, while simultaneously protecting individual civil rights falls squarely on residents in communities like Crown Heights.
Toure has been conducting trainings through the Malcolm X Grassroots Movement New York chapter and holding sessions during youth programs, after school programs, drug recovery programs, as well as for high school students, college students, activists, homeless persons, and immigrants for more than 15 years. Toure started doing cop watch, he said, in 1999, after Amadou Diallo, a West African immigrant was killed by police officers who fired 41 shots at him in the doorway of his Bronx apartment building. Toure, until recently, lived in Crown Heights.
The training, experts say, helps people understand that they do have the right not to engage with the police, under certain circumstances. "But it does put people, particularly in marginalized communities, in really tough positions," said Jones-Brown, who participated in an interview project at several sites, including the New School and Adelphi University. Most black men, she noted, said race was not a factor in their encounters with police. "They don't want to admit there are these situations in which they have no power," Jones-Brown said.
Last month, the New York City Police Department announced a new policing plan in the 71st precinct in Crown Heights: the return of the beat cop. The program, already in place in parts of the Bronx and Harlem, in some of the department's designated most-violent precincts, aims to build better relationships between police officers and the communities they serve. Officers are expected to meet with residents, business owners, and community leaders to listen to their concerns and build trust.
Still, Jones-Brown argues that pockets of the community are often overlooked in such programs: those who do not own businesses or homes or run community organizations, and are typically the people most likely to have encounters with police.
The Brooklyn Movement Center has hosted a handful of Know Your Rights trainings over the last two years. It also recently created a police accountability group and cop watch program. The vision, said Mark Winston Griffith, the organization's executive director, is "the police cannot act with impunity in our neighborhood, that they know they are being watched, that they know their behavior is being monitored and that we are not just going to stand idly by, passively by as the people's rights are being violated and people are being abused." The center, he said, often gets calls about, or photos of, people who have been arrested in the community.
Many experts repeatedly stress that knowing your rights—and knowing when to voice your rights during a police encounter—is a complex and sometimes combustible situation. A person can seemingly do everything right during a police encounter, they said, and the moment can still end horribly wrong. But when residents are knowledgeable of their rights, said Wallace Ford, interim chair of the Public Administration at Medgar Evers College, the legal system works better. "That's an idealized version," Ford conceded, "but you have to have a goal."