Bill Clinton Gets It Right
His convention speech re-introducing his wife to the country was an uneven, but ultimately effective, performance.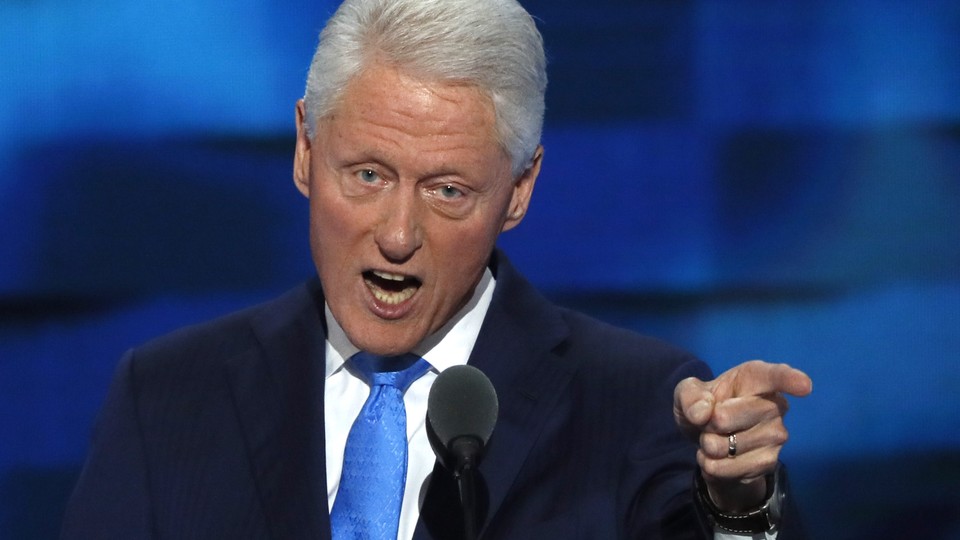 Just before Bill Clinton strode onstage to be his wife's character witness, his wife's convention planners played a video tribute to him. "When he said stuff, you believed it," a man dressed in union gear said of Bill Clinton, "because you lived it."
This was no accident: An overwhelming number of voters don't trust Hillary Clinton. That credibility and character gap is the one thing that might stop Americans from electing a second President Clinton. And so the master of persuasion bragged on and on about his wife: career highlights, familiar anecdotes, and enough warm and cheesy sentiments to launch a thousand wedding toasts.
"If you were sitting where I am sitting and you heard what I heard at every dinner conversation and … on every long walk, you would say this woman has never been satisfied with the status quo about anything," Bill Clinton said. Having been the candidate of change in 1992, Bill Clinton knows his wife faces headwinds against Donald Trump's promise of radical, unruly change. "She always wants to move the ball forward," Bill Clinton said. "That just who she is."
He started at the top, with the oft-told story about how he first met Hillary Rodham in law school, following her around campus until she finally said, "If you're going to keep staring at me … at least we ought to know each other's name. I'm Hillary Rodham."
Clinton paused to let the delegates laugh, then said, "Whether you believe it or not, momentarily, I was speechless."  More laughter, then: "We've been walking and talking and laughing together ever since."
Laughing and talking, he said, through her decision in college to change her registration from Republican to Democrat; her legal services project in college on behalf of poor children; her summer internship in a workers' camp; her work at a hospital with victims of child abuse; and her extra year in law school to work at a children's studies center.
"She was already determined how to make things better," Bill Clinton said. "Hillary opened my eyes to a whole new world of public service."
He continued: She helped desegregate schools in the South and find justice for black children unjustly imprisoned.
Meanwhile, he said. "I was trying to convince her marry me." He finally did ("I married my best friend") and they moved to Arkansas, where Hillary Clinton opened the first legal aid clinic and fought to improve public schools.
He methodically and glowingly walked through her political resume.
First lady of Arkansas.
First lady of the United States.
U.S. Senator.
Secretary of State.
And victim. Clinton drew loud applause when he explained why Republicans have worked so hard to smear her reputation—and, yes, damage her credibility.
"A real change maker is a real threat," he said. "So your only option is to create a cartoon."
A CBS News/New York Times poll conducted this month found that 67 percent of respondents considered Clinton 'not honest or trustworthy," a number largely due to her decision to stash her government email on a private server and lie about it. Trump's credibility ratings are hardly better—and, as far as such a thing can be measured, he exaggerates, misleads, and lies far more than any candidate in the modern era, including Clinton.
And yet the race is essentially tied.
Bill Clinton asked Americans to trust him: Trust her, he said, and she will trump Trump's capacity to change. "She is the best darn change maker I have ever known."
He left one big hole in the retelling of his family story: the pain he caused his wife by cheating on her with a White House intern, an affair the became public in a most humiliating way. A reader offers an approach that would have been contrite and rawly human:
It was an uneven but effective performance, one that bought to my mind the address he gave at President Obama's first nomination convention in 2008. The night before that address, I attended a party at the Clinton's hotel suite. While Hillary and Chelsea Clinton mingled with guests, the former president sat behind a hulking wooden desk in the center of his suite, scribbling furiously on a dog-eared yellow legal pad. A party brewed around him: Family and friends toasting Hillary Clinton with beer and champagne for the gracious concession speech she had just delivered at Obama's convention.
Bill Clinton was feeling pressure. Deep into the night, he ignored partiers while drawing black lines through his handwritten text. Scribble. Scratch. Scribble. At 3 a.m. or so, he peered over his reading glasses and told a departing reporter: "I gotta get this right. Gotta get this right."
Tuesday night wasn't perfect. But he got it right.