Bernie Sanders Endorses Hillary Clinton
The Vermont senator gives his blessing ahead of the Democratic National Convention.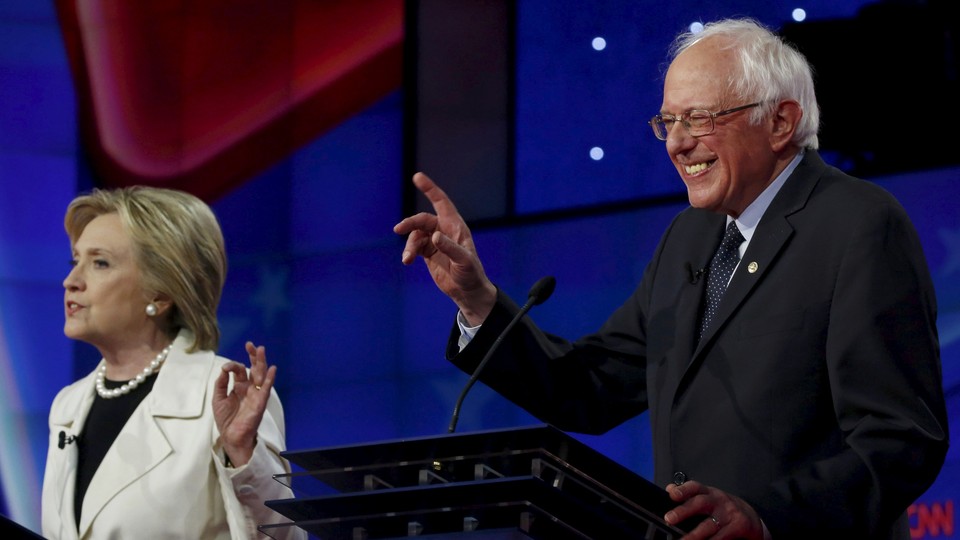 It finally happened. After weeks of hinting that this moment would eventually arrive, Bernie Sanders endorsed Hillary Clinton as the Democratic Party  presidential nominee standing side-by-side with his long-time rival on Tuesday.
"Secretary Clinton has won the Democratic nominating process," Sanders said at a campaign stop organized by the Clinton campaign in New Hampshire, a state he won resoundingly in the Democratic primary. Sanders added that he will do "everything I can to make certain she will be the next president of the United States," and said he wants to "make it as clear as possible as to why I am endorsing Hillary Clinton."
The endorsement is surely a relief for Clinton, who managed to avoid criminal charges over her use of a private email server last week, but suffered a scathing assessment of her handling of classified information by FBI Director James Comey. For Sanders, the endorsement must be somewhat painful, especially given the turn around he has now experienced in the state from success to defeat. His nod in support of Clinton signals that his presidential bid is effectively over.
The Democratic Party has been slowly, but surely coming back together since voting concluded in the primary even as Sanders has remained in the race. High-profile supporters of Sanders pledged loyalty to Clinton after it became clear that the senator had no realistic path to victory. Voters that once stood by the senator have started to defect to Clinton as well.
That doesn't mean the endorsement is not significant. Sanders could prove an extremely useful ally for Clinton. If he decides to energetically campaign on her behalf, that could go along way toward convincing his hold-out supporters to coalesce behind Clinton, even if only reluctantly. Reflecting the tensions that persist, attendees alternately cheered the names of their favorite candidates at the New Hampshire event before Sanders or Clinton took the stage. Eventually, the crowd gave up and simply started to cheer "unity."
Despite inevitably losing leverage after losing the primary, Sanders still managed to extract concessions from Clinton and the Democratic Party, at least symbolically. In the past week, Clinton endorsed ideas Sanders has championed, including making higher education more affordable as well as improving and expanding access to health care.
Sanders has also won concessions in a fight over the Democratic Party platform, a non-binding statement of priorities for the party. Supporters of Clinton and Sanders have so far embraced policy priorities in the  platform that the senator has long pushed for, including support for a $15 dollar minimum wage, and Wall Street reforms. The platform fight, The Washington Post wrote, show that "the Democratic Party shifted further to the left in one election than perhaps since 1972, embracing once-unthinkable stances on carbon pricing, police reform, abortion rights, the minimum wage and the war on drugs."
Still, the extent to which Sanders has left his mark on the party shouldn't be overestimated. Showing the limitations of his clout, Sanders did not manage to secure opposition in the platform to an international trade deal supported by President Obama. "The platform has always existed as an obvious place where Sanders could gain some victories, and claim to his supporters that he made a difference," said Boston College political scientist David Hopkins."But at the same time it's a fairly costless place for Clinton to make concessions."
Claiming that he influenced Clinton is likely to be important for Sanders as he seeks to maintain credibility with his supporters. It's not easy to make a consistent ideological case for supporting a former opponent. The senator's ability to point to concessions will help him argue that he fought hard, and is now endorsing a politician who has moved to the left, even if the move was only by degree.
There are sure to be some people who label him a sell-out, something that Donald Trump was quick to do ahead of the endorsement. "Bernie Sanders, who has lost most of his leverage, has totally sold out to Crooked Hillary Clinton. He will endorse her today — fans angry," the Republican Party's presumptive nominee tweeted.
Still, for all the outrage, real or imagined, an endorsement had been inevitable for some time. Sanders has made clear that Trump must be defeated, and that he had no intention of running as an Independent candidate. Now the question is how effective he will be in the effort to bring down Trump, how closely he will work with Clinton, and what he will do once the dust has settled on the election once and for all.