A Senate Fight Heats Up in New Hampshire
The post-Orlando resurgence of the gun debate has tightened the race between Republican incumbent Kelly Ayotte and Democratic Governor Maggie Hassan.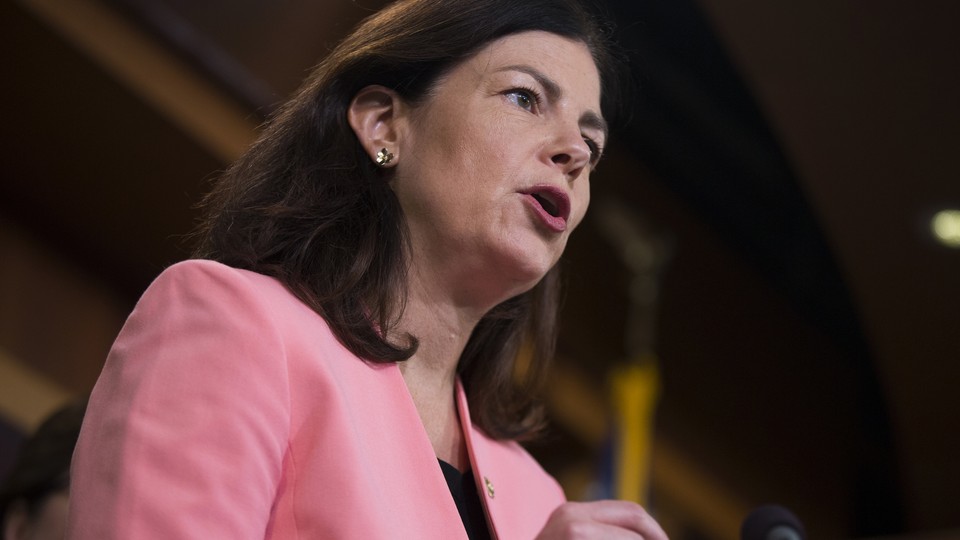 Updated on July 8 at 2:24 p.m.
Typically, once New Hampshire's presidential primary is over, the rest of America can return to ignoring the tiny, unrepresentative state for another three to four years. But this summer, New Hampshire politics are hotter than Kim Kardashian's Twitter feed, as the Senate race between Republican incumbent Kelly Ayotte and Democratic Governor Maggie Hassan grows ever tighter, tougher, and more expensive.
Now, with the post-Orlando resurgence of the gun debate, the battle promises to get downright epic.
Reelecting Ayotte was always going to be a top priority for a GOP eager to prove itself as more than the party of angry old white guys. Young and moderate (at least by the standards of her conference), Ayotte has a streak of New England pragmatism and a penchant for compromise. Democrats have been fantasizing about picking her off since the morning after her 2010 election, and they see Hassan as the perfect candidate for the job.
A second term governor, Hassan has name recognition and approval ratings to rival Ayotte's. She is a Washington outsider but with scads of insider support, financial and otherwise. The Capitol Hill newspaper Roll Call ranked Hassan #1 on its list of Senate challengers. Polls consistently put her within a couple of points of Ayotte.
Aiding the governor are the simple facts of demographics. Ayotte won in 2010 as part of the Tea Party revolution. But as in much of the nation, presidential cycles tend to be more favorable than midterms for Democrats in New Hampshire. "She's dealing with a different electorate," notes the political analyst Dean Spiliotes, a civic scholar at Southern New Hampshire University.
At the same time, Ayotte has lost some of her sparkle among conservatives. "There are constituencies in the Republican party that she needs who no longer really trust her as a conservative," said Spiliotes. "Over the course of the last couple of years she has gone out of way at times to talk about bipartisanship and show herself to be a little more progressive on issues like women's reproductive health," he explained. "It's not like she has abandoned ship, but there has been just enough triangulation to makes some conservatives uncomfortable."
Now, into this high-stakes high-wire act, drops one of the highest-octane issues in American politics: guns. And before you can say "the right of the people to keep and bear arms," the electoral landscape has grown even more fraught for Ayotte.
Gun-control advocates have been miffed at the senator since 2013, when, in the wake of the Sandy Hook massacre, she opposed the Manchin-Toomey bill to expand background checks for gun buyers. (She backed a far weaker alternative, approved by the NRA.) "Senator Ayotte was one of the senators that most disappointed people with her 'no' vote," said Pia Carusone, a senior advisor for Americans for Responsible Solutions, the gun-control group founded by gunshot-survivor former Representative Gabby Giffords. Gun-control groups took out after Ayotte, dispatching activists to dog her at events across the state. (At one memorable town-hall meeting, the daughter of the slain Sandy Hook principal confronted the senator about her votes.)
Firearms make for complicated politics in New Hampshire. The state has libertarian leanings and a thriving gun culture. (Last year, Guns & Ammo named it the 10th best state for gun owners.) Even so, north of 80 percent of Granite Staters favor expanded background checks—a number with which gun-control advocates delight in hammering Ayotte.
Of course, three years is an eternity in politics. And in recent months, the hot debates in New Hampshire were more about Supreme Court vacancies and the opioid epidemic. Until the June 12 massacre at an Orlando nightclub, when guns came roaring back as both a national and state issue.
While Democrats held a sit-in and agitated for gun bills on Capitol Hill, gun-control activists renewed their assault on Ayotte. Everytown for Gun Safety (Michael Bloomberg's group) and its grassroots arm, Moms Demand Action, ran digital and print ads attacking her. Americans for Responsible Solutions hit her with TV ads. Organizers once more began phoning and showing up at her office and at events. At both the June 25 Portsmouth Pride Parade and the 4th of July parade in Merrimack, activists handed out flyers criticizing her record.
Ayotte, meanwhile, got busy positioning herself as a sensible, independent voice amid the madness. When two competing bills (one Democratic, one Republican) came up in the Senate a few week sago, aimed at closing the so-called "terror-gap" on gun purchases, she voted for both. Both failed. Ayotte then joined Senator Susan Collins in hawking a bipartisan compromise. It, too, failed to move forward.* The Collins bill did garner enough support to ensure that it will resurface at some point—though most observers assume that won't be until after Election Day.
So how are Ayotte's reform efforts playing with gun-control advocates? Not so well. Many dismiss her terror-gap votes as shameless political ass-covering. "It's an election year," reasoned Clai Lasher-Sommers, a New Hampshire-based fellow with Everytown for Gun Safety. Carusone agreed: "It's a bit of a desperate attempt to try to appear moderate on the issue. Her back is against the wall on guns." Some even posited that the Senate votes as a whole were arranged by leadership specifically to help vulnerable incumbents, Ayotte most definitely included, appear independent-minded in this tough cycle. "They were set up, believe me," said Lasher-Sommers.
The Democrats have been more than happy to pile on. A spokesman for Hassan's campaign emailed me, "Senator Ayotte continues to put her political party and special interest backers before the safety and security of Granite Staters."
The Ayotte campaign charges that Hassan and her political allies' "misleading attacks" on the senator prove that "they're more interested in scoring political points than in finding solutions to these issues." As her campaign spokeswoman Liz Johnson put it to me, "Kelly's record is clear—she has voted to strengthen the current background check system and encourage states to submit relevant mental health records, increase prosecutions for those who try to buy guns illegally, and prevent terrorists from buying firearms while protecting the rights of law-abiding American citizens."
But, wait! It gets worse! Even as Ayotte is hit from the left for political posturing, those on the right (including local gun-rights groups) are accusing her of betraying the Second Amendment. After her terror-gap votes, Jim Rubens, Ayotte's conservative primary opponent, issued a statement slamming her as "demonstrably opposed to the right to Keep and Bear Arms as guaranteed by the Constitution for the past ten years" and asserting that her votes "are setting off alarm bells among Second Amendment defenders."
It is a classic no-win situation. "She's getting it from both sides," said Spiliotes. "Conservatives are saying, 'You don't really support gun rights,' and Democrats are saying, 'Don't believe her when she says she supports gun control.'" As for independents? "She doesn't seem to be getting a lot of credit," he observed.
Even for voters who don't care all that much about guns, this issue spotlights Ayotte's fundamental vulnerability. "It is symptomatic of her bigger challenge," said Spiliotes. "The right wing of the party is questioning her loyalty, and Democrats are still hitting her with, 'She may seem like she's centrist and bipartisan, but she's not.'"
Republicans are feeling the heat. How can you tell? Follow the money. Last week, the Senate Leadership Fund (the super PAC tied to Majority Leader Mitch McConnell) announced that, in conjunction with a state super PAC, it had reserved a whopping $15.8 million in TV ad time for Ayotte's race. (The fund's second-biggest TV buy was a piddling $8.1 million in Ohio.) This is on top of the $7 million the National Republican Senatorial Committee has set aside for the race. Comfortable incumbents do not require this level of financial attention.
And it doesn't look as though Ayotte will be getting more comfortable any time soon. Just last month, self-proclaimed "liberty activist" Aaron Day (the son of the RNC co-chair Sharon Day) announced that he was entering the Senate fray as an independent. No one expects Day to go very far, but in a race this tight, it doesn't take much to tilt the balance of power. As Spiliotes noted of Ayotte's precarious position, "If just 2 or 3 percent of people vote for the independent candidate—or they just don't vote—that could be enough."
---
* This article has been updated to clarify that although the bill didn't get the 60 votes needed to move forward, it did get over 50, meaning it did not officially get tabled and can be brought back up for another vote in the future.