A Message of Calm in an Agitated Time
Can Hillary Clinton's projection of steadiness resonate with an unsettled country?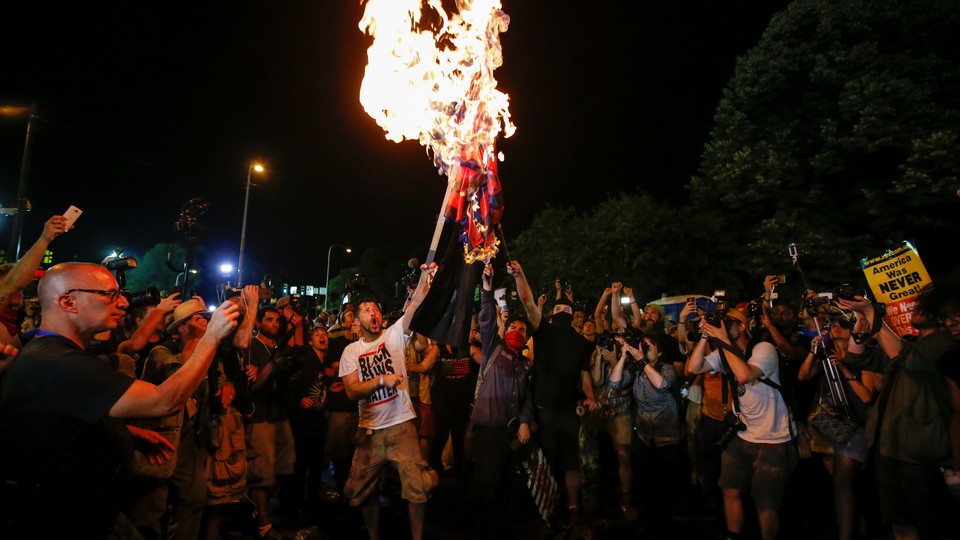 PHILADELPHIA—It was a hot and stormy week at the Democratic convention, one that began with discord and ended with invocations of togetherness. "People are anxious and looking for reassurance," Hillary Clinton, the newly anointed Democratic nominee, told a cheering convention crowd—"looking for steady leadership."
This was the theme of speaker after speaker at the Democratic convention: steadiness, calm, shelter from the storm. The party's stars took the stage one by one, railing against divisiveness and doomsaying and fear. They painted a picture of a new American normal: optimistic, stable, square, patriotic. A silent majority of tolerant, diverse, cosmopolitan people, hopeful and unthreatened by suspicion or difference. A transgender woman, an illegal immigrant, a Muslim veteran's father: This, the convention asserted, is the face of a country that has been through the discombobulating wringer of social and demographic change, and come out the other side smiling and holding hands.
"America is already great," they insisted, again and again and again.
The invocations of patriotism were so ringing and traditional that many Republicans—whose own convention last week was chaotic and weird—were envious. Yet the voices of disunity were never far from the surface.
Throughout Clinton's speech, scattered hecklers insistently interrupted, prompting drown-them-out chants of "Hill-a-ry!" and "U-S-A!" The dissenters wore bright-yellow "Enough is Enough" T-shirts; some of them walked out, though most stayed in the hall. Earlier in the night, as Jennifer Granholm, the governor of Michigan, pleaded, "Some people are angry—I get that—but the answer is not to tear our country down," a man in a yellow shirt walked silently down the aisle of the arena with a handmade sign held aloft: "BERN IT DOWN."
Burn it down or come together? So many of this year's indicators have pointed to a riled-up electorate, disgusted with the old invocations of inoffensiveness. The institutions of the status quo seem hollow and corrupt, from the Democratic National Committee to the government and the banks.
"A year ago, I would have voted for Hillary," a 57-year-old white man from Florida named Russ Vitt told me on Wednesday, as we stood in the blazing square adjacent to City Hall that was perpetually filled with a motley array of protestors. "That was before I realized how stacked the deck was, how the system was rigged." The Bernie Sanders candidacy had awakened something in Vitt, who wore a Feel the Bern ballcap and held a black dog on a leash. And now there was no going back.
It was a successful convention, rousing and well-orchestrated and slick, the way these things are supposed to go. The voices of the objectors, so loud at the beginning of the week, when they drowned out speakers with boos, grew steadily quieter as the days wore on, won over by Sanders's endorsement or the Obamas' speeches or simple weariness. Yet this constant undertow, this zeitgeist, this stench of rot could not be ignored. There is something in the air in 2016 that will not be placated, and whoever wins the election, stability may not be so easily restored.
The Occupiers camped out in a park just across the barriers erected around the convention zone. To get around the separating wall required a walk of more than a mile. As the sun set on the encampment, a couple dozen determined demonstrators kept up a steady stream of sign-waving and chanting next to the barrier ("I believe that we will win!"). Later, the wall would be briefly breached. I watched a group of young Trump supporters march through with a banner and an "End the Fed" sign, trying unsuccessfully to persuade the protestors that Trump was a social liberal who would shake up the system for the better.
"FUCK THE DNC," said the letters in chalk on the street.
"THE PARTY CULT GETS YOU KOOL-AID."
"WHAT'S THERMITE, AND WHY WAS IT FOUND AT GROUND ZERO?"
"NO MORE ELEPHANTS, NO MORE DONKEYS, WE VOTE FOR THE TREES NOW. #DEMEXIT"
"RIP DEMOCRACY."
Further into the park, a large soundstage was projecting a movie about voting rights to a mellow crowd. There was a first-aid tent, plenty of Port-a-Potties, a communal tile painting reading "REVOLUTION." Here, the smiley status-quo-ism inside the hall resonated as a deeply alienating complacency, a conspiracy to conceal the messed-up reality.
"Hey, Democrats, Your Party's Over!" said a sign.
"Fascist Hillary Loves War!" said another.
At a tent on the lawn, a group of 20-somethings cooked chicken and hot dogs on a portable charcoal grill. "The general consensus of me and other people my age is a jaded attitude toward life," said Cristian Galvan, a 20-year-old college student in Texas. "We grew up with 9/11, the recession, our parents suffering, nothing but disappointment with the institutions we're supposed to be proud of."
The campers were all Bernie-or-Busters, unmoved by Sanders's endorsement of Clinton. Most planned to vote for the Green Party candidate, Jill Stein, in November. "It's very disheartening. It makes it hard to be proud of your country," Galvan proclaimed. "The Democratic Party has lost a generation."
"I've been going to protests for five years," said Matt Barica, a shirtless, long-haired, bearded 22-year-old delivery driver from New Jersey, puffing on a small pot pipe. "I slept in Zucotti the first two weeks of Occupy. I protested NATO in Chicago." Barica was impressed by the way the police and authorities in Philadelphia had treated the protestors, handing out water and generally being considerate.
"We are too militaristic. There's too much hostility. Everyone is so hostile and aggressive," fretted Hunter Murphy, a tall 23-year-old with blond hair and red gym shorts. Originally from Texas, he had quit school and moved to rural Tennessee to care for his aging grandparents, and convinced them—both lifelong Republicans—to vote for Sanders.
"It's crazy how we're portrayed as the bad guys. I think we should at least be taken seriously," said Katlyn Gregolunas, a frizzy-haired 20-year-old in a pot-leaf tie-dyed shirt. She had quit her waitressing job to come here when she couldn't get the time off. "They say we're uninformed, that we just want a reason to be mad. The problem is that we're not being heard."
Yet the experience of camping, of communing, of protesting, had been cathartic for them, and they left with a new sense of purpose.
"For me, this has been one of the best experiences of my life—the positivity, the friendliness, the community," said Sarah Zawacki, who drove 15 hours from Indiana in her Chevy Aveo, taking time off from her job as a produce assistant at Walmart. ("Yeah, I know, it's ironic, a hippie working at the most evil corporation," she laughed.) Zawacki was bitter about politics, but found something redemptive in protest. "I'm going to be leaving with a sense of hope," she said, "at least for the distant future, if not for the next four years."