Will the Supreme Court Rule on Transgender Bathrooms Sooner Rather Than Later?
A federal court in Virginia sided with a student who wanted to use boy's bathroom, but the local school board is appealing the decision.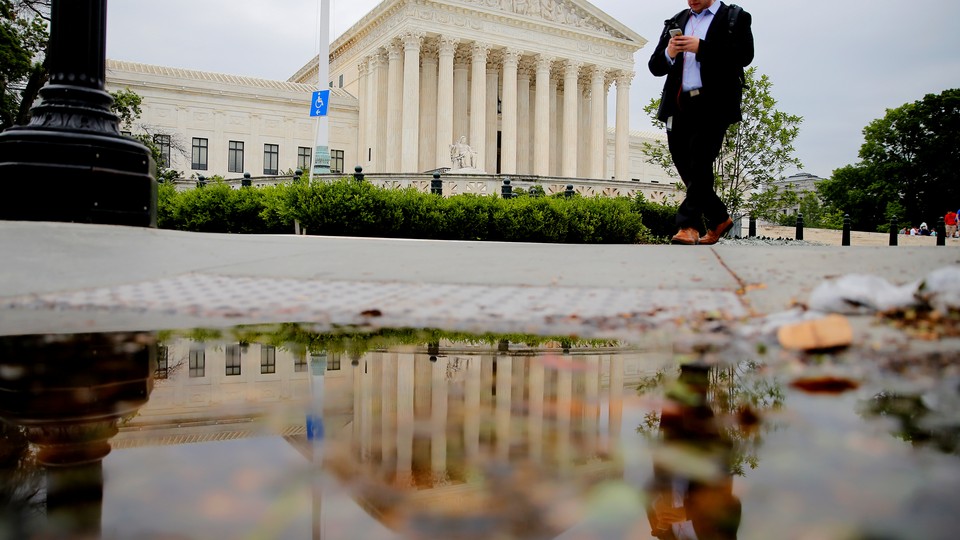 A carefully watched Virginia case involving transgender bathrooms might be headed to the Supreme Court. The case, which could have an important bearing on North Carolina's transgender bathroom law and a brewing legal fight between the Obama administration and a handful of other states, concerns Gavin Grimm, a transgender student born as a woman. Grimm requested the right to use the boy's restroom at school.
In April, a three-judge panel of the Fourth Circuit ruled that the Department of Education could consider gender identity covered by Title IX of the Civil Rights Act—in effect ruling that Grimm should be allowed to use the boy's bathroom, though leaving it to a lower court to make the ruling. In May, the court declined a request from the local school board to hear the case en banc, with all of its judges sitting.
Now the school board has requested that the Supreme Court hear the case. The board also wants a stay on the circuit court's ruling; for now, there's a temporary stay. Four justices would have to vote to hear the case for the Court to take it up.
The Grimm case has been seen as essential to the battle over North Carolina's HB2, which—among other things—requires transgender people to use bathrooms in public facilities that correspond to the sex on their birth certificate. The Department of Justice threatened to withdraw federal funding for schools, highways, and more to the state of North Carolina, and the state sued for a court ruling clarifying the law. Because North Carolina is in the Fourth Circuit, the Grimm case seemed to many observers to augur a favorable outcome for the federal government.
Since then, however, the Departments of Justice and Education have issued guidance to all states requiring them to allow transgender students to use restrooms corresponding to the gender with which they identify. Eleven states banded together to sue over that rule, meaning that the Supreme Court was likely to hear the matter eventually. But if the justices grant cert in the Grimm case, legal clarity could come sooner—or not, given the Court's current 4-4 split.