When Prison Is Not the Answer
At the Orange County Community Court, social services are combined with criminal justice.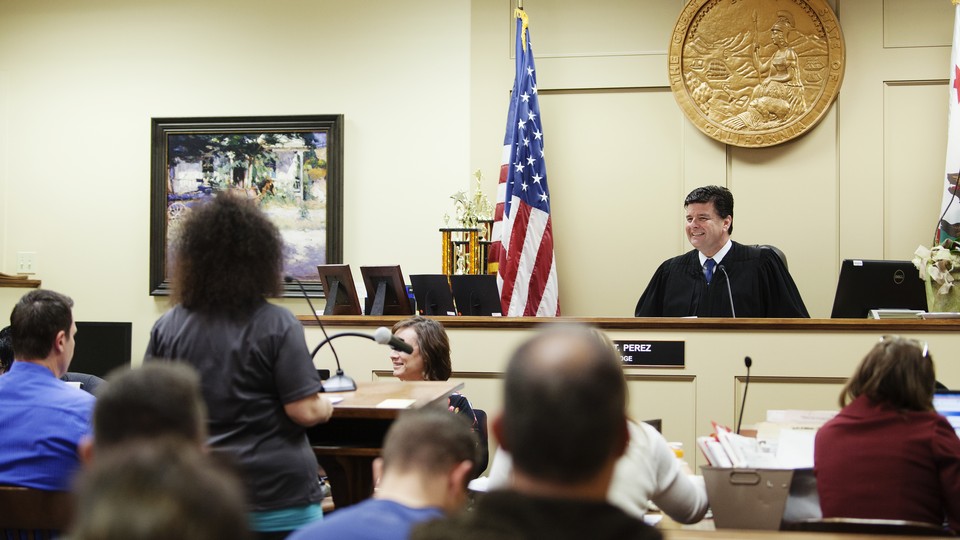 SANTA ANA, Calif.—This state has a reputation for experimentation. It often leads the United States in adopting practices that profoundly change the country's approach to public policy. It is also a national leader in restorative-justice practices, thanks to its numerous specialty courts, where offenders avoid prison time and earn second chances if they commit to an intensive rehabilitation program. I recently spent a week at the Orange County Community Court, which houses multiple specialty courts. The concentration of talent, good will, and grit embodied by the people who work here is impressive. But it's not clear that this resource-heavy, intensely hands-on approach would be easily replicable elsewhere.
"The idea is for everyone to get together to try to figure out the best way to keep people from coming back," said the presiding judge, Joe Perez. "We try to provide them with the treatment that is needed, and the structure that is needed, because many of them have had no structure." Many of the people who come before Perez have previously committed misdemeanors, or sometimes felonies, and have often experienced trauma or substance abuse.
The first type of specialty, or problem-solving, courts to emerge and gain popularity were drug courts for offenders arrested for drug use and mostly low-level crimes. After that, veteran-treatment courts began to redirect former servicemen and women who ended up in custody—largely due to mental-health and substance-abuse issues—toward services for which they already qualified through the Veteran Benefits Administration. From there, new courts began focusing on juveniles, the homeless, DUIs, domestic-violence cases, and multiple other specialties, based on the needs of the locality.
OCCC is unusual because it does not have a caseload limited to first-time, low-level offenders like a typical community court. Most specialty courts serve a narrow geographic area or political jurisdiction, like a county or a city. Each is designed to provide services beyond, or in place of, adjudication. All are designed to serve, not punish, the offender.
"One part of that is knowing that we care. What an extremely different thing that is from a regular court," said Eileen Moore, a California appellate-court judge and Vietnam vet who has volunteered as a mentor in the veteran-treatment court since it was founded in 2008. She is a firm believer in this restorative-justice alternative. "I think that being greeted in front of the courtroom with a friendly hello and being treated with dignity is something that criminal defendants usually do not enjoy, and it's much appreciated," she said.
The OCCC is one of 50 community courts in the U.S. These are somewhat different from the country's 3,000 stand-alone specialty courts: They offer services to anyone who lives in the area, whether or not they are accused of committing a crime, and can include a combination of drug, DUI, mental-health, veteran-treatment, and other specialty courts in a single location. Staffed by a rotating team of attorneys, corrections staff, and administrators, the OCCC was founded by Wendy Lindley, a now-retired county judge who presided over the court until 2014. After securing a donated space in a former department store on Main Street in Santa Ana, Lindley essentially went door-to-door, convincing county agencies to partner with one another in a multi-service agency. Costs for running the OCCC are divided up among the county's court system and the agencies that send full-time staff here, including the offices of the public defender and district attorney.
Lawyers and judges recommend participants during traditional arraignments. Other times, participants hear about OCCC while in jail awaiting judgment. "I tell them to just send them to me—people with mental health conditions, a vet willing to seek some treatment—and I will try to divvy them up," said Kimberly Stevens, a public defender assigned to the community court. "I want these programs to service as many of my clients as they can because I believe this is a way out of the cycle of jail, street, prison, street."
A team of lawyers, correctional officers, social workers, and other relevant staff evaluates each candidate for eligibility and likely success in the program. Opponents see this as a biased selection process. They argue that some courts select only candidates who are likely to complete the rehabilitation programs in order to maintain their success records. As Judge Perez described it, the level of offense that would enable someone to be considered for a mental-health court, for example, is, "No dead bodies, no sex crimes, no arson, no gang-related crime."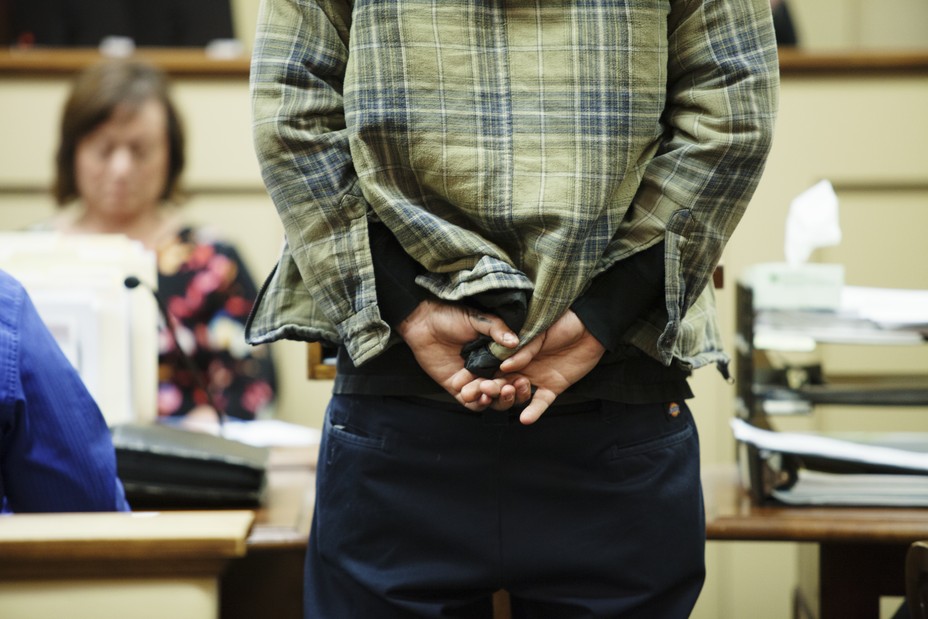 "Not everyone's ready for the treatment program when they get here, and that's always disappointing," Stevens said. "But a lot of them are, and they really blossom." She recalled one client who arrived in court with banana stickers on his forehead and yelled at everyone within earshot. Over the course of some weeks, and with medication and placement in stable housing, his behavior in court started to change; he even came in "looking dapper" at times.
But then he disappeared. "We don't know why. He went missing one day," Stevens said. "He's out to warrant at the moment. He's not a perfect example." That's the approach at this community court: give participants multiple chances, work the process, emphasize the structure, and keep up the support. "He may one day end in graduation. Hopefully, we get him back and nothing bad has happened to him at that point, and we can continue trying to work with him, reboot, and figure out where he went off the track," Stevens said.
According to the court's 2015 annual report, it had a 28-percent recidivism rate for drug-court graduates who had been out of the program for at least three years, compared to 74 percent for drug offenders in the county. The recidivism rate for DUI-court graduates was 9.9 percent among those who completed the program five or more years ago, compared to 21 and 25 percent for second- and third-time DUI offenders. The rate for mental-health-court graduates was 25 percent, and 10.5 percent for veteran-treatment-court graduates.
This creates significant savings for the county and state. "In 2015, the stayed sentences of adult and juvenile program graduates resulted in 67,539 custody days saved … which translates to a savings of $11.2 million," according to the court's estimates. The California Judicial Council estimates that every dollar invested in Santa Ana results in a cost savings of $7.30.
Sometimes the professionals at the community court sound like they've switched bodies with a colleague. Lawyers talk medications. Probation officers talk behavioral therapy. The judge weighs housing options. The team seems to work eagerly to generate individualized programs for thousands of participants each year. Although the district attorney's chief of staff, Susan Kang Schroeder, declined to allow community court personnel from her office to participate directly in this story—offering instead to relay answers to written questions—prosecutors at the court seemed to work with the entire team in a positive and engaged way, always focused on the clients' individual situations.* "We argue about stuff all the time. … But there is an underlying level of respect that keeps it from getting super ugly," Stevens said.
It's not all peace, love, and understanding in the courtroom. Staff can be "contentious, absolutely," Stevens said. "I have a history of doing collaborative courts so I'm generally a get-more-flies-with-honey kind of person. You can't just completely burn a bridge or you'll never get anything done in the future." Given that she defends clients, she's often at odds with prosecutors from the district attorney's office. "We're coming at it from very different points of view. A lot of the time we just say, 'You and I don't agree on this' and judge Perez makes the call. Then we have to live with that," she said.
Clients don't get off easily, either. On numerous occasions, Perez issued warrants for arrests or took people into custody for not passing a urine test or another infraction of the program's rules. "I'm not going to do anything that isn't done for the purpose of getting them better. It's that simple," Perez said.
Some opponents find fault with such graduated sanctions, as they are called. "The drug court's response to relapse, much of which is generated by drug court's own bad policies, is to throw you in jail overnight, for a couple of days, for a couple of weeks, for a couple months," said Daniel Abrahamson, a co-author of a Drug Policy Alliance study on drug courts. "They call it different things: flash incarceration, therapeutic incarceration. There is nothing therapeutic about putting someone behind bars who has a medical problem."
Others argue that judges are supposed to mete out justice, not rehabilitate offenders. "There are a certain number of people who would argue forcefully, and probably convincingly to some, that the courts are not social workers," said Moore, the veteran-treatment-court mentor. "I think that as a society we need to start thinking triage. That's my combat nurse's training. We can sort out from the brutes and the bullies the people who have suffered from PTSD and traumatic brain injuries and are acting out violently because of brain injury or psychiatric injury."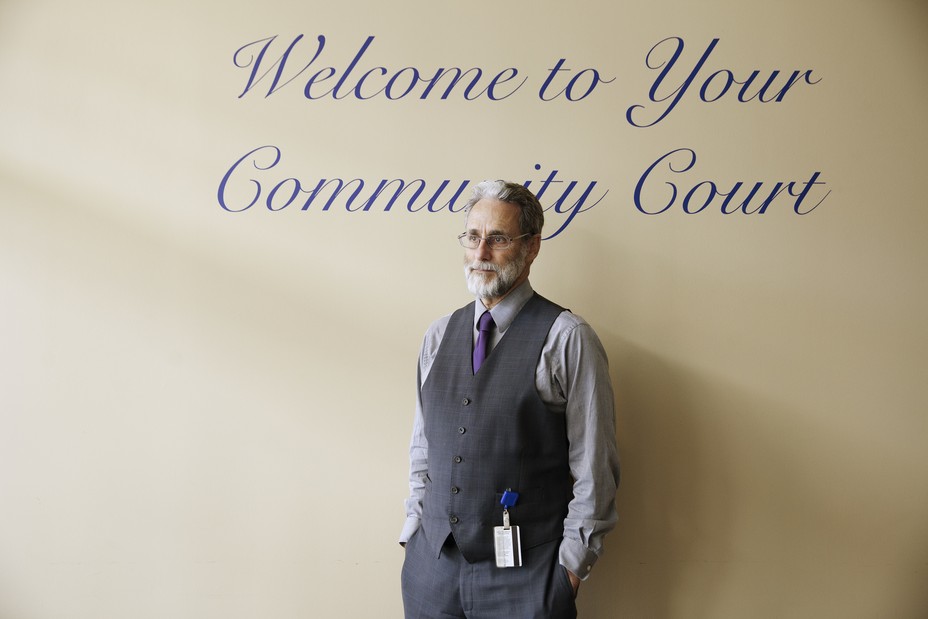 Part of what makes OCCC work is the ongoing self-assessment of both clients and staff. During conversations by the copy machine, terse exchanges about the best course of action for a client, and head-in-the-door queries to colleagues, staffers push each other to improve. But staffing a court like OCCC is another point of contention for some. "In California, during the budget crisis that started in 2008, some counties were hit harder than others," said Paul Shapiro, who oversees Orange County's collaborative courts. "A number of counties closed courthouses. Orange County didn't have to do that. It didn't have to lay off any court staff either." A Center for Court Innovation, or CCI, report on California's collaborative-justice courts concluded that the state sees about $90 million in annual savings.
Can the OCCC model really be replicated? The court is trying to answer that very question: It's one of four mentor courts around the country chosen by CCI to guide localities that want to start a specialty court. Julius Lang, CCI's director of training and technical assistance, believes the community-court model is very flexible and can easily be adapted elsewhere. "We're at a unique time where there is a lot of interest across the political spectrum for reducing incarceration," he said. "We've also had a number of events that have been widely reported in the last couple of years that have raised serious concerns about community members and the justice system. This is a model that focuses on public trust as part of the way of doing business."
The need is certainly palpable across the country, as is the potential for specialty courts like this one to blossom where traditional justice has resulted rancor, mistrust, and large incarceration rates. But the investment required presents a formidable obstacle that will test those willing to try an alternative.
---
* This article has been updated to clarify that community court personnel from the district attorney's office were not allowed to speak directly with The Atlantic. It originally stated that this decision was related to a developing scandal within the office; in fact, although a spokesperson cited poor experiences cooperating with media outlets, she did not link the decision to the scandal. We regret the error.