What Makes the Stanford Rape Case So Unusual
The uproar over Brock Turner's six-month sentence has put sexual violence at the center of a national conversation.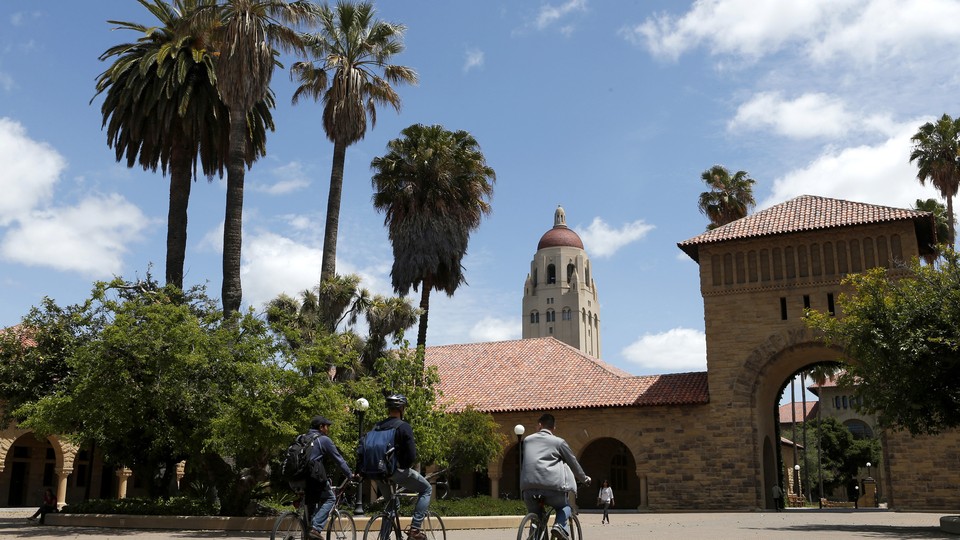 The realities about sexual violence are so staggering that they're often reduced to numbers. One in six women and one in 33 men in the United States have been the victims of attempted or completed rape in their lifetimes, according to Department of Justice figures. Every two minutes, another American is sexually assaulted.
But there's danger in looking at sexual violence this way. For one thing, the true scope of these crimes is notoriously difficult to measure. Despite widespread efforts to understand sexual assault, there's no official clearinghouse that attempts to track its prevalence. Complicating matters further, many victims remain voiceless, and understandably so: They're often traumatized and afraid people won't believe them, which is why many victims are reluctant to tell anyone what has happened to them in the first place. It's impossible to know how many sexual assaults go unreported.
But the 23-year-old victim in a sexual assault case that has touched off a national uproar did speak out. "You don't know me, but you've been inside me, and that's why we're here today," she said in a statement, which she read to her attacker in a Palo Alto courtroom last week. The woman went on to describe, in painstaking detail, what she experienced in the hours and months after she was found half-naked and unconscious behind a dumpster on Stanford's campus the night of the attack.
The victim's statement to Brock Turner, the former Stanford student convicted of sexually assaulting her, has been viewed online millions of times since last week. A CNN anchor read the statement, in full, on television. Representative Jackie Speier, a California Democrat, read it aloud on the House floor. The case, which resulted in a six-month jail sentence and probation for Turner, has touched off furor among those who say the punishment is too light, and sparked vigorous debate about the intersection of sexual assault, privilege, and justice.
This is an astounding moment, in part because it's so rare for sexual violence, despite its ubiquity, to garner this kind of attention.
"It's incredible," said Michele Dauber, a Stanford Law School professor who has pressed for the recall of the judge who sentenced Turner. "Why did that happen? First of all, it's the tremendous power and clarity of thought that is reflected in the survivor's statement."
"She is helping people to understand this experience in a visceral and clear way," Dauber added. "And she's brushing away all the really toxic politics around campus assault that have built up. People have said, 'How can we really believe these women? It's his word against hers.' This men's rights movement has emerged. And there's been a lot of rage happening out there. Then, whoosh, [this statement] really reframed it."
It wasn't just the statement. In March, Turner was convicted of three felony counts: sexually penetrating an unconscious person with a foreign object, sexually penetrating an intoxicated person with a foreign object, and assault with an intent to commit rape. If it's rare for someone to report a sexual assault in the first place, it's even more unusual for that report to result in a conviction. In the vast majority of sexual assaults the perpetrators never serve time in prison—97 percent of cases, an analysis of Justice Department data by the anti-sexual violence advocacy group RAINN concludes.
Another unusual component of the case at Stanford: There were eyewitnesses. Two graduate students were riding their bikes through Stanford's campus when they saw, "a man on the ground, thrusting toward a body," The Mercury News reported in March.
What struck the two young Swedes was that the partner wasn't moving: She seemed almost comatose. "Hey, is everything all right?'' Lars Peter Jonsson remembers asking. It was then, he says, that the man moved and he saw a woman beneath him, her dress pulled up to expose her genitals. "Hey, what the f are you doing?" Jonsson says he asked. "She's unconscious."

The man, whom police have identified as Brock Turner, at the time a Stanford swimmer, attempted to flee. Jonsson testified that he gave chase, tripping Turner and then jumping on him. Arndt joined him shortly afterward while a third man called sheriff's deputies.
There was also physical evidence. Even in instances when victims agree to go through a SART exam, the medical exam that's conducted after an alleged sexual assault, it doesn't always yield usable information. Too often, such potential evidence is never analyzed, even when gathered: There is a backlog of hundreds of thousands of so-called rape kits in jurisdictions across the country, according to several measures.
"So here we had a case of a survivor who didn't have to press charges, but did," Dauber said. "And there were eye witnesses. And there was physical evidence."
"She was a quote-unquote good witness who went through all the indignities and humiliations of reliving the tragedy of it [in a courtroom]—her naked, splayed body covered in dirt; pine needles in her vagina—to make sure this perpetrator was never able to do this again, hopefully. She went through the trial and got questioned by the defense attorney. The jury listened to her, and believed her, and found her [attacker] guilty beyond a reasonable doubt on three felonies. So we were there. This was supposed to be it: the moment where we get consequence."
Despite a two-year minimum sentence associated with the convictions, Turner was sentenced to six months in county jail and probation. In a letter Turner read to the judge, he described himself as an "inexperienced drinker and party-goer" who was "shattered by the party culture" he "briefly experienced" at college. He maintained in the statement that "in no way was I trying to rape anyone." In a now-infamous letter to the judge, Turner's father argued that his son should not be sent to prison for "20 minutes of action."
Judge Aaron Persky, who has touted his commitment to "the prosecution of sexually violent predators," seemed persuaded. "A prison sentence would have a severe impact on him," Persky said. "I think he will not be a danger to others."
Dauber says Persky justified Turner's sentence, which was less than the two-year minimum penalty associated with his convictions in the state of California, by finding a way to characterize it as out of the ordinary. "The judge bent over backward to find it was 'unusual' case when, really, it was the most usual," Dauber told me. "He was intoxicated, and he was a really high-achieving man. Well, that describes every rape or sexual assault at Stanford. If that's 'unusual,' what it would mean is that we could never prosecute a sexual assault on Stanford campus and expect to get a sentence. That's why I've called this a dangerous precedent."
Culturally, that perception may already exist. Stanford students are already skeptical that their institution takes sexual assaults seriously. In a university survey last year, fewer than half of undergraduate men at Stanford said they believed it was "very likely" the school would hold accountable someone found responsible for sexual assault. (Among female students, just over one-quarter of those surveyed thought an attacker would be "very likely" held accountable.) This case may extend that skepticism beyond the campus, to the local criminal-justice system, as well.
Persky's critics argue that the sentencing in this case has potential impacts that extend far beyond Turner, the survivor of the attack, and their families. The consistent application of laws is a bedrock of the criminal-justice system, strengthening faith that all offenders, and all victims, will receive equal justice under the law.
What's striking about this case, Dauber argued, is that the judge exercised discretion to deviate downward from the recommended sentence, giving Turner a jail term just a quarter of the length of the one he would otherwise have received. "Think of the value of a two-year prison sentence in terms of what this would communicate about our social norms," Dauber said. "No matter who you are, no matter how important you are as an athlete, or that you're white, or that you go to Stanford, we make no exception for you ... Instead, you're sending the message that we basically don't care. 'Please don't do it again, but we don't really care.'"
In the debate over campus sexual assault in recent years, many people have advocated for reducing university involvement and automatically enlisting the help of law enforcement from the moment a crime is reported. But for those who are outraged with this case's outcome, the situation reinforces concerns about how sexual violence is handled in the criminal-justice system, too.
"Our criminal system is widely understood to be a dual system of justice based on privileges," Dauber said. "But there's a nerve that's being pushed. Here we've got proof, but we're being told, 'You know what, it doesn't matter.' Certain people who participate in our system of justice don't understand sexual violence. They don't understand violence against women, and they aren't able to appropriately interpret the law in a way that protects women. The reason this case has really resonated for people is she did everything right. She was supposed to get justice. And she didn't."