Trump's Play to Win Evangelical Voters
At a meeting with more than 1,000 clergy in New York, the Republican nominee claimed political leaders are "selling Christianity down the tubes."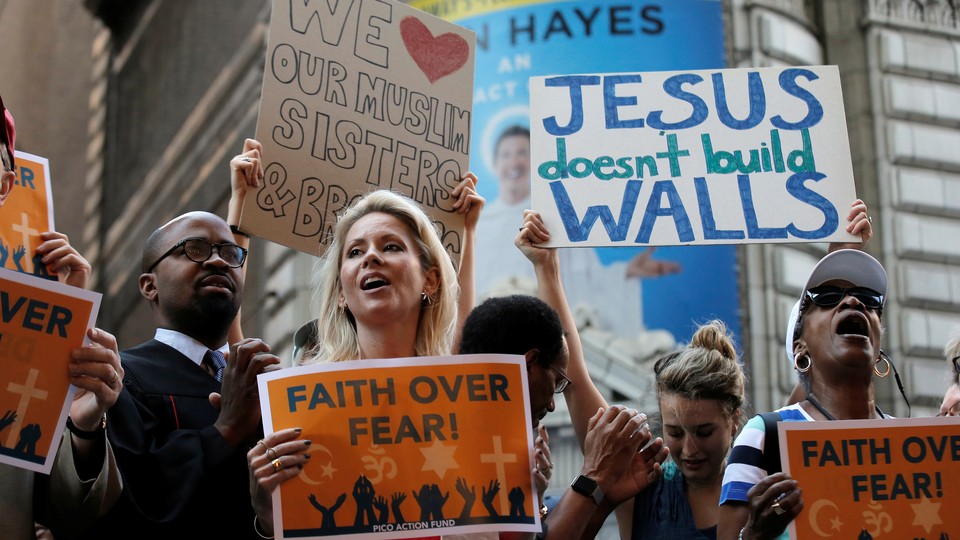 No matter how much American politics have changed during this election cycle, one eternal truth remains: Republicans need evangelical voters. Even Donald Trump, the man of botched Bible verses and many wives, is making moves to win over conservative Christians. On Tuesday, he met with more than 1,000 mostly evangelical leaders, along with some Catholics, in a closed-to-the-press meeting in New York City. Big names—from former presidential candidate Ben Carson to the Liberty University President Jerry Falwell Jr. to the pollster George Barna—apparently spoke at the event, while Trump took pre-selected questions in a discussion moderated by the former presidential candidate and preacher Mike Huckabee. But while Trump has a number of vocal evangelical cheerleaders, and leaders gave him a hearing on Tuesday, many conservative Christians are still wary of the presumptive Republican nominee.
In remarks early in the event, Trump hit everything from his suspicions of Hillary Clinton's religious past to the war on Christmas to the role of prayer, according to tweeted video from E.W. Jackson, an African American Christian radio host and the founder of Exodus Faith Ministries. "Some of the people were saying, 'Let's pray for our leaders,'" Trump said. "Well, you can pray for your leaders, and I agree with that. Pray for everyone. But what you really have to do is you have to pray to get everybody out to vote for one specific person. We can't be, again, politically correct and say we pray for all of our leaders, because all of your leaders are selling Christianity down the tubes, selling evangelicals down the tubes." He bragged about his record of winning evangelical votes in the South Carolina primary, and promised that, when he's elected president, "we're going to be saying 'Merry Christmas' again." He also emphasized the way he's raised his family. "The relationship and bond you have with your family is one of the most admirable I have ever seen, and is one of the reasons I don't hesitate to endorse you," Huckabee later said, according to Ann White, the founder of In Grace Ministries in Georgia, who was in the room for the main event.
During the question-and-answer section, Trump answered questions about standard conservative issues, according to White. She said James Dobson, the founder of Focus on the Family, opened by saying that "out of 50,000 questions that were submitted for this event, the number one question was about religious liberty." Trump's answer: "Number one, we will appoint pro-life, conservative, Supreme Court Justices." David Jeremiah, the mega-church pastor from California, asked about his stance on Israel.
But a number of other topics also came up. Ronnie Floyd, the recent president of the Southern Baptist Convention, asked how Trump will address crime, poverty, and racial tension. Another Latino leader asked how Trump will protect the borders—while building a bridge with the Hispanic community. His answers were consistent with the things he's said throughout the campaign—he emphasized keeping communities and borders secure. "There wasn't a clear answer on how he would build a bridge and reach the Latino population," White said.
These questions represent real tensions between Trump's campaign and conservative Christians. Immigrants and Latinos increasingly make up the populations of evangelical denominations around the country. Many denominations, including Floyd's Southern Baptist Convention, are pushing to welcome Hispanics into their churches and create racial reconciliation with African Americans. At times, Trump's rhetoric seems to cut directly against these efforts.
For these and other reasons, some conservative Christians remain unwilling to entertain the possibility of endorsing his candidacy. Russell Moore, the head of the Southern Baptist Convention's political arm, the Ethics and Religious Liberty Commission, who has strongly criticized Trump, was out of the country during the meeting, and none of the Commission's staffers attended the event. Progressive Christians, including the Sojourners founder Jim Wallis, have pushed back on Trump's "bigotry," and have emphasized that this gathering does not represent all evangelicals—a term that encompasses people of many different denominations, political views, and even religious beliefs.
And yet, some Christians at the meeting seemed persuaded by what Trump had to say. "I liked the fact that leaders that I have great respect for—Mike Huckabee, Dr. Ben Carson, Ronnie Floyd, David Jeremiah, Dr. Dobson, many of those who posed questions today—they seemed very pleased with what they're hearing, not only on the floor today, but behind the scenes," White said.
"Hearing these men, who I really respect, testify to the fact that they really believe that Donald Trump is a Christian—maybe not of the kind you and I are, or maybe, they didn't say this, not as far along in his development as a Christian … I think that's a pretty bold statement," said Jackson in his call. Several Christian broadcasters joining the call with Jackson emphasized the one question on their minds at the meeting: Is Trump really a Christian?
Perhaps this meeting will be enough to persuade them that's the case. "I think it's strengthened my view of him. I've gone back and forth," said White. Eric Metaxas, the radio-show host, called the conversation "eye-opening."
But it's also possible that conservative Christians will leave this meeting in the way they entered it: divided on the question of Trump. "Just got back from Trump's 'conversation' with evangelicals," tweeted the Fox News personality Todd Starnes. "No mention of Jesus."