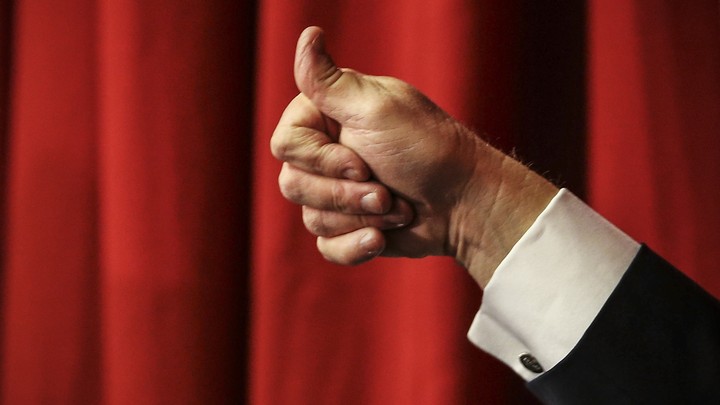 If you were watching a television set in Maryland, D.C., or Virginia last Thursday evening, you would have seen the first ads from a group calling itself Americans Against Insecure Billionaires With Tiny Hands (AAIBWTH). Needless to say, the organizers of this political action committee are no fans of Donald Trump: the ad calls into question Trump's fitness to be commander in chief, given what is rumored to be his set of preternaturally small hands.
In the spot, a cast of narrators pose several urgent-seeming questions:
If the White House phone rings at 3AM….will his little hands even pick up the receiver?
When he decides to launch his nuclear war….will his stubby fingers even be able to push the button all the way down?
The conclusion:
America deserves his hand measurements!
Surprising exactly no one, Trump is no fan of the organization. When it was originally called the Trump Has Tiny Hands PAC, Trump apparently threatened FEC intervention and a lawsuit in a now-deleted tweet (an AAIBWTH representative said she could not confirm the tweet came from Trump himself, but the FEC did indeed intervene, making the PAC change its name).
Trump is by nature litigious and the tiny-hands designation has a long history, but what seems new and perhaps notable in all this is the fact that the Hands Thing continues to be, well, a thing. Of all the criticisms aimed at Trump over the course of the last year (demagogue, fascist, Hitler-in-training), the Man with the Tiny Hands appears to have the most staying power—and it's the one that bothers the presumptive Republican nominee to no end.
Author and radio host Kurt Andersen, who—along with Graydon Carter—came up with the first iteration of this epithet, short fingered vulgarian, offered this explanation for its staying power: "There are literally a thousand things we could say about Trump. The attraction of talking about his short fingers is that it's just this one stupid thing that everyone can get around. It's just the tip of the iceberg, sort of like, Let's just focus on this because it makes him [respond] and he hates it. You could say he doesn't understand NATO, but he doesn't care that he doesn't understand NATO! At least he cares about this."
For the record, Andersen is adamant that it's Trump's short fingers—and not his ostensibly small hands—that were always the intended object of derision. "And it never, ever had anything to do with the size of his dick," says Andersen. "It was just literally just, 'Look, the guy has short fingers!' Rubio and Trump turned it into a genital-measuring-stick thing."
Apart from the ease with which Trump can be frothed into a foam of discontent via the mere mention of his hand/finger-length ratio, the epithet is revealing mostly because it demonstrates how humiliation lies at the core of Trump's campaign.
Trump has trafficked in the idea that America and its citizens—especially its white, working-class citizens—have been embarrassed, or otherwise publicly shamed: by undocumented immigrants who have gamed the system and vaulted over their heads, by a politically correct liberal elite that has marginalized their culture, by a possibly treasonous sitting president who has diminished the power of the United States on the global stage. In his remarks following the massacre in Orlando, Trump offered a curious response: "We're being laughed at," he warned, apparently on the assumption that the international community sees an America with a giant kick-me sign on its back, and not a nation deserving solidarity and support.
Given this, when faced with his own, personal humiliation, Trump is indignant. Even the dumbest insults—like, say, short fingers—are impossible for him to let slide by. "He's very physically vain," Andersen argues. "It's hard to even imagine what Trump laughing anything off might be. Like when Obama made jokes about him at the 2011 White House Correspondent's Dinner, Trump couldn't even perform a version of 'Hahaha, the president is making a joke about me.' As far as I've seen it, he has no sense of humor."
All of this is significant given the likely road ahead. Trump has not been cowed by widespread derision, party mutiny, or point-by-point rebuttals of nearly every one of his major proposals. But humiliation—especially of the schoolyard variety—has proven an effective tool to goad, to prod. Former candidate Marco Rubio famously failed at it, and current candidate Hillary Clinton is unlikely to ever try. But there are plenty of motivated outside groups—like Americans Against Insecure Billionaires With Tiny Hands—which are more than willing to try, from now until November. I asked Katie Nguyen, the PAC's communications director, what the response had been since the ads first aired. "We've received donations from hundreds of patriots across the country," she said, "Ones that are significantly larger than Donald Trump's hands."
We want to hear what you think about this article. Submit a letter to the editor or write to letters@theatlantic.com.
Alex Wagner
is a contributing writer at
The Atlantic
and co-host of
The Circus.