Trump Time Capsule #31: 'Don't Be a Sucker'
Editor's Note:
This article previously appeared in a different format as part of The Atlantic's Notes section, retired in 2021.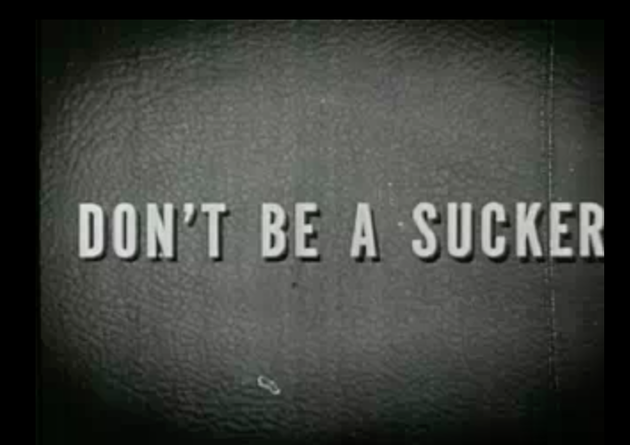 This one really is a time capsule. It's a nearly 70-year-old U.S. government film called Don't Be a Sucker, released in 1947 by what was then straightforwardly known as the Department of War. (Thanks to Daniel Buk for the lead.)
Most of the 17-minute film is a history of Germany's slide into Nazism, which is powerful but familiar. I think these three segments deserve another look in 2016:
The part from time 2:05 (where the video below is cued to start) to 4:25, in which our everyman-American hero confronts a rabble-rousing speaker who tells him that his jobs, opportunities, and future are being stolen by outsiders.
The two minutes of the video before that, which you can click back on the player to see, presenting one version of America's view of itself, just after its great victory in war. It's touching, up-to-date, out-of-date, achingly earnest, and unintentionally ridiculous (in retrospect), all at the same time.
The final two minutes, from 15:25 onward, when the immigrant-American narrator explains the importance of America being a nation-of-minorities.
***
Obviously this video really is a time capsule from a different era. For instance, it talks unselfconsciously about the triumph of an American fighting force "made of people of all religions and skin colors," at a time when the U.S. military was still formally segregated. But I was surprised by how many aspects of it still seemed relevant.
(The original Time Capsule thread is here, with items #1-#27. For entries starting with #28, go here.)