Trump Time Capsule #19: 'Appreciate the Congrats'
Editor's Note:
This article previously appeared in a different format as part of The Atlantic's Notes section, retired in 2021.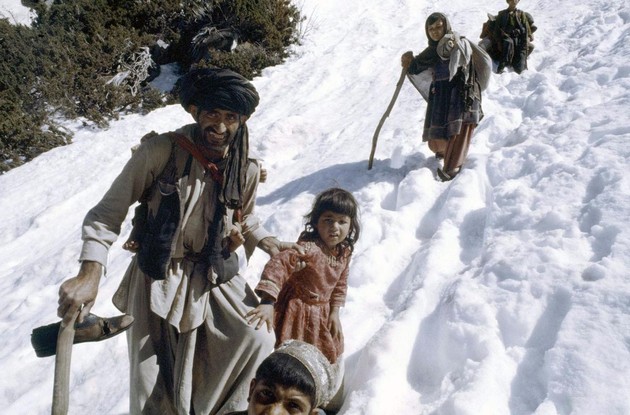 Without comment, the online responses of the presumptive Republican nominee, to the horrific mass gun-slaughter of at least 50 people in Orlando late last night.
1) "Appreciate the congrats." This was very soon after the news came in: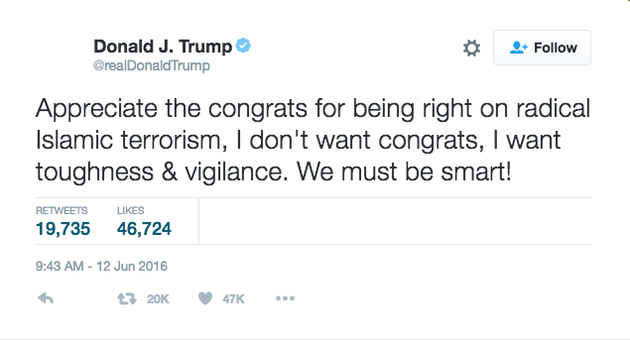 2) "I called it and asked for the ban." And as the killer's identity and background became known: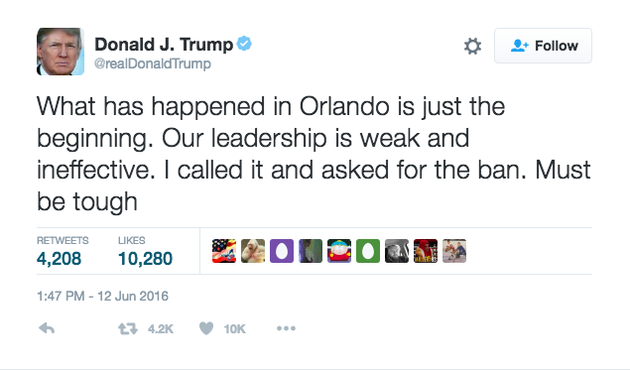 ***
OK, I do have comments: First, on the immediate "it's about me" reactions of "I called it" and "appreciate the congrats," in response to a disaster, consider some of the personality traits discussed here. Obviously I am not proposing a medical diagnosis. I am suggesting that the personality and temperament of a president matters, and we have evidence about this man's.
Second, on "I called for a ban": based on current information, the man who shot down 50 others was born in New York, of immigrant Afghan parents. So Trump's reference to "the ban" [on Muslim immigrants] presumably means either that he is imagining a religion-based expulsion of natural-born U.S. citizens like the killer  — or that he is saying, many decades later, that the killer's parents should never have been let in.
I don't know exact details of the killer's family. But the overwhelming majority of Afghan arrivals of their era would have been fleeing the Soviet invasion of their country, and they were warmly welcomed by none other than Ronald Reagan. Here is what he said in a White House proclamation in 1982:
Today, we recognize a nation of unsung heroes whose courageous struggle is one of the epics of our time. The Afghan people have matched their heroism against the most terrifying weapons of modern warfare in the Soviet arsenal…. 

Their heroic struggle has carried a terrible cost. Many thousands of Afghans, often innocent civilians, women and children, have been killed and maimed. Entire villages and regions have been destroyed and depopulated. Some 3 million people have been driven into exile—that's one out of every five Afghans. The same proportion of Americans would produce a staggering 50 million refugees.

We cannot and will not turn our backs on this struggle. 
As president, Ronald Reagan welcomed Muslim refugees from Afghanistan. (Of course he also sowed the seeds of later problems by supporting the anti-Soviet efforts of groups that became the Taliban. But that is a different story. ) As presidential candidate, Donald Trump, to take him at his word, would have kept those refugees out, because of their religion  — or would later have looked for their children to expel them.
Again the point is to record what is known and on-the-record about Trump, as the Republican party prepares to nominate him.
***
And by contrast, here is the way our current president spoke just days ago about his thwarted efforts to keep people already on the terrorist watch list from buying guns.