Will Trump's Endorsement Make a Difference in North Carolina?
Endorsements don't typically influence voters much. That could change with the likely GOP nominee.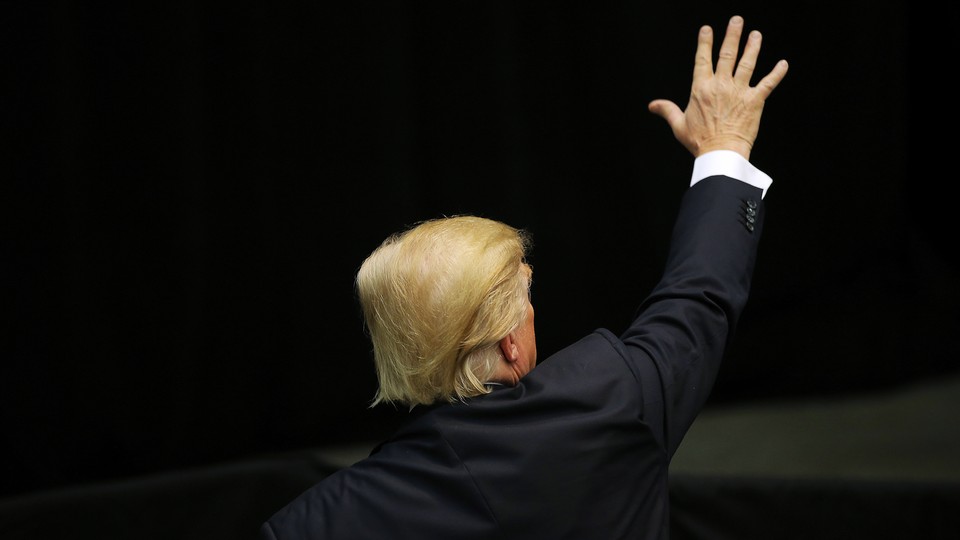 Over the weekend, Donald Trump issued his first congressional endorsement of the election season to a North Carolina Republican whose district was redrawn earlier this year. Representative Renee Ellmers touted the news ahead of her primary election Tuesday, the last day Republican voters will cast a ballot before November.
Political-science research would suggest Ellmers should not be too excited. As much as endorsements are courted—and as faithfully as reporters track them—they do not influence voter behavior all that much. But Trump, a frequent defier of conventional wisdom, could present a different case. In a campaign that depends on the weight of his words, perhaps Trump's endorsement will translate to votes.
Trump, after all, is not the Republican nominee because of his well-respected political record or policy smarts. Rather, it's his rhetoric that matters most of all—his ability to broadcast voters' fears, insecurities, and prejudices—and the candid way in which he deploys it. Trump himself recognizes this, shirking the traditional speech by teleprompter for off-the-cuff remarks that can get a crowd going. Voters appreciate his border-wall plan not because it's detailed or well conceived, but because he communicates it well to their ears—in compelling, to-the-point sound bites that easily translate to Twitter.
Voters, even more importantly, believe in him. They see honesty in his blunt talk, and realness in his status as a political newcomer. It does not matter what Republican elites or mainstream media say about his positions; his supporters are his most ardent defenders, attacking his detractors and accusing them of duplicity. It's possible, then, that Trump voters will listen when he vouches for down-ballot candidates. If Trump's word has gotten him this far in the election, perhaps his word will swing voters in other races. If his supporters believe in the politically untenable traits of his policy proposals—like the border wall and his anti-Muslim policy—why wouldn't they believe in the candidates he supports?
Tuesday's North Carolina primary could hypothetically offer the first glimpse of a "Trump bump." Ellmers is fighting off multiple opponents in her primary race, which is turning out to be a virtual proxy war between pro- and anti-Trump forces. In addition to her opponents for the seat—including fellow House member George Holding—she is also facing big-spending conservative groups who are no fans of the Republican nominee. Ellmers has taken heat from anti-abortion groups for briefly derailing a 20-week ban, an echo of activists' disdain for Trump's own past comments on abortion. The Club for Growth has spent millions against both Trump and Ellmers combined, accusing both candidates of being liberal on fiscal issues. And Americans for Prosperity—which mounted a grassroots campaign against Ellmers for similar reasons—signaled its distaste for Trump by withholding support altogether so far this cycle. NPR reports that Ellmers is "fighting for her political life" in the primary. But having Trump's support could potentially give her cred among voters with an independent streak, who would appreciate her occasional centrism. After all, anti-Trump groups repeatedly targeted his spotty conservatism in the primary, but those efforts did not hurt him with supporters, many of whom were new to primary voting.
"I need her help in Washington so we can work together to defeat ISIS, secure our border, and bring back jobs—and frankly, so many other things. And Renee knows how to do it," Trump said in a robocall released this weekend. "She gets it. And together, we will make America great again."
It's not clear whether more endorsements from Trump are to come. His campaign did not respond to requests for comment. If Trump were a more conventional candidate, his withholding endorsements until now would have been surprising. (Bernie Sanders, for example, was criticized this spring for not helping the down-ballot candidates who'd backed him.) Of course, House and Senate candidates also might not welcome Trump's endorsement the way they would a typical nominee's; the Republican majorities in both chambers are vulnerable with Trump at the top of the ticket. Many contenders, particularly in the Senate, are distancing themselves in an attempt to hold onto their seats.
If Trump's desire is to back candidates who supported him early on—he cited Ellmers's early endorsement in his robocall—he's coming up on some deadlines. Chris Collins and Duncan Hunter were the first two members of Congress to throw their support behind Trump. Collins's primary in New York is scheduled for late June; Trump's endorsement there would be purely symbolic, as Collins is running unopposed. But Hunter's contested primary is this Tuesday in California—with nary a word from Trump. Hunter, though, could have been intentionally forgotten by the mogul, as he criticized Trump for not meeting with congressional supporters when Trump was in Washington last month. Another North Carolina Republican, Representative Robert Pittenger, got an endorsement Monday from Trump's in-state supporters but not from the presumptive nominee himself. (Pittenger, in what was either a politically shrewd or totally innocent move, thanked Trump for the endorsement on Twitter anyway.)
In North Carolina, a Trump bump is not guaranteed. His endorsement could resemble any other politician's, and might not mean more votes for his favored candidate. He may have won the state in March, but Ellmers's district, the second, was Ted Cruz country. And turnout in general is expected to be low, because the congressional election was rescheduled. Trump, though, likely believes he has the influence to help Ellmers win. His sense of self-worth certainly has not waned since 2011, when he told The Washington Post how hot an endorsement from him was. "Everybody wants it," Trump said, after GOP presidential candidates had courted him. "I have millions of people waiting for me to do it." There weren't millions of second-district North Carolinians waiting for Trump to weigh in this year. But hundreds, or thousands? Maybe.