The Edge: Trump Campaign's Got 99 Problems, and Cash Is Definitely One
FEC filings revealed that Donald Trump's campaign came into June running on financial fumes.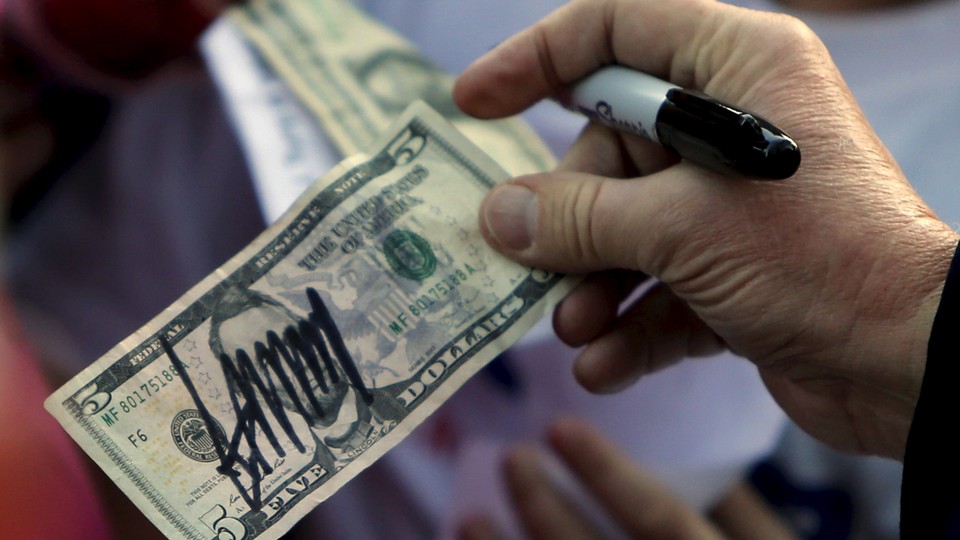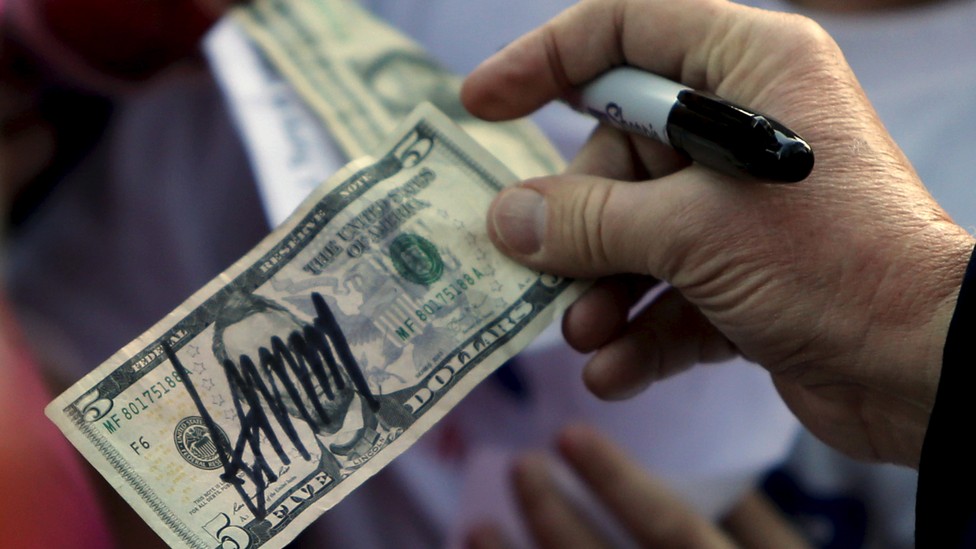 Today in One Paragraph
Donald Trump dismissed campaign finance filings that showed him trailing behind Hillary Clinton in cash on hand. Meanwhile, Clinton blasted Trump's business record, calling him a threat to the U.S. economy. On Capitol Hill, a bipartisan group of Senators introduced a measure that would bar people on two terrorist watch lists from purchasing guns. The White House announced new rules that permit the use of small drones. And Philadelphia Representative Chaka Fattah was found guilty on all counts in a federal corruption trial.
---
Top News
It's All About the Money, Money, Money. Donald Trump had $1.3 million cash on hand at the end of May, far less than the $42 million Hillary Clinton had on hand. But Trump claimed to be unfazed, telling Fox News' Fox and Friends, "I can go a different route, I can just spend my own money." The most recent filings—which reveal the campaign's low coffers—come a day after Trump fired campaign manager Corey Lewandowski. (Louis Nelson, Politico)
Clinton Holds Nothing Back. During a speech in Columbus, Ohio, Hillary Clinton attacked her Republican rival as unfit to helm the U.S. economy, saying he'd drive the country to a recession and criticizing his business practices. Trump fired back on Twitter: "I am 'the king of debt.'That has been great for me as a businessman, but is bad for the country. I made a fortune off of debt, will fix U.S." (Jennifer Epstein and Margaret Talev, Bloomberg)
Take Two. Senator Susan Collins, a Republican from Maine, is pushing a bill that would ban people on two terrorist watch lists, including the no-fly list and the selectee list, from purchasing firearms, with the help of eight co-sponsors, four from each party. The bill is expected to come to a vote on Thursday. (Deirdre Walsh, CNN)
A Guilty Verdict for Fattah. Pennsylvania Representative Chaka Fattah was found guilty of counts, including racketeering, fraud, and money laundering, in a case stemming from an investigation into a $1 million campaign loan. The Democrat, who has been in Congress since 1995, is set to be sentenced on October 4. (Maryclaire Dale, AP)
Cleared for Takeoff. The use of low-flying drones weighing less than 55 pounds for commercial, educational, and research purposes are allowed, according to new rules announced by the White House. The drones will have to be flown in sight of an operator, so it will take another decision to allow companies like Amazon to use drones for commercial product deliveries. (David Shepardson, Reuters)
Tomorrow in One Paragraph: Donald Trump will deliver a speech from his Trump SoHo Hotel in Manhattan. Hillary Clinton will give a speech on her vision for the economy in Raleigh, North Carolina and is scheduled to meet with House Democrats.
Follow stories throughout the day with our new Politics & Policy page. And keep on top of the campaign with our 2016 Distilled election dashboard.
---
Top Read
"Chaos syndrome is a chronic decline in the political system's capacity for self-organization. It begins with the weakening of the institutions and brokers—political parties, career politicians, and congressional leaders and committees—that have historically held politicians accountable to one another and prevented everyone in the system from pursuing naked self-interest all the time. As these intermediaries' influence fades, politicians, activists, and voters all become more individualistic and unaccountable. The system atomizes. Chaos becomes the new normal—both in campaigns and in the government itself." The Atlantic's Jonathan Rauch analyzes political decay in the United States.
---
Top Lines
Trump Woos Conservative Christians. Donald Trump spoke to hundreds of evangelical Christians in New York, promising among other things to end restrictions on political activities for groups granted tax exemptions for religious status and that retail employees say "merry Christmas." He earned a standing ovation. (Michelle Boorstein and Julie Zauzmer, The Washington Post)
Convention Craziness. Take a look back at the discordant 1964 Republican convention, in which Senator Barry Goldwater said, "I would remind you that extremism in the defense of liberty is no vice! And let me remind you also that moderation in the pursuit of justice is no virtue!" Could the 2016 Republican convention in Cleveland be as charged? (Jeffrey Frank, The New Yorker)
A Party-Guy's Travails. The New York Times' Mark Leibovich profiles RNC chairman Reince Priebus as he struggles to serve the party he's been loyal to his whole life.
---
Top View
Gaming the Election. This interactive feature from CNN allows you to take electoral maps from past elections—or current polling—and see what combinations of states the candidates would have to win to get the 270 electoral votes necessary to be the next occupant of the White House.
Say What? Can you guess which candidate for president is responsible for which gaffe in this quiz? (David A. Graham, The Atlantic)
Next week, The Edge will become The Atlantic's Politics & Policy Daily. We've taken the feedback you've sent over the past few months, and used it to rebuild the newsletter so that it has all the things you've loved about The Edge, and more besides. So check your inbox next week, and let us know what you think: newsletters@theatlantic.com.
-Written by Nicholas Clairmont (@nickclairmont1)