The Senate Will Vote on Guns
With a 15-hour filibuster, Chris Murphy won the chance to bring up a pair of amendments, but no guarantee that they will pass.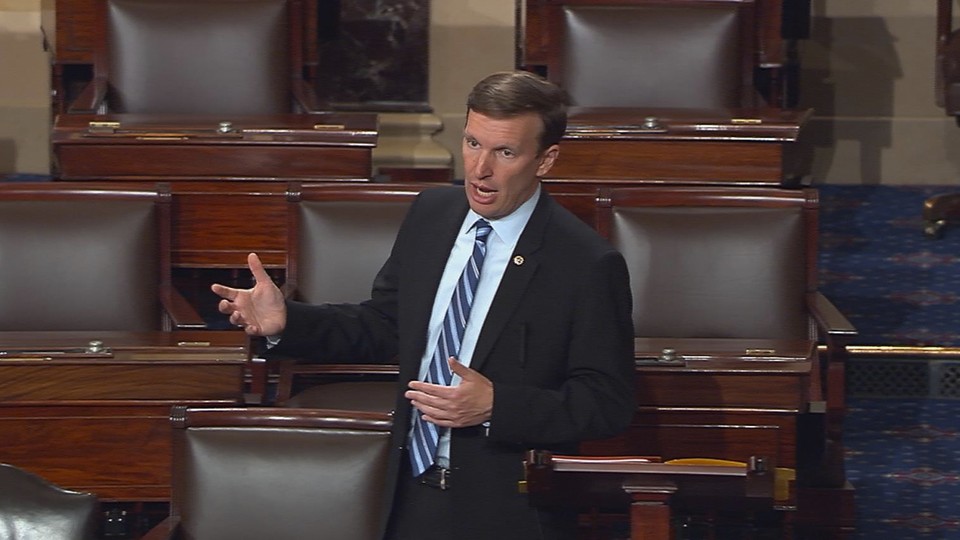 Updated June 16 at 4:45 p.m.
After 15 hours of standing on the Senate floor and lamenting congressional inaction on guns, this is what Senator Chris Murphy of Connecticut had won: the chance to vote, again, on measures to expand background checks and keep suspected terrorists from buying firearms.
There's no guarantee those amendments will pass when they come up early next week—and indeed, it is far more probable that they will fail. Like other senators who have exhausted their voices, their feet, and their bladders with lengthy protest speeches in recent years—Ted Cruz and Rand Paul the most well-known among them—Murphy is unlikely to win an immediate change of policy with his demonstration of verbal endurance. But for him and the dozens of other Democrats who joined his filibuster, the opportunity to force senators to again take a recorded vote on guns in the wake of Sunday's massacre in Orlando is at least a token victory.
Shortly after 2 a.m. Eastern, Murphy finally walked off the floor after reporting that Republicans had agreed to hold votes on Democratic gun proposals as amendments to an appropriations bill funding the Commerce and Justice Departments that the Senate had been debating. On Thursday morning, Senate Majority Leader Mitch McConnell suggested that he would have allowed those votes anyway, and perhaps earlier, if Murphy and his colleagues had not taken over the floor for the entire afternoon and evening. He dismissed the filibuster as a "campaign talk-a-thon" and pointed out that Democrats missed a classified briefing with the FBI director on the Orlando investigation to stage it. "It's hard to think of a clearer contrast between serious work for solutions on the one hand and endless partisan campaigning on the other," McConnell said.
The bills the Senate will vote on are Senator Dianne Feinstein's proposal to block individuals on the terrorist watch list from buying guns and an amendment written by Murphy, Feinstein, and Cory Booker to enact universal background checks. Both have failed on party-line votes in the past. In response, Republicans will offer up an alternative from Senator John Cornyn of Texas, which would not automatically stop gun purchases from people on the watch list but would give the Justice Department 72 hours to seek a court order to block the sale if a judge finds probably cause that the person "has committed or will commit an act of terrorism." Most Democrats opposed that proposal in December, arguing that the burden of proof is so high that it would stop few if any suspected terrorists from buying guns. The NRA also endorsed the Cornyn measure, making it more unlikely that it will win Democratic backing. (The statement Wednesday from the gun lobby came shortly after it agreed to a meeting with Donald Trump on the matter.
The senators to watch will be vulnerable Republicans like Rob Portman of Ohio, Kelly Ayotte of New Hampshire, and Pat Toomey of Pennsylvania, who are facing difficult reelection bids and who have all voiced support, in theory, for proposals to restrict terrorists from buying guns. They all supported the Cornyn measure last December after the shooting rampage in San Bernadino, but will they feel pressure to side with Democrats now?
Feinstein won the support of the Justice Department on Thursday, which released a statement backing her amendment to close the so-called "terror loophole." "The amendment gives the Justice Department an important additional tool to prevent the sale of guns to suspected terrorists by licensed firearms dealers while ensuring protection of the department's operational and investigative sensitivities," the department's spokeswoman Dena Iverson said. "We also continue to support universal background checks as a necessary tool to prevent suspected terrorists from lawfully obtaining firearms." The statement served as something of a rebuttal to Republicans who were circulating comments from FBI Director James Comey, who during congressional testimony in 2015 voiced concerns that a law flagging gun purchases by suspected terrorists could "blow up" the ongoing investigations into their activities.
Democrats will need at least another election to pass tighter gun laws through Congress, and as Minority Leader Harry Reid pointed out, they'll probably need one just to get them through the Senate. "It's not enough for Republicans to simply let us vote. Democrats cannot pass these gun-safety measures by ourselves," he said in a floor speech Thursday. Later in the afternoon, McConnell's office announced that votes on four gun-related amendments would begin on Monday: the two from Democrats and two Republican alternatives. The competing proposals and the fact that each of them need 60 votes to advance make it exceedingly unlikely that any of them will. Murphy and his colleagues are seeking incremental progress and a perhaps a bit of momentum. When they come, the votes he won with his filibuster will show whether in the wake of Orlando, the status quo has changed at all.