The Senate Races to Battle Zika and Help Puerto Rico
Lawmakers are struggling to pass a pair of emergency bills before they leave for a July 4 recess.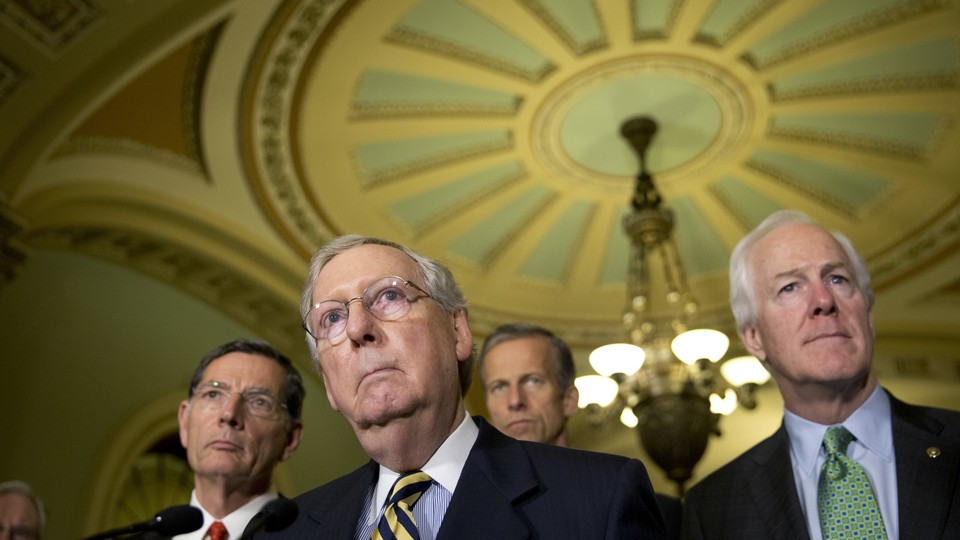 NEWS BRIEF The U.S. Senate is under time pressure to stave off a default by Puerto Rico and approve $1.1 billion to fight the Zika virus before lawmakers go off on a July 4 recess.
Republican leaders are trying to clear a pair of House-passed bills this week, but Democrats are demanding changes that could force the chamber to put off action on one or both. The more pressing issue—for the moment—is Puerto Rico, which must pay off $2 billion out of its $70 billion in debt by Friday, July 1 to avoid a default. In a letter released on Monday, Treasury Secretary Jack Lew implored Senate Majority Leader Mitch McConnell to send bipartisan legislation to the president, warning that without congressional action, the crisis in Puerto Rico would "ratchet up to an even higher level." He wrote:
Puerto Rico has $2 billion in debt payments coming due that day, including payments on constitutionally prioritized debt on which Puerto Rico has not previously defaulted.  In the event of default, and if creditor lawsuits are successful, a judge could immediately order Puerto Rico to pay creditors over essential services such as health, education, and public safety.  This could force Puerto Rico to lay off police officers, shut down public transit, or close a hospital.
The House passed a compromise bill last month, but Democratic Senator Robert Menendez of New Jersey wants to amend it to make it easier for Puerto Rico to restructure its debt, among other changes, Politico reported. Any changes would require the House to act again on the measure, and since the House is on recess until July 5, that would mean Congress would miss the Friday deadline. The legislation could also faces defections from conservatives who consider it a bailout.
The partisan divide is even deeper over an appropriations bill for veterans and military-construction programs that includes $1.1 billion in Zika funding. Republican House and Senate negotiators struck a deal on the money last week, but as Nora Kelly reported, Democrats and the White House aren't on board. They're unhappy that $750 million of the funding is offset with spending cuts, and the $1.1 billion is less than the nearly $2 billion that the Obama administration asked for in the first place. They also oppose provisions aimed at restricting funding to Planned Parenthood.
McConnell noted on Monday that Senate Democrats had unanimously supported the $1.1 billion number when the Senate first cleared its version of legislation earlier this year. And he rejected claims that it limited access to women's health programs. "Voting to block this bill now will delay Zika control funding well beyond the White House's deadlines," he said in a floor speech. "There's no reason Democrats should reverse course now and block funding for Zika control in the midst of mosquito season. There's no reason they should put partisan politics above the health of pregnant women and babies. And there's no reason they should block support for our veterans either."
The House passed the GOP compromise in the middle of the night last week as Democrats staged their sit-in to protect inaction on gun control. The Senate is expected to take an initial procedural vote on the plan Tuesday, but Democrats could block it from getting the necessary 60 votes to advance. If that happens, it raises the likelihood that lawmakers will head back to their districts, having missed yet another opportunity to respond to a virus that health experts believe will begin spreading in the U.S. later this summer.